On Tuesday August 24, a new academic year got under way at ENSTA Bretagne for 1st year engineering students. They were joined by 2nd year students from Thursday August 26, with co-operative engineers, 3rd year students, Master's and Specialized Advanced Master's students all subsequently welcomed at different intervals to the Brest campus through until mid-September.
Demanding and selective training programs, with unwavering dedication to quality
New students flock to ENSTA Bretagne every year, admitted either on the basis of competitive entrance exams after attending the two-year preparatory classes for Grandes Écoles (Mines-Télécom exam) or on a qualifications and application basis (applications are examined in March/April). In total, nearly a thousand students and PhD students come from all over France and further afield.
In recent years, the school has limited new student intake to 1,000, which allows roughly 300 young engineers and experts to graduate each year. This number is in line with the expectations of businesses and the Ministry for the Armed Forces and maintains a high level of selectivity among applications as well as excellent employment prospects. 
Our graduates are thus well prepared for the engineering, management and research assignments that await them. They swiftly take up positions of responsibility in a wide range of activity sectors, including defense, maritime, transport and digital technology in particular.
• Over 300 graduates/year, including 250 engineering, Master's, Specialized Advanced Master's and PhD students
• 20% contractual military students on the engineering training program
• Some one hundred international students
• Between 25 and 30% female students depending on the cohort

News and highlights of the 2021/2022 new academic year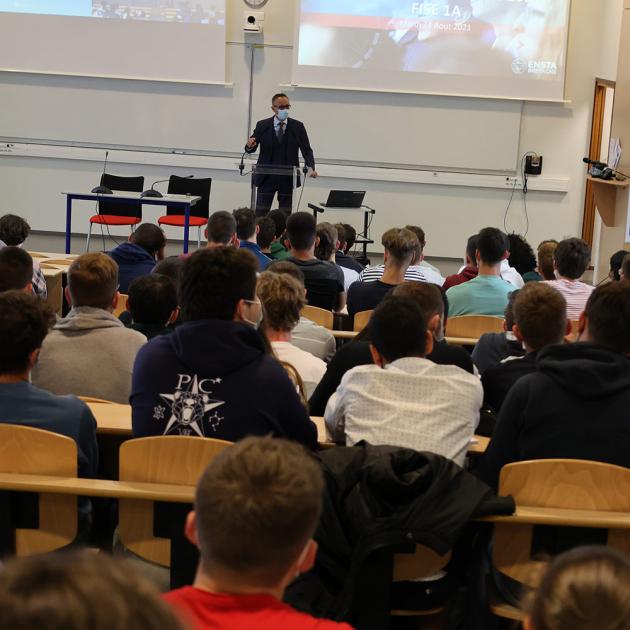 Evolution de la formation d'ingénieurs par alternance
La formation d'ingénieurs par alternance évolue pour proposer deux diplômes distincts, « conception mécanique » (architecture navales et véhicules) et « systèmes embarqués », et répondre aux attentes de ces domaines d'ingénierie. 
Précédemment, ces deux parcours étaient des voies de spécialisation liés au sein d'une même formation d'ingénieur par alternance. L'école, en partenariat avec les industriels et les anciens élèves, a eu l'aval de la Commission des Titres d'Ingénieur pour la création de deux diplômes.
2 diplômes d'ingénieurs en 3 ans :

Ingénieur en conception mécanique
Ingénieur en systèmes embarqués

après bac+2 (IUT, BTS)
en contrat d'apprentissage ou en formation continue
un tronc commun en sciences humaines et sociales maintenu
un calendrier d'alternance qui privilégie des périodes longues de plusieurs semaines en entreprise et plusieurs semaines à l'école, plus propice à l'acquisition des connaissances et à leur mise en pratique via les projets et missions confiées en entreprise.
A new course in ship maintenance and keeping in operational condition (referred to as MCO in French) is opening with the Naval Academy.
This one-year program is associated with the Specialized Advanced Master "Ship Maintenance and Maritime Project Management". 
Both schools are co-accredited by the Association of Grandes Ecoles (CGE).
It is a one-year course: with one academic semester and one semester in the workplace.
Classes are taught by both schools: common syllabus at ENSTA Bretagne, "maritime project management" option at ENSTA Bretagne (4th cohort) and the "ship maintenance" option at the Naval Academy (1st cohort)
The course will begin on September 13 at ENSTA Bretagne. 
50% of students come from a more general academic path and will specialize in one of the two fields, while 50% are undergoing vocational retraining.
8 different nationalities are represented within this first cohort.
ENSTA Bretagne celebrates fifty years
Built on the legacy of military engineering schools, ENSIETA (National Graduate School of Armaments Studies and Technology Engineers) was founded in Brest by the French Defense and Procurement and Technology Agency (DGA) in 1971 to train IETA military engineers. Its areas of expertise were of interest to the defense and civilian industries, drawing increasing numbers of civilian students and researchers alike. In 2010, the school changed its name to ENSTA Bretagne. 
On July 14, IETA military engineering students joined the Bastille Day military parade for the first time to mark ENSTA Bretagne's 50th anniversary, and this will remain a headline theme throughout this new academic year.
A whole host of events bringing together past and present students will be organized.
Some dates to put in the diary already:
The health protocol for the start of the new academic year on ENSTA Bretagne's campus and in extracurricular activities
The school is once again gearing up to apply the new protective safety measures that should enable us to continue holding classes on campus for everyone.
The school's Management and student teams who oversee life on campus are working together to make sure the protective safety measures are applied (masks must be worn in all enclosed spaces and safety distancing practiced) and to promote the importance of getting vaccinated.
Moreover, the Students' Union along with all of the students organizing the students' clubs and associations will have to check health passes as required by the legislation, so that extracurricular activities can resume. 
International cooperation during the health crisis
Incoming mobility
The number of international students on campus has halved on account of the health crisis.
At the start of the 2021/2022 academic year, these international students have enrolled more particularly in the "marine renewable energies", "naval architecture", "pyrotechnics", "maritime project management", "automotive engineering" and "architecture and security of software and electronic systems" courses.
They hark, for example, from North Africa (Morocco, Algeria, Tunisia and Lebanon), West Africa (Burkina Faso, Cameroon, Côte d'Ivoire and Senegal), South America (Brazil and Argentina) as well as Haiti, Mexico, the Czech Republic and Ukraine.
The school is preparing for the future
Lessons on the challenges and solutions of engineering for sustainable development and saving resources will gain importance across a number of training and research programs. This is one of the key objectives of the forthcoming five-year contract, which is due to be presented to the school's supervisory authority at the end of 2021.