The only one of its kind in France, this specialization trains Engineers to analyze and design pyrotechnic devices and to integrate them into mechanical systems, taking into account phenomenological and regulatory constraints related to the use of energetic materials.
Objectives
Engineers graduating from this major are able to design propulsion systems and pyromechanisms for aerospace or military applications. They are also able to study the reactions of structures undergoing dynamic stresses such as impacts and explosions.
Course content:
•    Shock waves and detonation
•    Combustion
•    Digital methods
•    Self-propulsion
•    etc.
The courses in this major equip students with the theoretic framework they require to understand pyrotechnic phenomena.
The exposure of pyrotechnic substances such as explosives, powder and propellants to high temperatures generates pressures which have an explosive effect on the surrounding area in generally very short periods of time.
Students develop skills in designing mechanical systems that can withstand these specific physical conditions while also learning about regulations, security and risk management.
Program strengths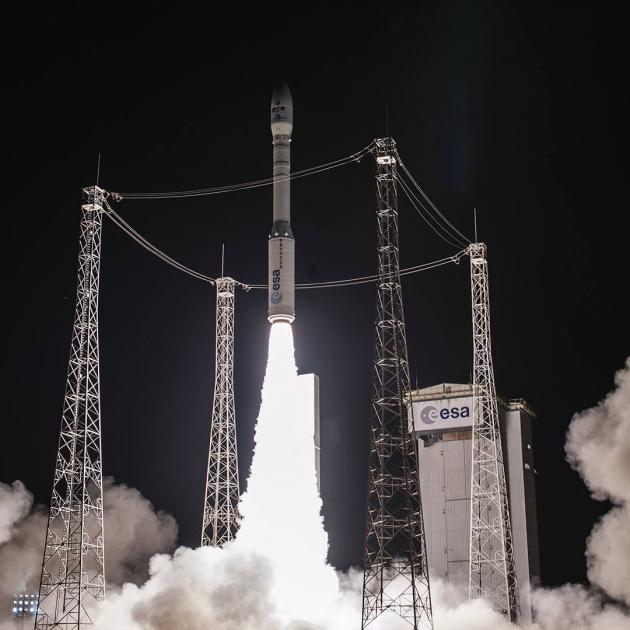 CNES/ESA/Arianespace/Optique Vidéo CSG, 2016
Earn a double degree
Alongside this major, students can pursue the Master in Engineering Science jointly offered by ENSMA and the University of Poitiers, majoring in Aeronautic and Land Transport and opting for the Combustion specialization track .
Career prospects in numerous industries
The Pyrotechnic Systems major prepares graduates for jobs in the defense, aerospace, ICST and automotive sectors, pyrotechnic device development and industrial risk prevention.
Strong ties with industry and research
An on-campus research team at the IRDL (Institut de Recherche Dupuy De Lôme) lab studies the effects of pyrotechnic phenomena and their reactions in various environments (reduction of underwater explosion impacts by bubble curtains, or attenuation of a shock wave by aqueous foam, for example). The campus is equipped with ample testing equipment, such as Split-Hopkinson pressure bars, shock tubes, a Taylor gun, etc. 
A one-of-a-kind program in France
ENSTA Bretagne is the only school in France to deliver pyrotechnic training that covers the full range of energetic materials and propulsion system design.
Target Careers
Activity Sectors

Research engineers
Studies and calculation engineers
Design engineers
Industrial security engineers

Defense,
Aerospace
Automotive
Risk management, etc.
Examples of end-of-study projects by students majoring in Pyrotechnic Systems
Digital nonstationary simulation of combustion in a ramjet
Optimization of explosion-resistant structures
Study of the inflammability and explosiveness of aluminum and titanium alloy powders dispersed in the air
Design of a multi-effect "flash-bang" grenade in feasibility phase
contact
Nicole Pouliquen
Admissions Coordinator (French students)
+33 (0)2 98 34 87 01
contact
Johanna OGON
+33 (0)2 98 34 87 30