Students who choose this major learn to design, build, program and work with robots, particularly mobile ones, for use in all sorts of environments (sea, land and air).
Career prospects
Graduates can pursue engineering careers (consulting, R&D, design, etc.) in research laboratories or large groups and startups.
Course content
•   Automation (control laws)
•   Computing (language algorithms, etc.)
•   Perception (vision, machine learning)
•   Artificial Intelligence
•   Modeling / Simulation
•   Navigation (Kalman filter, intervals)
•   Mechanics
•   Experiments
•   etc.
Program Strengths
Numerous robotic curricular and extracurricular projects
Students get to work on numerous applied projects both as part of the training program and for the robotics club. Projects focus on designing and building robots, robot coordination, etc. ENSTA Bretagne students compete in numerous robotic competitions in France and abroad.
Earn a double degree
Students in this major can choose to simultaneously follow the Dynamic Systems and Signals track of the Master in Complex Systems Engineering of the Université d'Angers (all courses are taught in Brest). This double degree is recommended for students who wish to pursue a PhD.
Target Careers
Examples of positions held by graduates
Type of enterprises

R&D Engineer,
Design Engineer,
Research Engineer,
 
etc.

Robotics & Control System Engineer (Pixel sur Mer, Lorient)
Drone Test Engineer (ECA Group, Saclay)
Robotics Engineer (Forssea Robotics, Paris)
Founder and CEO (blkSAIL - Marine Autonomy As A Service, USA)
Robotics R&D Engineer (INRIA, Nancy)

Research laboratories
Large Groups
Innovative SMEs and startups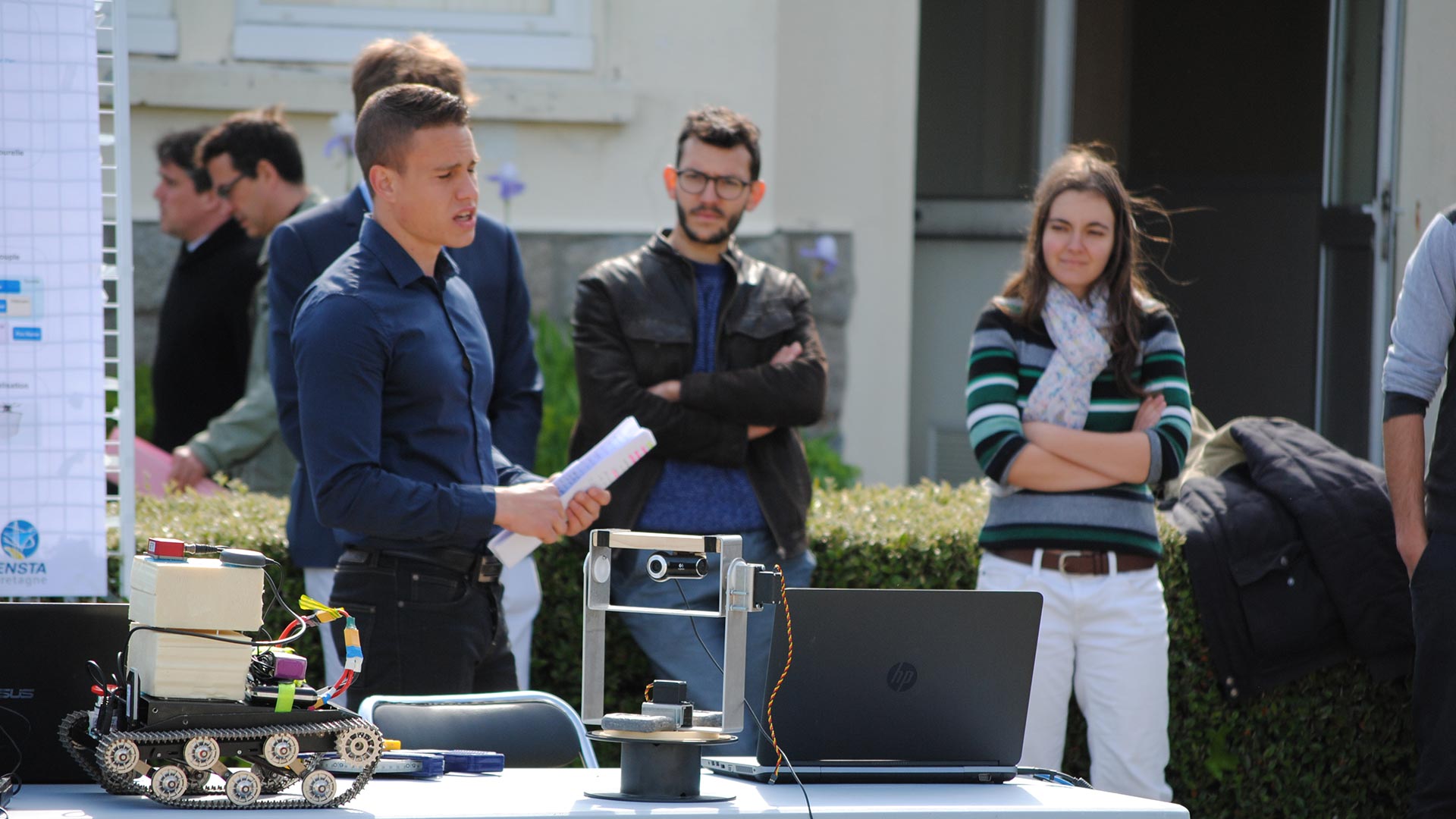 EXAMPLES OF END-OF-STUDY PROJECTS BY STUDENTS MAJORING IN Autonomous Robotics
Design of a control-command system for a penstock inspection robot
Adaptation through learning of mobile robots' behavior in complex environments
Development of a solution for recognition of roads without white lines
Searches for wrecks by underwater robots
contact
Nicole Pouliquen
Admissions Coordinator (French students)
+33 (0)2 98 34 87 01
contact
Johanna OGON
Project manager - Outgoing mobility and events
+33 (0)2 98 34 87 30