ENSTA Bretagne offers engineering training in Hydrography and Oceanography that prepares students to perform and assess hydrographic surveys, guarantee and certify the accuracy of hydrographic data, carry out methodological studies and rapidly adapt to changing measurement technology, or even contribute to its development.
Career prospects
Participation in coastal and port development projects, offshore platform positioning, creation and updating of marine maps, oceanographic research, etc.
Course content:
•    Hydrography
•    Geodesy
•    Oceanography
•    Bathymetry
•    Data processing
•    Positioning
•    Interferometry, etc..
Program strengths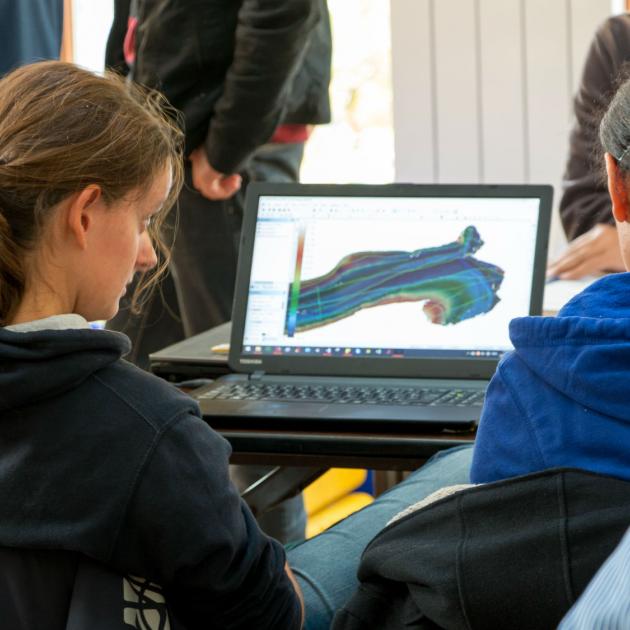 © Simon Rohou / ENSTA Bretagne
An internationally acclaimed program
ENSTA Bretagne offers the most comprehensive European program in the field, with Category A accreditation from the International Hydrographic Organization.
There are 3 specialization profiles and also possible double degrees
To customize your training, choose one of three specialization tracks:
Hydrography and Data Processing
Marine physics oceanography
Marine Geophysics
In the last year , students can follow a complementary Research Master in « Marine Geophysics » or « Climate and Ocean Physics ».
Cutting-edge facilities for real-world training
The school has a hydrographic survey vessel, an amphibious vehicle and various types of sensors to enable students to carry out surveys under optimal conditions.
A multidisciplinary field project
In their last year, students partner with the school's robotics majors to spend a week carrying out hydrographic surveys at the Lac de Guerlédan.
Numerous partnerships with the private sector
ENSTA Bretagne partners with companies working in the field, who propose subjects for study, lend equipment and provide internships and job opportunities for graduates. 
The specialization tracks
Geomatics
Developing and designing tools for processing bathymetric data from multibeam sounders, geographical data management and morphological analysis (also known as "geomorphometry") of seabeds.
Marine physical oceanography
Using oceanographic data (the ocean's physical characteristics: waves, tides and currents) to implement physical ocean-atmosphere models and data assimilation methods.
Carrying out or supervising an oceanographic campaign with setup of in situ sensor networks.
Double degree: The "Marine Physical Oceanography" and "Marine Geophysics" profiles can be combined in the "Master in "Marine Sciences" jointly awarded by the IUEM (UBO) and ENSTA Bretagne.
Marine Geophysics
Students study the methods and rheological laws needed to model crustal deformations for analysis and interpretation.
They learn to select appropriate geological tools for seabed study in specific scientific or industrial contexts: for example, pre-installation analysis (oil industry, mining, marine renewable energies), basic research, knowledge of the environment, etc.
Double degree: This track is associated with the University of Brest's Master in Marine Geophysics.
Two years of specialized study
General engineering students at ENSTA Bretagne begin the 2-year Hydrography and Oceanography major in their second year of study.
The multidisciplinary field project
Every year, ENSTA Bretagne takes students on two one-week field trips to the Lac de Guerlédan, where they can apply the skills acquired in the classroom.
Hydrography and robotics students work together on multidisciplinary projects over the course of each week.  
For example, in 2019/2020, a group worked on the Ulysse, an autonomous catamaran.
At the end of the project, Ulysse was able to :
grid a zone
spot a survey flaw in real time
go back over the spot where there were errors
Ulysse presents new perspectives for hydrographers : the creation of digital models (marine maps) of shallow or dangerous zones
Discover the article on Ulysse which appeared in Le Monde newspaper (in French).
Examples of end-of-study projects by students majoring in Hydrogrpahy and Oceanography
Thermal variations in the upper layer of the Southern Ocean
Vulnerability and adaptation to climate change on the Cadix coast
Study of comparison of multi-frequency radar and optical remote detection images for detection, characterization and quantification of (natural and anthropic) oil spills
Carrying out micro-bathometry by AUV and data analysis.
Target Careers
Examples of positions held by graduates

Hydrographic engineer
Oceanographic engineer
Geophysical engineer
Project manager

Offshore Hydrographic Engineer in sub-marine positioning (FUGRO, Netherlands)
Polar Climate Researcher (UCL, Belgium)
Digital Modeling Engineer (ACTIMAR, Brest)
LIDAR Project Manager (GEOFIT, Nantes)
Hydrographic Engineer – Environment Department – Bathymetry Division (EDF, Grenoble)
Manager of the Occitania Region's Ports (Sète)
Hydrographic Software Developer (Teledyne CARIS, Netherlands)
Renewable Marine Energies Project Manager (Reunion Island)
Freelance Hydrographer – founder of the Alizios company (Rignieux-le-Franc)
Hydrographic and Oceanographic Data Acquisition and Processing Engineer (Gardline, Australia)
contact
Adélaïde Gaudron
Admissions Coordinator (French students)
+33 (0)2 98 34 87 01