Measuring and mapping oceans, seas, lakes and watercourses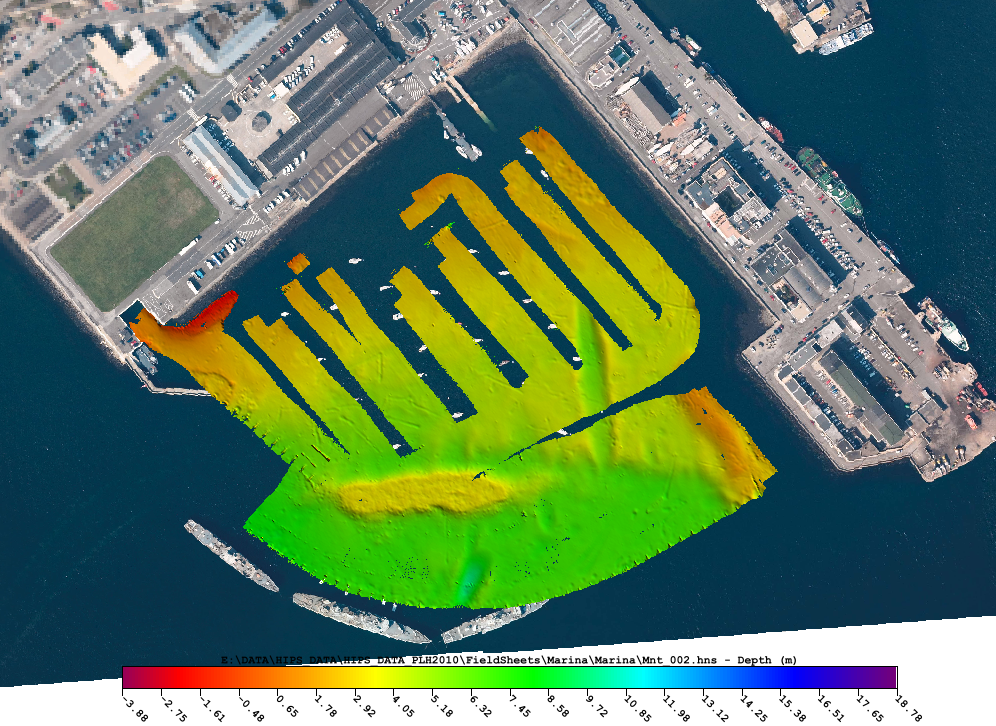 Hydrography and Oceanography ?
These disciplines encompass the methodologies of water body (oceans, seas and lakes) and watercourse measurement and description necessary for all human activities at sea and along coastlines and rivers. These can include shipping safety, port and coastline development projects, offshore infrastructure installation (platforms, turbines, etc.), underwater infrastructure inspection, and monitoring water levels in flood risk areas. 
The goal of hydrography is to map underwater topography (water levels and relief). It deals with the entire information chain, from data gathering at sea to map making. 
Oceanography is concerned with the dynamic mechanisms of the water column: currents, waves and tides. 
Program strengths
International acclaim
ENSTA Bretagne's internationally-acclaimed Category A (highest level) Hydrography program is the only one of its kind in France. 
Top-quality certification 
This discipline is governed by international standards which allow for data sharing and guarantee data accuracy. Training is monitored by three global bodies which form the FIG/IHO/ICA Advisory Board: the International Federation of Surveyors, the International Hydrographic Organization and the International Cartographic Association.
Brest: The heart of hydrography 
The French navy founded its hydrographic and oceanographic service (SHOM) in 1720. Today, SHOM and ENSTA Bretagne bring together France's top experts in this field. 
Career prospects
•    Public organizations (SHOM, Ifremer, other research institutes and international organizations) 
•    Coastal and offshore hydrographic survey companies 
•    The marine and river energy sector (oil and gas, marine renewable energies and hydroelectric)
•    Dredging and specialized construction (coastal, port and river) 
•    Engineering firms (development, monitoring) 
•    Marine engineering (technology and software development) 
THE PROGRAM
General engineering program, Hydrography and Oceanography major (Cat. A)
Learn more about the Hydrography and Oceanography major offered in our general engineering program (equivalent to an MSc in Engineering): a 3-year syllabus for BSc or equivalent graduates, or a 2-year program for 1st-year Master's graduates
Admission
Master in Hydrography (Category A)
Learn more about this Master in Hydrography (equivalent to an MSc): a 2-year program for BSc or equivalent graduates
Admission requirements based on a written and oral exam. 
PhD program
a 3-year program for MSc degree holders (for engineering or Master's degree graduates in hydrography, oceanography, positioning, remote sensing, etc).
Enrollment in ENSTA Bretagne and affiliation with the UBL-MathSTIC doctoral school and Lab-STICC (Joint Research Center 6285 of the CNRS)
Research
Research topics
 
•    Geomorphometry 
•    Bathymetric data processing 
•    Ocean remote sensing 
•    Hyperspectral imaging 
•    Acoustics 
•    Hydro-sedimentary modeling GNSS use in geoscience 
Laboratories
•    Lab-STICC Joint Research Center (UMR CNRS 6285, ENSTA Bretagne, IMT Atlantique, ENIB, UBO and UBS), PRASYS and TOMS teams 
•    Joint Research Center for Adaptation and Diversity in the Marine Environment (Roscoff Marine Station, CNRS Sorbonne Université) 
Examples of projects and theses
•    Rabine Keyetieu's thesis on the calibration of multi-beam echo sounder systems by inverse methods 
•    Gaspard Minster's thesis on hydro-sedimentary modeling at Raz Blanchard 
•    Coralie Monpert's thesis on automating submerged vegetation mapping by single-beam echosounder 
•    The Percebès project on stalked barnacle stock management on the Atlantic coast
•    The DIP-Nawdex project on diabatic processes in the North Atlantic 
contact
Pierre Bosser
Research Professor
Head of the Hydrography, Oceanography & Positioning Group
contact
Amandine Nicolle
Research Professor
Coordinator of the Hydrography and Oceanography Major and Master's programs