Located at the heart of the campus, the student residence (RDE) offers 222 rooms (many of which are equipped for students with disabilities). The campus offers a broad array of facilities to ensure students' everyday comfort: dining hall, snack bar, student union, common room, sports facilities, etc.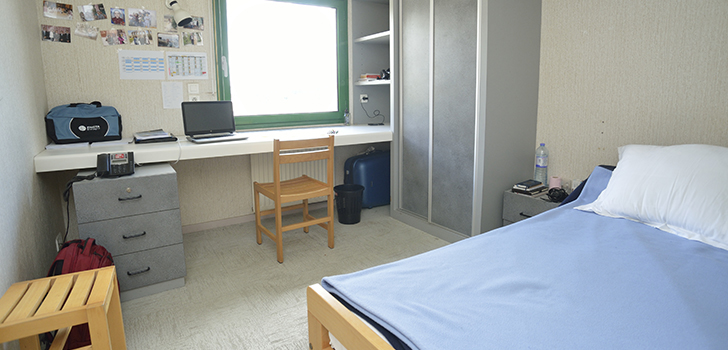 The student residence offers a secure environment, including a parking lot and storage facilities for bikes, motorbikes, surfboards and windsurf boards subject to available spaces.
All the rooms are furnished and have several cupboards, all the necessary bedding, bed linen and a sink. Rooms with a shower are allocated as a priority to female students who request them. High speed internet access is on offer in each room and a phone is available for national and international calls (calls will be billed).
The rooms are cleaned (bed linen changed, quick routine clean) by a specialized contractor once a fortnight. The residence has a self-service coin laundry (€3 per washer load and €0.50 for every 6 minutes in the dryer).
For safety and hygiene reasons, cooking is prohibited in the residence and rooms must therefore not be equipped with cooking appliances. The dining hall, located near the residence, operates on a self-service basis for breakfast, lunch and dinner every day during term-time, including weekends. The residence is also equipped with vending machines selling drinks and sandwiches.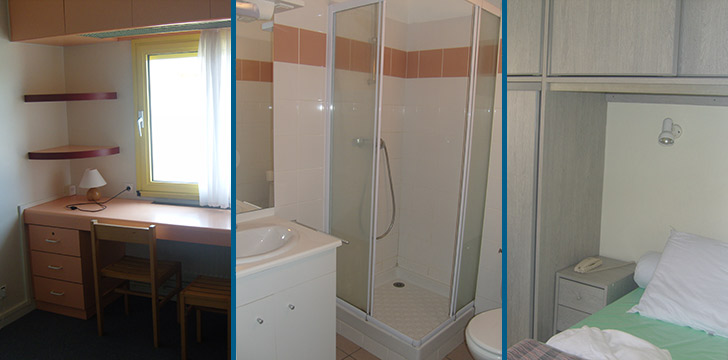 How much does it cost?
€270 a month for a room without a shower (shared shower and restroom facilities on landing).
€321 a month for a room with a shower and restroom.
The rent includes utilities: water, electricity and heat. Breakfast is included in the cost. Every student staying at the student residence must take out civil liability insurance and renter's insurance (€60).
How to book a room
All students who wish to book accommodation on the ENSTA Bretagne campus must apply online via the residence booking website.
Student residence room bookings are confirmed once the security deposit, first month's rent and annual renter's insurance premium have been paid to the student residence (approximately €700). The balance will be calculated at the beginning of the academic year according to the type of room allocated.
Each student will receive an individual reply by email after submitting his/her accommodation application, stating whether or not the application has been accepted.
Booking cancellation
If you wish to cancel a booking, your must inform the residence manager 8 days prior to your program start date at ENSTA Bretagne. If insufficient notice is given, a €50 penalty will be deducted from the booking fee.
Housing allowance
Students may be eligible for a housing allowance issued by the Caisse d'Allocations Familiales. This allowance partially covers the monthly rent. The application is completed online via the CAF website. The student residence is a non-Crous-run university residence.
>> Make sure you apply as soon as possible, the start of your entitlement is determined by your application date. You will not receive a housing allowance for your first month's rent.
Your application (signed together with supporting documents) must be sent to:
CAF du Finistère
1 rue de Portzmoguer
29602 BREST Cedex 2
Tél. : +33(0) 810 25 29 30 / www.caf.fr