In this specialization path, the co-operative (apprentice) engineers learn how to develop and improve electronic, high-performance and complex informatic systems destined to be embedded: automobile, naval, robotic, ICT sectors...
Objectives
At ENSTA Bretagne, the specialization program in embedded systems trains the student in the development and improvement of  software-intensive electronic systems.
Program
Automatics
Computer technology
Electronic systems
Information processing
...
Information files (in French)
Cell phones, cars, ships, planes, rockets, robots…there are embedded systems hidden in the most common and complex products. These integrated mini-computers often face major constraints: autonomy, weight, solidity, safety... Complex, efficient and embedded, their technology is ever evolving.
The lessons will enable you to master the complete electronic chain (from the sensor to the actuator), to model, develop, integrate and maintain these complete systems.
Increasingly employed and implemented on distributed architecture, these communicating systems are at the heart of innovation in many sectors (intelligent transport, mobile and medical objects…).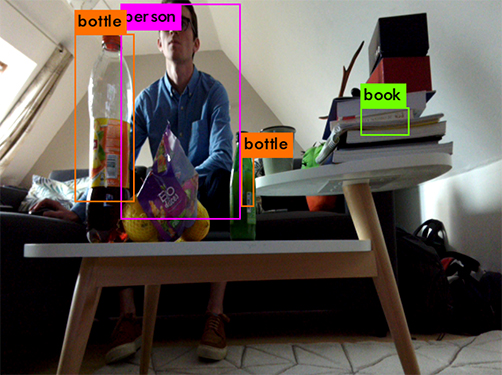 Spotlight on the Deepdart project
The Deepdart project was created by Théo Lagrue and Tony Calvez, two co-operative (apprentice) engineers specializing in "embedded systems".
For several weeks, they worked on artificial intelligence for robot recognition.
Their project included different phases:
Learning: 12,000 images were acquired for the database, the numerous calculations being accomplished by a super-computer.
Execution: the execution algorithm enables the images to be analyzed (each image being divided into different segments which are analyzed and compared to the data acquired in the previous phase).
Detection: when several parts of the image are recognized, an algorithm standardizes the different zones to detect the complete object.
This project was a real experiment in the field of intelligence and embedded systems. It was a challenge to accomplish so many calculations on Nintendo Switch architecture and the result was way above our expectations.
Claire's testimony, Scrum Master, 2015 co-operative engineer graduate, specializing in embedded systems.
Examples of final year projects accomplished (6 month mission in company)
application in the automobile sector : "Development of electromagnetically compatible, risk analysis and design rule definition assistance tools" for PSA Group,
application in robotics : "Study and optimization of robotic systems to localize and identify underwater mines" for DGA Techniques Navales,
application in the naval sector : "Study of the operation reliability and safety progress path for a submarine program" for Naval Group