ENSTA Bretagne's mechanical science research activities on campus answer concrete civilian and military issues put forward by industrial companies or the DGA*.
Our mechanical science research themes are:
Sizing tools for adhesively-bonded assemblies
Dynamic behavior of materials and structures
Naval hydrodynamics and loading
Explosions and shocks in complex environments (including the marine environment)
Material fatigue behavior
Assembly lifespan: fatigue
Marine and thermal aging
Marine aging and organic materials
Assembly procedures (adhesives, welding)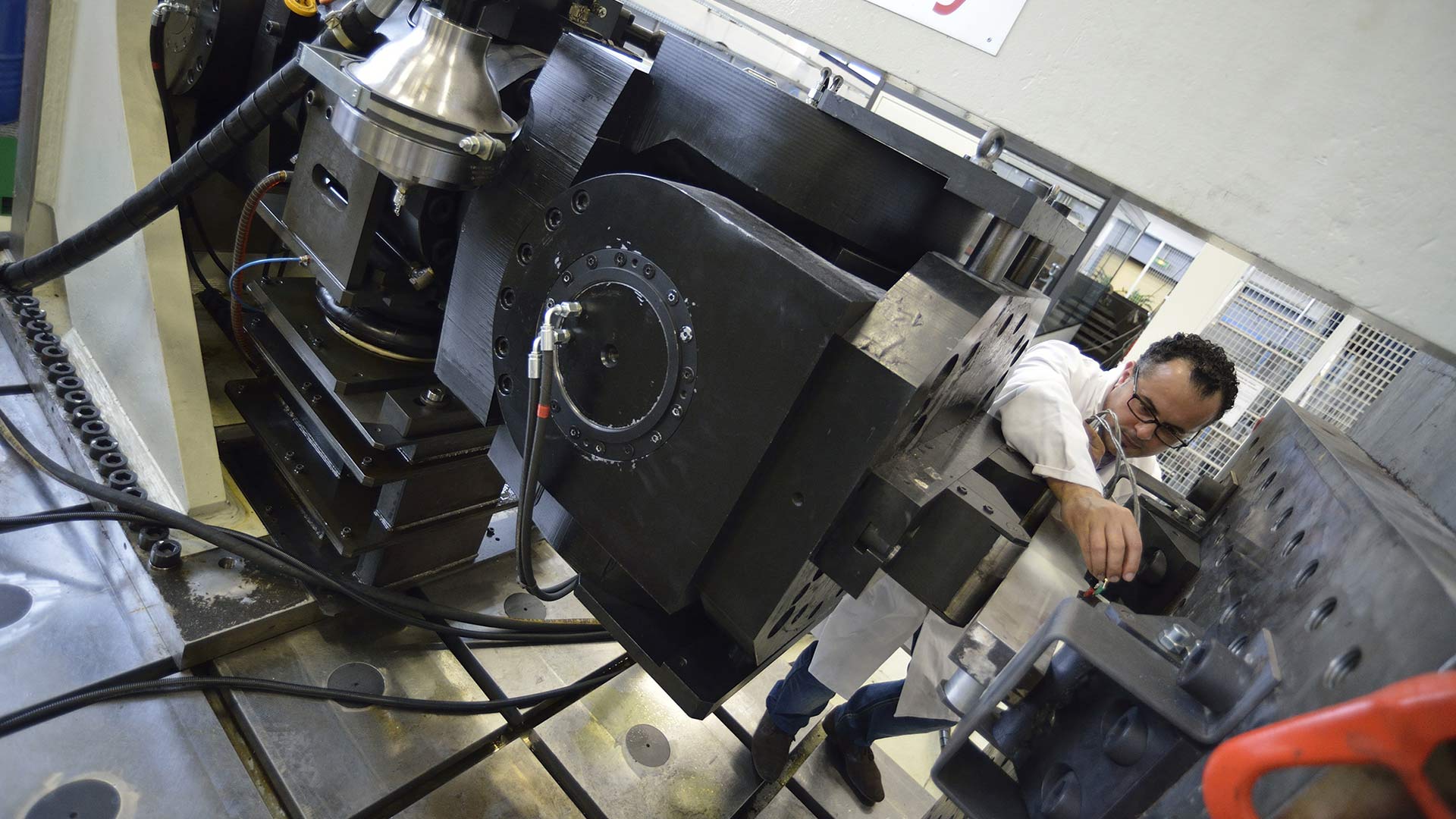 © Julien Ogor, Studio Lambé / ENSTA Bretagne
Exceptional test facilities
The campus boasts extensive test facilities. They aim to characterize the mechanical properties of all types of material, assemblies and structures on different scales. In 2019, a new 1600 m² building enabled the mechanical research center to expand. New experimental facilities have gradually been added.
Joint laboratories with industry
There are three joint laboratories, "Gustave Zédé", "Computational Mechanics", "CENSTA Bzh", which match ENSTA Bretagne's mechanical science researchers to industrialists. They aim to further R&D work on specific themes and pass on technologies.
The IRDL Laboratory
These research activities are carried out within the Dupuy de Lôme Research Institute, a mixed research unit of the CNRS.
ENSTA Bretagne is the 2nd largest contributor to this laboratory which unites the teams of two universities (UBO and UBS) and two engineering schools (ENSTA Bretagne and ENIB).
The research work is led in close collaboration with industry : IRDL is the leading Breton laboratory in terms of the volume of theses associated with industry (CIFRE theses).
Carnot ARTS Institute
On 1 January 2020, the IRDL joined the Carnot ARTS Institute (Research Activities for Technology and Society). Since 2006, the Carnot ARTS Institute figures among the leading institutes  certified  Carnot by the French Ministry for Higher Education and Research. It aims to develop cutting edge research directly linked to the major industrial issues of the future.
Research projects: examples
contact
Sylvain Calloch
Full Professor
Institut de Recherche Dupuy de Lôme (IRDL, UMR CNRS 6027)
+33 (0)2 98 34 87 23