Contrary to popular belief, Brest enjoys a strong transportation infrastructure: an international airport, highway access from Paris and Nantes, high-speed (TGV) train connecting it to Paris…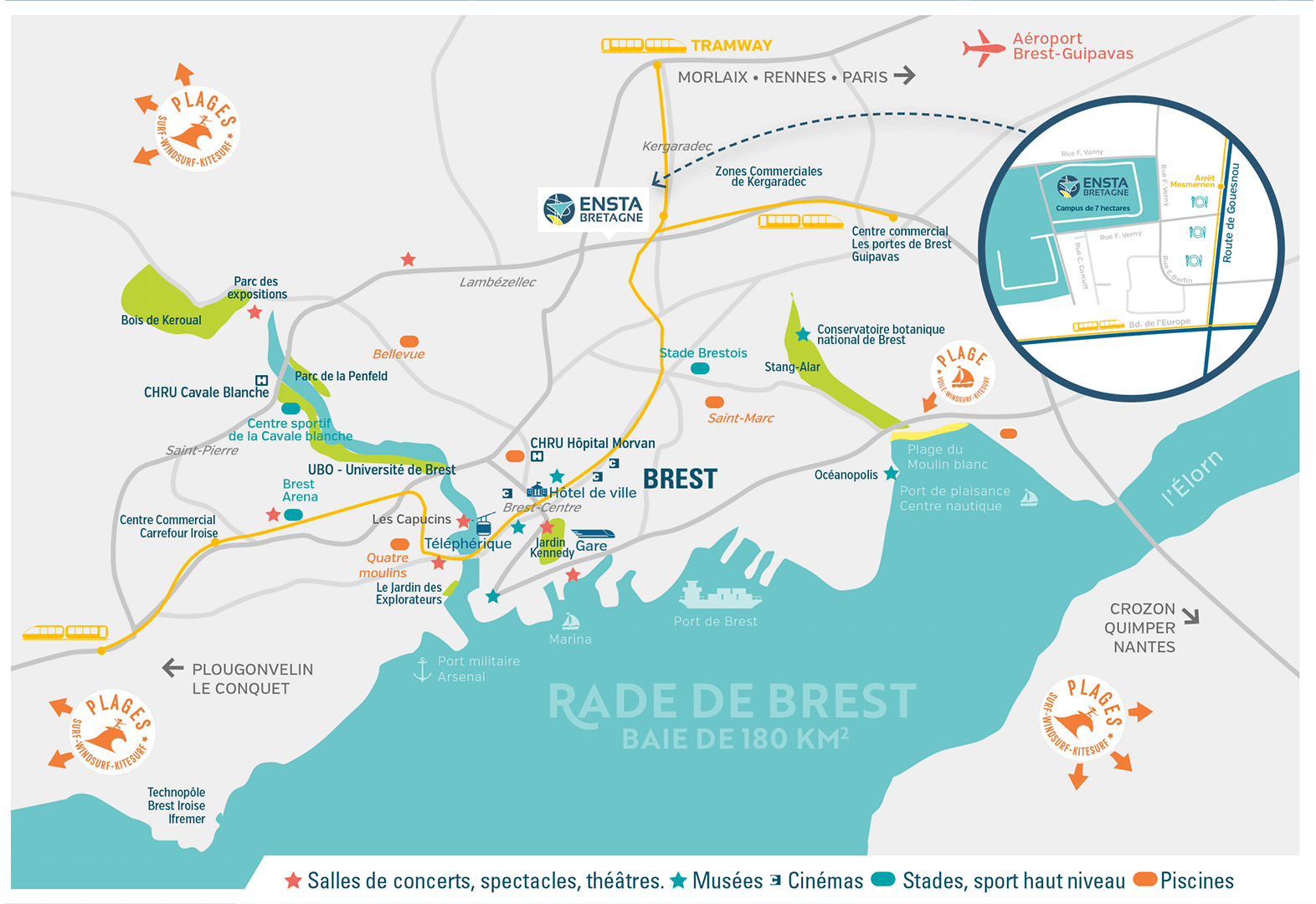 The campus is located at 2 rue François Verny in Brest.
The campus is located at 2 rue François Verny in Brest.
The school, the research center, the student residence and the ENSTARTUPS business incubator all share the same address.
The exact mailing address is as follows:
ENSTA Bretagne
2 rue François Verny
29806 BREST CEDEX 09
Getting to ENSTA Bretagne
By bike
Yes, you can cycle to the ENSTA Bretagne campus!
The city has a map showing all of the cycle lanes and routes
On campus, there are several cycle parking areas available to cyclists.
There is a free cycle hire service, ENSTA Bicyclette, available to ENSTA Bretagne students and staff, based on campus.
In addition, Brest Métropole has a range of e-bikes available for hire for a fee:
•    short-term hire: Velozef  service 
•    long-term hire: Velocibus service 
By road
From Quimper (RN 165): cross the Pont de l'Iroise bridge and head north (Brest-Nord).
From Rennes (RN 12): at the first traffic circle as you enter Brest (Pen Ar Chleuz traffic circle), take the exit marked for Quimper. Turn left at the traffic lights. Then take the first street on the right.
Public transport
From the train station (SNCF):
By streetcar: from the city center, take line A towards Porte de Gouesnou. Mesmerrien station is the nearest streetcar station to ENSTA Bretagne.
From the airport:
Taking the airport shuttle service, get off at Porte de Guipavas. Take the streetcar (only 1 line). Get off at Pontanézen stop (3 stops). Cross the track. Take the streetcar to Porte de Gouesnou. Get off at Mesmerrien station (1 station).