ENSTA Bretagne's economic and industrial landscape is made up of a thousand-strong network of businesses, both in France and worldwide, comprising major groups, SMEs and SOHOs, in a broad range of sectors.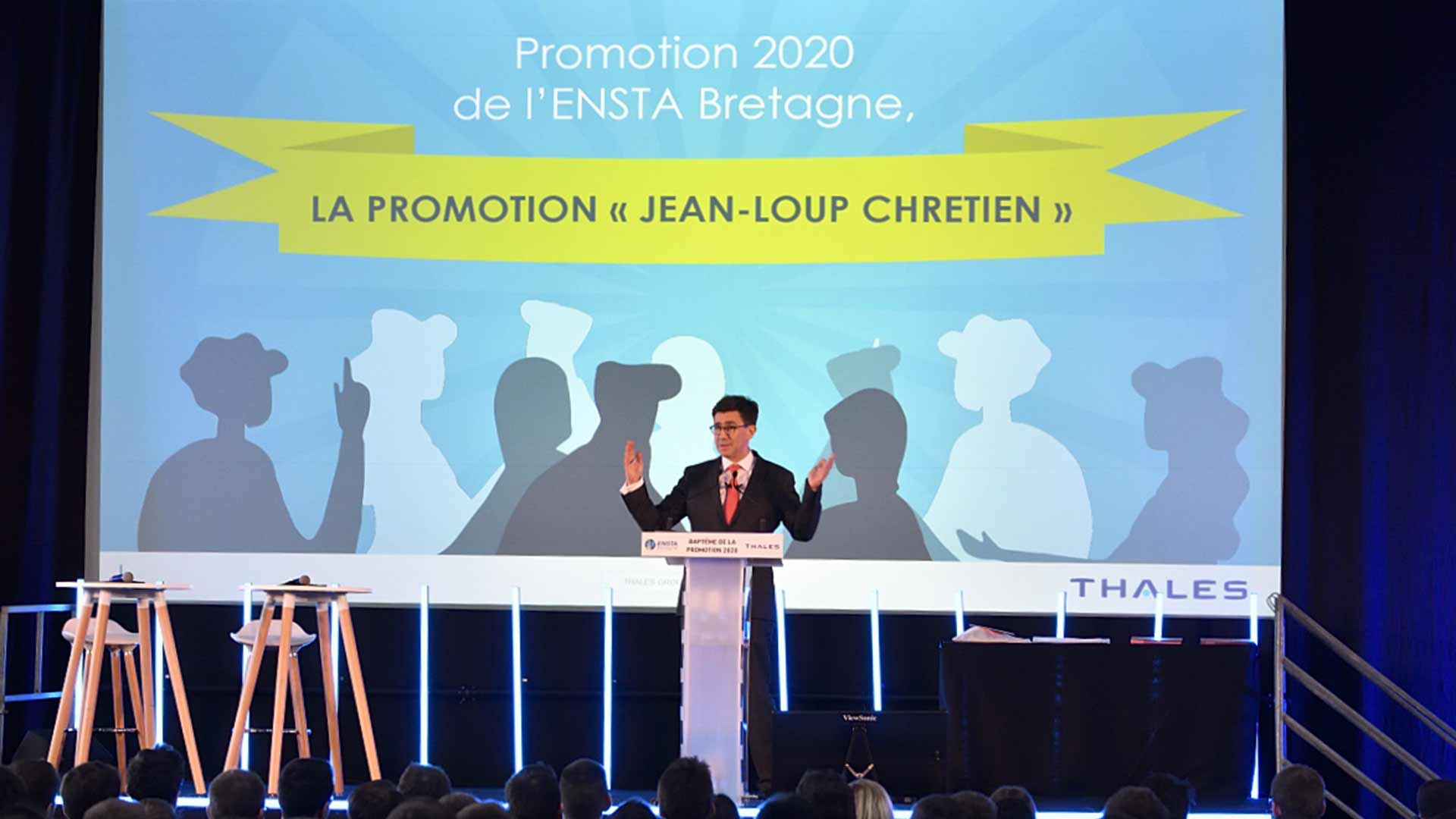 Julien Ogor
Every year, an important company director « godparents » an ENSTA Bretagne cohort.
Class of 2021 : Antoine Bouvier, Head of Strategy, Mergers & Acquisitions and Public Affairs at Airbus
Class of 2020 : Pierre Éric Pommellet, Chief Operating Officer and Chief Performance Officer at Thales
Class of 2019 : Hervé Guillou, CEO of Naval Group
Class of 2018 : Alain Charmeau, CEO of ArianeGroup
Class of 2017 : Jean-Pierre Denis, Chairman of Crédit Mutuel Arkea group
Class of 2016 : Yann Vincent, Industrial Director and Supply Chain of PSA group
Class of 2015 : Ronan Stephan, Chief Innovations of ALSTOM group
Class of 2014 : Jean Cahuzac, CEO of Subsea 7
Class of 2013 : Jean-Georges Malcor, Managing director of CGG
Class of 2012 : Jean-Paul Herteman, CEO of SAFRAN group
Class of 2011 : Hervé Guillou, Chairman and CEO of EADS Defence and Communications Systems
Class of 2010 : Bernard Charlès, CEO of Dassault Systèmes
This page lists some of the companies with which ENSTA Bretagne has strong ties.
ENSTA Bretagne thanks its numerous partners for their trust and support.
Below is a (non-exhaustive) list of companies and organizations that host our students for internships and apprenticeships, recruit our graduates, sponsor research projects or have a partnership agreement with ENSTA Bretagne. 
 
Absys, Acaly conseils, Acti, Adena, Adneom, Agap2, AIRBUS GROUP, Air France, Akka technologies, Akuo Energy, Alierys, All Cell Technologies, Allevard Rejna, Allseas, Alpha Technique, ALSTOM, Altair Engineering, ALTEN, Altep, ALTRAN, Andra, Arco Marine, Ardatem, Araymond, Arcelor Mital, Areva, ARIANEGROUP, Arkea, Armée de l'Air, Arobas Technologies, AS&I, Asserva, Assystem, Atos Origin, Autoliv/Livbag, Autosuspensions, Avenao, Axa, Axon mechatronics,
Barillec Marine Service, Bertrandt, BIC sport, Bilfinger, Blew Stoub, Bosch, Boskalis, Botin Partners, Bouygues, Bull, Bulgarian Ship Hydrodinamics Center, Bureau d'études Mauric, Bureau Veritas (BV),
Cap Gemini, CDES, CEA, Cegelec, Cermex Newtec, CGG, CGI, Chantiers Allais, Chantier Bretagne Sud, Chantiers de l'Atlantique, Chantier Naval Gléhen, Cheddite, CIDCO Rimovski, Ciscrea, Comeca Power, Concept Naval, Constructions Mécaniques de Normandie, CNA Yachting, CNES, CS communications & systèmes, CSM Connected Space Management, CTA international, Cummins filtration,
Dassault, Davey Bickford, Davidson Consulting, Delphi Diesel, DEME, DETI, DGA, Doris Engineering, DPS Software, Dragage Rouen, DRM, DTS,
ECA, EDF, EMT, Enata Marine, Estar, Eurenco, Evosys,
Faurecia, FEV, Flodim, Flowserve pompes, Forssea Robotics, Framatome, Frédéric Neuman, Fugro,
Geci, Geensys, General Electric, Geomod, GEPS Techno, Gist, GSEA Design, GTT, Germanischer Lloyd AG,
HDS Devaux, Hutchinson, HydrOcean, Hydromaster LTD, Hytech-Imaging,
IEA, Ifremer, Imodco terminals, Infotel, Ingeliance Technologies, Ingetec, Invivoo, IPEV, IRT Jules Verne, iXBlue,
Jan De Nul, JLMD,
K-Epsilon, Keolis, Kereval, Koyo,
Legos, Lemer Pax, LGM, LMG Marin France,
Magellium, Magna Steyr, Mann-Hummel, Marc Lombart, MARIN, Marine Nationale, Matra Automobile Engineering, MAYR France, MBDA, MB Electronique, MCA Ingénierie, MERITIS, Merkur, MGE/UPS, Modis,
NAVAL GROUP, NKE, NEXTER GROUP, Nobel Sport, Nokia, Notilo +, ntn-snr,
OCCAR, OCEA, ONET Technologies, Orange,
Periskal, Philips, Poclain, Polyconseil, Port autonome de la Nouvelle Calédonie, Principia, PSA PEUGEOT CITROËN, PVI,
QPS,
Realix, Red Badger, RENAULT, RTD, RTsys,
SAFRAN, SAIPEM, Satimo, SATT, SBM Offshore, Scheiber, Schottel, SDI, Sehimi, SEGULA, Setaf Saget, Setec IA, SHOM, Shoreteam Yard, SHOM, Shoreteam Yard, Siepel, SII, Sillinger, Snecma, SNPE, Socarenam, Société de Dragage Internationale, SOFRESID ENGINEERING, Sogeti High Tech, Solent SAS, Sonovision, Sopra group, Sorin Group, Strathom, Stryker Benoist Girard, SUBSEA 7, SystemX, Systra,
TBC-France, TECHNIP, TEKNAT industrie, Teledyne Caris, THALES, Tideway, TNO, Tolalo, TOTAL, Toyota, Travelsoft,
Unilog, Unimakerz SAS,
VALEO, Van Oord, VGroup, Vibracoustic, Volvo,
Walirian,
Xiaofan Luo,
Zengularity, ZF…