UNDERSTANDING THE EFFECTS OF EXPLOSIVES AND DESIGNING PROPULSION SYSTEMS.
MBDA
The only one of its kind in France, the Pyrotechnic Systems program trains students to analyze and design explosive systems and integrate them in mechanical systems, for purposes such as propulsion.
Its applications cover a broad array of sectors: defense, aerospace (rocket propulsion, satellite launch), automotive (airbags), public works as well as industrial risk prevention.
In this field, innovation focuses mainly on developing more environmentally-friendly and safer energetic materials as well as on reducing blast effects for human and environmental protection. These new trends are included in the syllabus and are the focus of research on campus.
 
Program strengths
A one-of-a-kind program in France
This is France's one and only pyrotechnics program. It covers compressible and reactive fluid mechanics, dynamic behavior of materials, chemistry of energetic materials, solid propulsion, digital processing and simulation methods, and pyrotechnic regulations.
Constant innovation: the example of bubble curtains
Whether accidental or intentional, underwater explosions generate, at the very least, noise which can be a threat to marine fauna. To tackle this environmental challenge, ENSTA Bretagne researchers at the Institut de Recherche Dupuy de Lôme decided to investigate the use of bubble curtains to attenuate underwater noise generated by human activities (construction work, explosions, etc.).  
Applied research to boost learning
Our research work is carried out in partnership with numerous French and international organizations and businesses: Belgian Royal Military Academy, Armasuisse, French-Germany Research Institute of Saint Louis, Nobel Sport, Livbag, SNECMA, Ariane Group… 
Extensive testing equipment  
ENSTA Bretagne has extensive experimental facilities to study dynamic phenomena: shock wave propagation, combustion, blast.
Examples of testing equipment: shock machine (compression, torsion and tension), Taylor gun, laser, etc. 
The program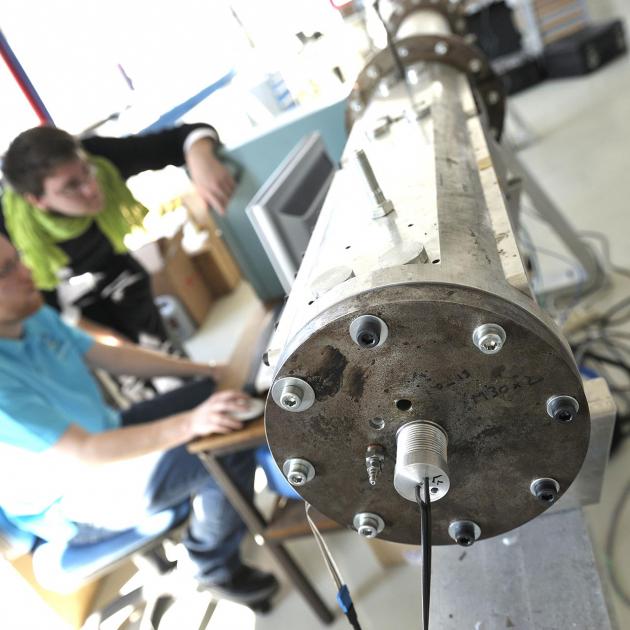 Julien Ogor
Gneral Engineering program, Pyrotechnic Systems major
Learn more about the Pyrotechnic Systems major offered in our general engineering program (equivalent to an MSc in Engineering): a 3-year syllabus for BSc or equivalent graduates, or a 2-year program for 1st-year Master's graduates
Admission
Advanced Master in Pyrotechnics and Propulsion
Learn more about this advanced master : a 1-year program for MSc graduates (or BSc graduates with several years of professional experience) 
Admission
PhD program
a 3-year program for MSc degree holders
Enrollment in ENSTA Bretagne and affiliation with the UBL-SPI doctoral school and IRDL (Joint Research Center 6027 of the CNRS)
Research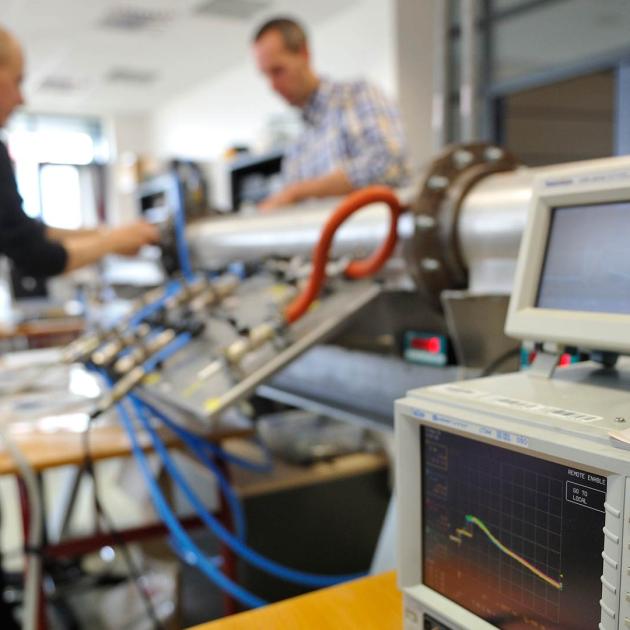 Julien Ogor
Institut de Recherche Dupuy de Lôme (IRDL)
This laboratory also hosts researchers from Université de Bretagne Sud (UBS), Université de Bretagne Occidentale (UBO), ENIB (École Nationale d'Ingénieurs de Brest) and CNRS.
Research topics
Dans le domaine de la pyrotechnie, les travaux de recherches conduits à l'ENSTA Bretagne portent sur la détermination des propriétés des ondes de souffle et l'atténuation des effets des explosions dans les milieux diphasiques.
PhD
Chaque année, plusieurs thèses sont menées sur le campus ENSTA Bretagne en lien avec la pyrotechnie.
Exemples :
Etude et modélisation d'impacts basses et hautes vitesse sur des matériaux et structures de satellites,
Propagation d'une onde de choc dans un liquide aéré : modélisation et application aux rideaux de bulles,
Mise en place d'une méthodologie pour la prédiction des effets des explosions sur infrastructures…
contact
Steven Kerampran
Enseignant-chercheur
Responsable de la spécialité Systèmes Pyrotechniques