The media library is an essential facility for engineering students and is open to all. It comprises over 15,000 references in printed or web format, over 5,000 electronic journals and 160 printed journals.
COVID-19 : La médiathèque commence son déconfinement et propose le prêt sur rendez-vous. Sélectionnez dans notre catalogue en ligne des livres qui se trouvent dans nos rayons, envoyez-nous votre liste par mail puis prenons rendez-vous pour la remise des livres dans le respect des règles sanitaires.
Vous pouvez également nous rendre vos documents en prêt sur le même principe ou les déposer dans la boite de retour si vous êtes présent sur le campus.
L'équipe prépare la réouverture pour le début du mois de juin, encore un peu de patience.
for borrowing, reading, working individually or in groups, relaxing, discussing, exploring, discovering.
The media library has 8 computers, 1 multifunction copier, 2 scanners, 3 group work rooms and Wi-Fi for use by students.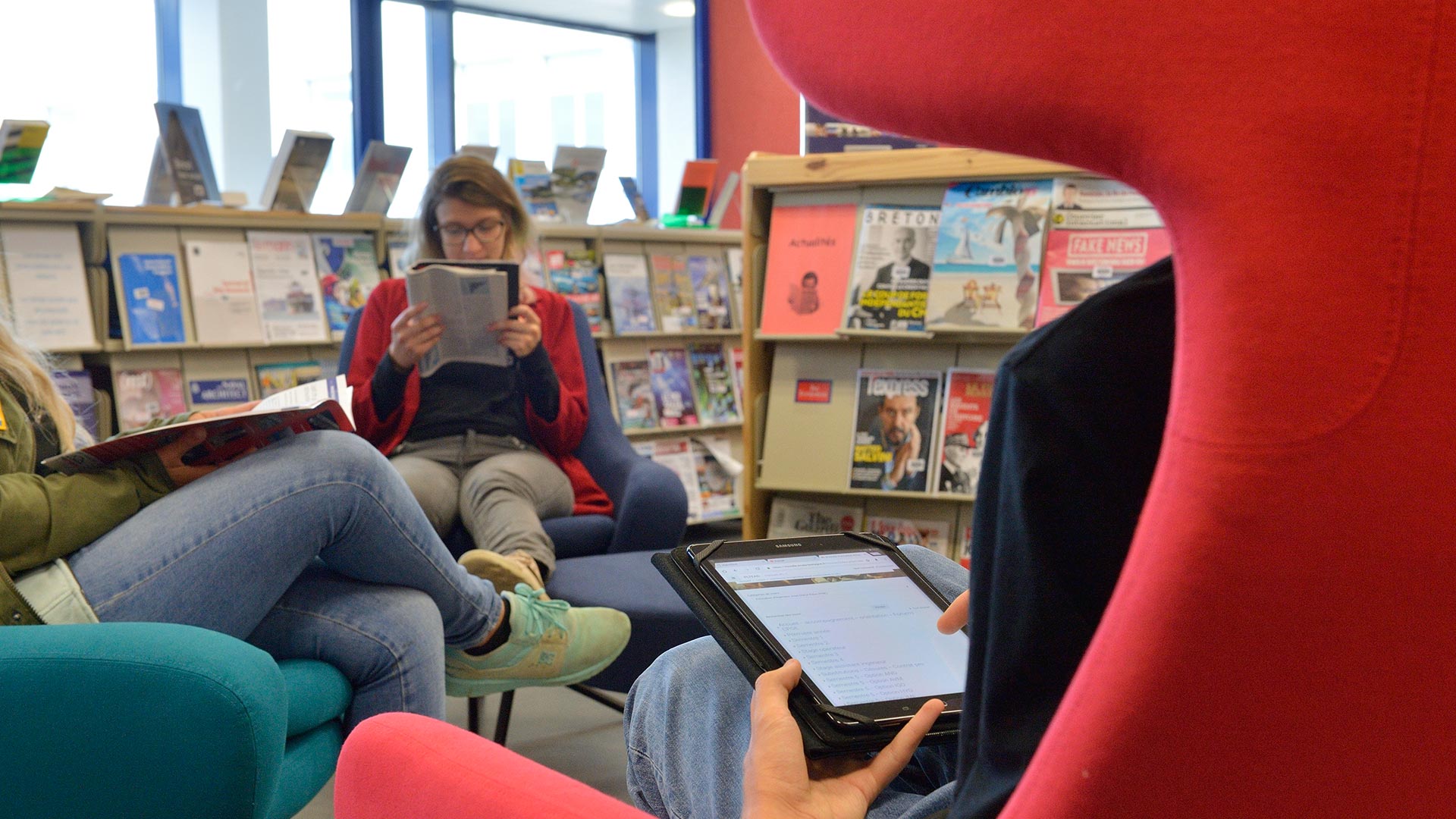 Opening times
Monday 8:00 am - 7:00 pm
Tuesday 8:00 am - 7:00 pm
Wednesday 8:00 am - 7:00 pm
Thursday 10:30 am - 7:00 pm
Friday 8:00 am - 5:45 pm
During school holidays
Open every day 8:00 am - 12:00 noon / 1:00 pm - 4:45 pm
Online catalog
Access to the catalog. All the printed resources of the multimedia library and the libraries of the University of Western Brittany (UBO) are listed.
Outil indispensable à la formation de l'ingénieur, ouverte à tous, la médiathèque c'est plus de 15 000 ouvrages en format papier ou en ligne, plus de 5 000 revues électroniques et 160 revues imprimées.
Recent acquisitions (by subject area)
Exhibitions and events
March
Technologies exhibition, art of engineering [Industry Week] - Novel exhibition [Book fair]
May
Sustainable development exhibition [European Sustainable Development Week]
June
Exhibition of tourist guides and novels [vacation planning]
September
Exhibition on Brest, its surroundings and Brittany [New student orientation]
October
Exhibition on scientific and technical culture [Science Festival - Nobel Prize]
December
Exhibition of illustrated books [Christmas]