Gobie is a project led by Hyana, a student engineer at ENSTA Bretagne as part of the "les Entrep'" program, which aims to protect oceans. It won the social innovation and sustainable development award at the regional final in Brittany.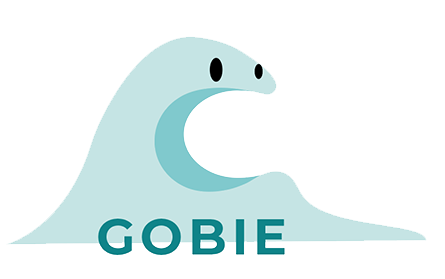 What does Gobie involve?
Gobie offers a range of tools to be fastened to various supports (catamaran, paddle, cruising sailboat, etc.) in order to provide a fun way of collecting the floating waste encountered while sailing.
Training courses and events on the subject of protecting oceans in the nautical sector supplement this offering with the aim of raising awareness and encouraging sailors to rally around this cause.
How did the idea come about?
Our idea had several starting points. Firstly, the fact that while water sports represent a large volume of users on the water, they are completely excluded from large-scale ocean cleaning projects. These projects are often totally disconnected from our daily lives so that we don't feel very concerned by the problem. For many of us, the sight of a piece of floating waste leaves us with a feeling of resentment towards the person who left it in the environment, but does not necessarily translate into the reflex to retrieve it in order to dispose of it back on land.
I am also a sailing instructor and wanted to find a way to teach the younger generation to clean up the oceans. So I created a prototype of a folding net, with the support of the manager of the sailing club where I was working, in order to make the waste collection operation easy, quick, safe and fun for children.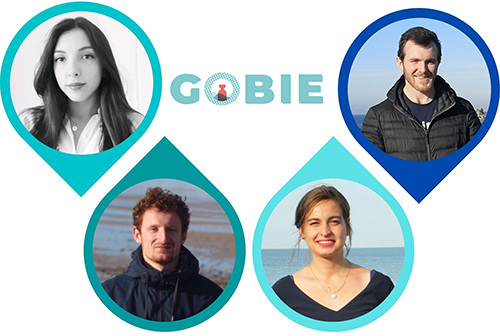 Who are the team members and what are their roles?
Sarah, a student in economic and social administration, contributed her skills in funding sources and marketing.
Damien, a student in STAPS, doing a degree in sports project management, helped the team to better understand the legal framework for setting up a business and worked on supplier relations and distribution methods.
Corentin, a student at ENSTA Bretagne majoring in Engineering and Business Sciences focused on providing project management tools and managing the computer tools needed to start a business, including the creation of a web page and the setting up of the financing plan.
Hyana, a student at ENSTA Bretagne in Naval and Offshore Architecture: I worked on market research, product development, production planning and pricing research.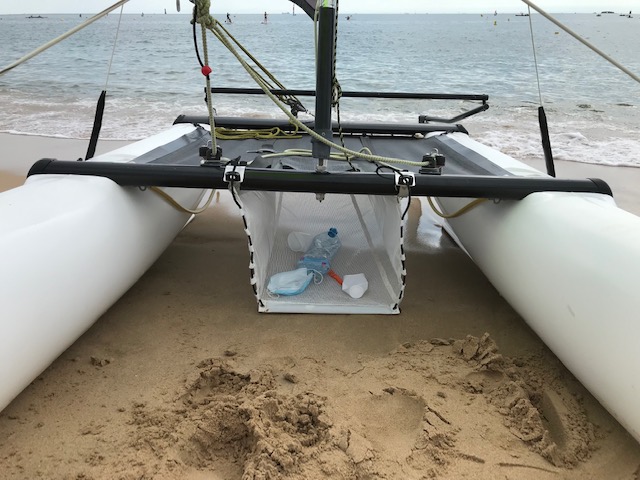 What are your ambitions?
Hyana: We are not very clear about our desire for tangible entrepreneurship after this project.
The very positive feedback from the professionals on the Entrep' jury confirmed the potential of our idea!
While I personally find my end of study project very fulfilling for the time being, I'm going to have a big decision to make at the end of it regarding the future of Gobie. If we launch Gobie, we hope, in the short term, to equip all the sailing clubs run by people who are concerned about the environment with our collection tool for small catamarans and to assist a significant number of sailing clubs in their sustainable transitions, through our training courses.
In the medium term we want to provide the market with a range of collection products that can be tailored to various supports, accompanied by a concerted awareness-raising campaign. In the very long term, we hope that all water sports enthusiasts will have the reflex to collect the waste they come across during their activity, thereby limiting their impact on the oceans.
What do you take away from this experience?
Hyana: We learned a lot about the process of setting up and running a business. We understood the complexity of turning individual ideas into a business opportunity, and translating this into a coherent business plan.
Another challenge faced by the Entrep' program was the need for remote working. Running a project with four people, working together on complex issues, and planning and coordinating each person's tasks, without being able to meet to discuss them face-to-face was sometimes a real challenge.
We thus explored cooperative project management tools available online such as Teams or Klaxoon. The know-how we have acquired will be useful in our future careers, whether it be for project management within companies, or an entrepreneurial project, or the initiating of personal projects.