The Association of Grandes Écoles (CGE) has just published the national young engineers' employment survey. ENSTA Bretagne's 2020 graduates have been relatively unaffected by the fall in employment rates observed nationwide. The school's management team commends the Alumni Association's high-quality support and would like to thank all of the former students who devote time to advising and guiding young graduates.
Facts & figures from the ENSTA Bretagne employment survey conducted at the start of 2021
Once again, a highly representative response rate of 98% (national average: 57.7%)
An employment rate far higher than the national average: + 12 points
Employment rate of ENSTA Bretagne graduates: 92% (94% for the 2019 cohort); national average for engineering schools: 79% (-10 points compared with the 2019 cohort)
Average salary of young ENSTA Bretagne graduates: €39,320 (stable compared with Y-1); national average for engineering schools: €38,882.
The vast majority of 2021 graduates have been hired on permanent contracts: 75%
The main employment sectors are as follows:
Naval and offshore design (civil and defense applications)
Digital and information technologies (civil and defense applications)
Automotive industry and aeronautics (down in 2020, especially in civil applications, less so in defense applications)
Engineering services (up in 2020, for civil and defense applications)
Energy
Education & research
Examples of positions held in connection with the different specialist fields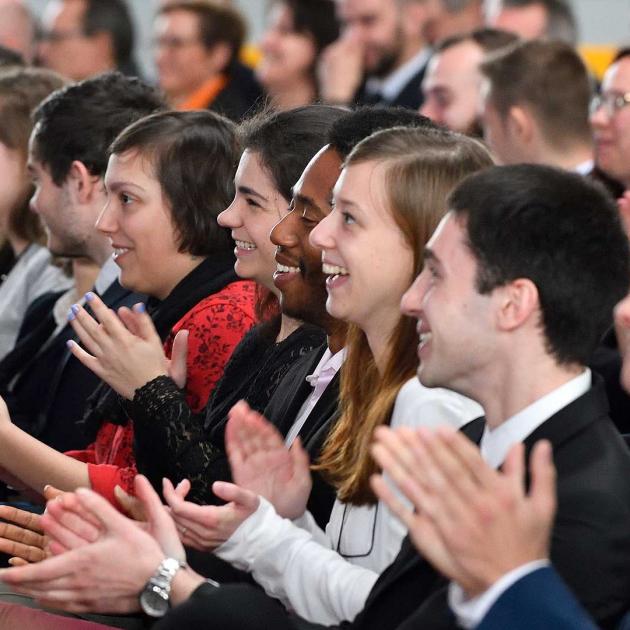 Naval architects
Coline: design engineer at Arco Ingénierie
Charles: head of the "weight estimation" division at Chantiers de l'Atlantique
Engineering & management, business science
Guillaume: Project Management and Quality Management specialist at the French Defense, Procurement and Technology Agency (DGA) 
Alexis: Finance Business Process Analyst at Dassault Systèmes 
Valentin: Doctors-Entrepreneurs Policy Officer at Lyon University
Laëtitia: Junior Consultant at Bearing Point
Vehicle architecture and advanced mechanical modeling
Arthur: lifting and handling design engineer at Edvance 
Pierrick: undertaking a thesis at Safran Landing Systems
David: mechanical design engineer at Framatome
Aurore: interior subsystems engineer at Alstom 
Digital and information technologies
David: undertaking a thesis at the U2IS laboratory
Erwann: software development engineer at the French National Institute for Research in Digital Science and Technology (INRIA)
Pyrotechnic systems
Aurihona: research engineer responsible for measurements at the French Alternative Energies and Atomic Energy Commission (CEA) 
Marie: Head of the Test Facilities and Ballistics Department of the French Ministry of the Interior
Hydrography & oceanography
Rémi: Lasergrammetry Manager at Global Geomatic 
Anaïs: undertaking a thesis at the Institut de Physique du Globe 
Alicia: underwater acoustics engineer at the French National Institute for Ocean Science (Ifremer)
2020 cohort testimonials
Kévin, military engineer specializing in Robotics.
 Because I am interested in new technologies and electronics, it made sense for me to pick the Robotics specialism. This field makes it possible to turn the virtual into reality: you build a physical system that you are going to operate via virtual development. In my eyes, it's about the right balance between the imaginary and the real. Not only that, but the tech skills you learn on this course are truly versatile.
Ombeline, engineer specialized in hydrography and oceanography
When the teachers give their lessons, they show the applications which are possible in both the civilian and military fields : this approach is a real plus point.
Etienne, engineer specialized in numerical systems
One of the strong points of Security and Digital Systems major is the variety of programming languages that you discover, especially during practical projects.
Laure-Olivia, engineer specialized in pyrotechnics systems pyrotechniques
ENSTA Bretagne is the only school to offer certain courses, especially in Pyrotechnics. Our skills are sought after and highly prized in the world of work.