From 18 to 23 February, almost 20 set off from Brest to Seville for the ERL Emergency competition: 3 students, 4 researchers and about ten land and air robots
A competition inspired by the Fukushima accident
Funded by Europe, ERL Emergency is one of the autonomous robot competitions inspired by the Fukushima accident. The aim is to send autonomous robots into a mixed terrain area, inaccessible to man, where they collaborate to explore the zone, detect any problems (leaks, fires…), find people in distress and bring them first aid. 
ERL Emergency 2019 : a competition combining land and air robots
For this new edition, the competition focuses on land and air robots. Each of the 5 participating teams in turn, has to send its robots from one point to another, avoiding obstacles and signaling different markers on their way. Two "missing persons" (represented by mannequins) have been placed within the zone. The robots are to localize them in less than 30 minutes and leave them a first aid kit. 
Final scores
LARICS (University of Zagreb Faculty of Electrical Engineering and Computing (UNIZG FER); Laboratory for Robotics and Intelligent Control Systems - Croatie)
Raptors (Lodz University of Technology; Institute of Automatic Control - Pologne)
ENSTA Bretagne
KAUST (King Abdullah University of Science and Technology; Robotics, Intelligent Systems and Control - Arabie Saoudite)
ENSTA ParisTech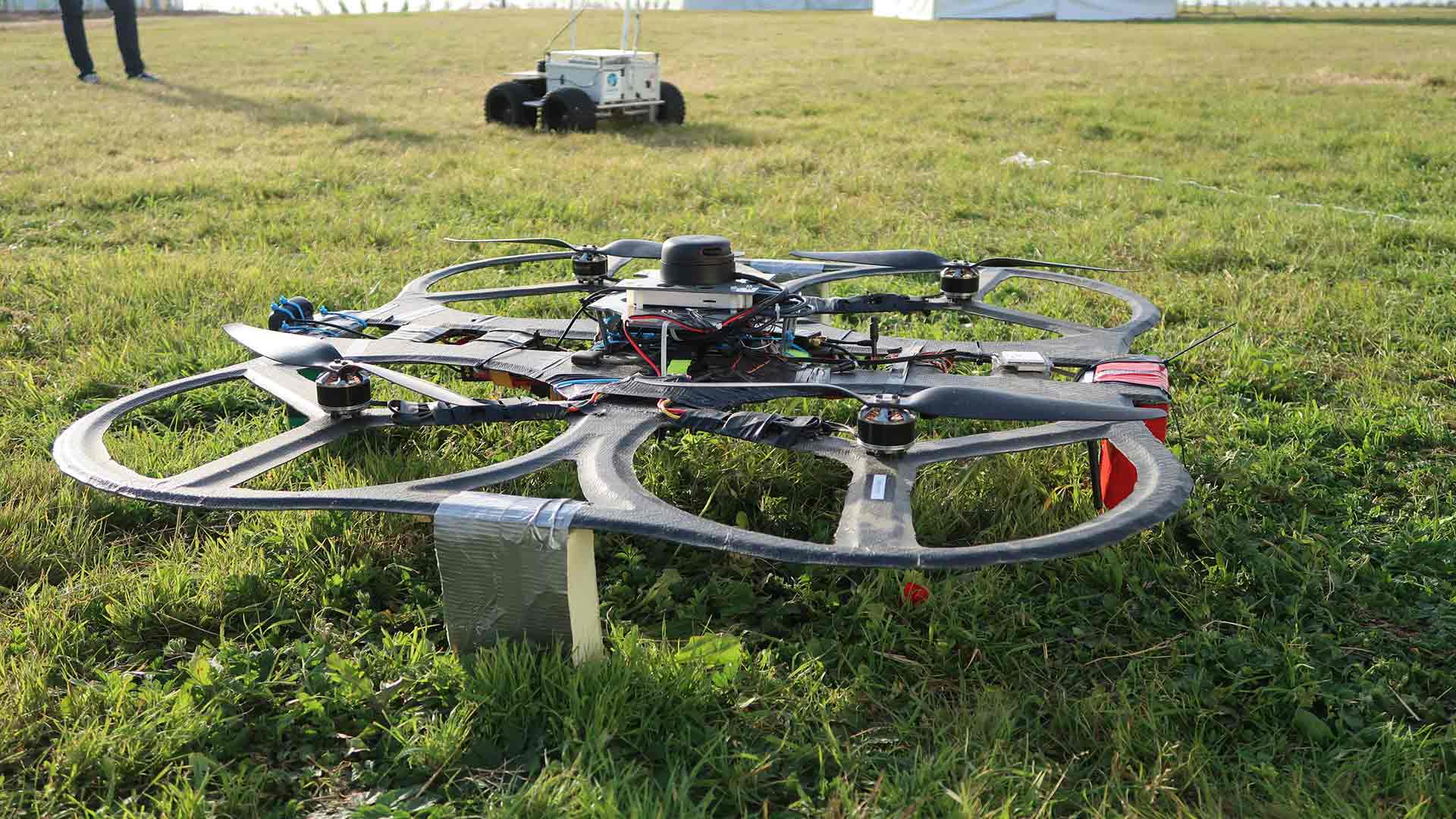 ENSTA Bretagne came 3rd on the podium and obtained the Fair Play Award
Competing against teams from all over Europe, the ENSTA Bretagne team composed of students and research personnel came third in the final classification. With 100% home-made robots, the team rapidly rose to the challenges and the terrain.
Fabrice Le Bars, associate professor : "We came to Seville only a few days after having participated in the Explore Guerlédan Lake week. So we were badly prepared. Nevertheless, the team composed of mechanics and roboticists rapidly rose to the challenge and in the rankings. The last day, we finished 2 points behind the first team and 3rd in the general classification". 
Students and researchers swing into action
Apart from 4 ENSTA Bretagne staff (a PhD student, an associate professor and 2 research engineers), 3 student engineers participated in this new experience.
Mathieu, a second year student engineer in Mechanical Engineering : "It was a very enriching experience. I improved my knowledge of sensors, data acquisition and lent a hand in maintaining robots, especially the carbon parts. We pooled our ideas on the issues that occurred. It was very stimulating, all the more so as the other teams were of an excellent level".
Corentin, 2nd year engineering student, specializing in Robotics : "I discovered the major differences between theory and practice in the field. It was hard in the beginning but we managed to make good improvements to our robots and the results were very satisfying. Our robots were 100% home-made and that didn't stop us from beating teams who had much more expensive robots!".