Before leaving for their internship, the 2nd year students (4 years post high school level) present the group project that they worked on throughout the year. This marked presentation is open to all the staff and students on campus who wish to attend, as well as the professionals who submitted the project. Some projects lead to the presentation of a prototype.
After several months of work, on a technical subject in mechanical sciences or information and communication sciences and technologies, the students present the results of their work.
Almost all the projects presented are submitted by companies or public bodies. They answer real issues.
Discover the 2018 projects in the videos (opposite) and the 2019 projects in pictures (below).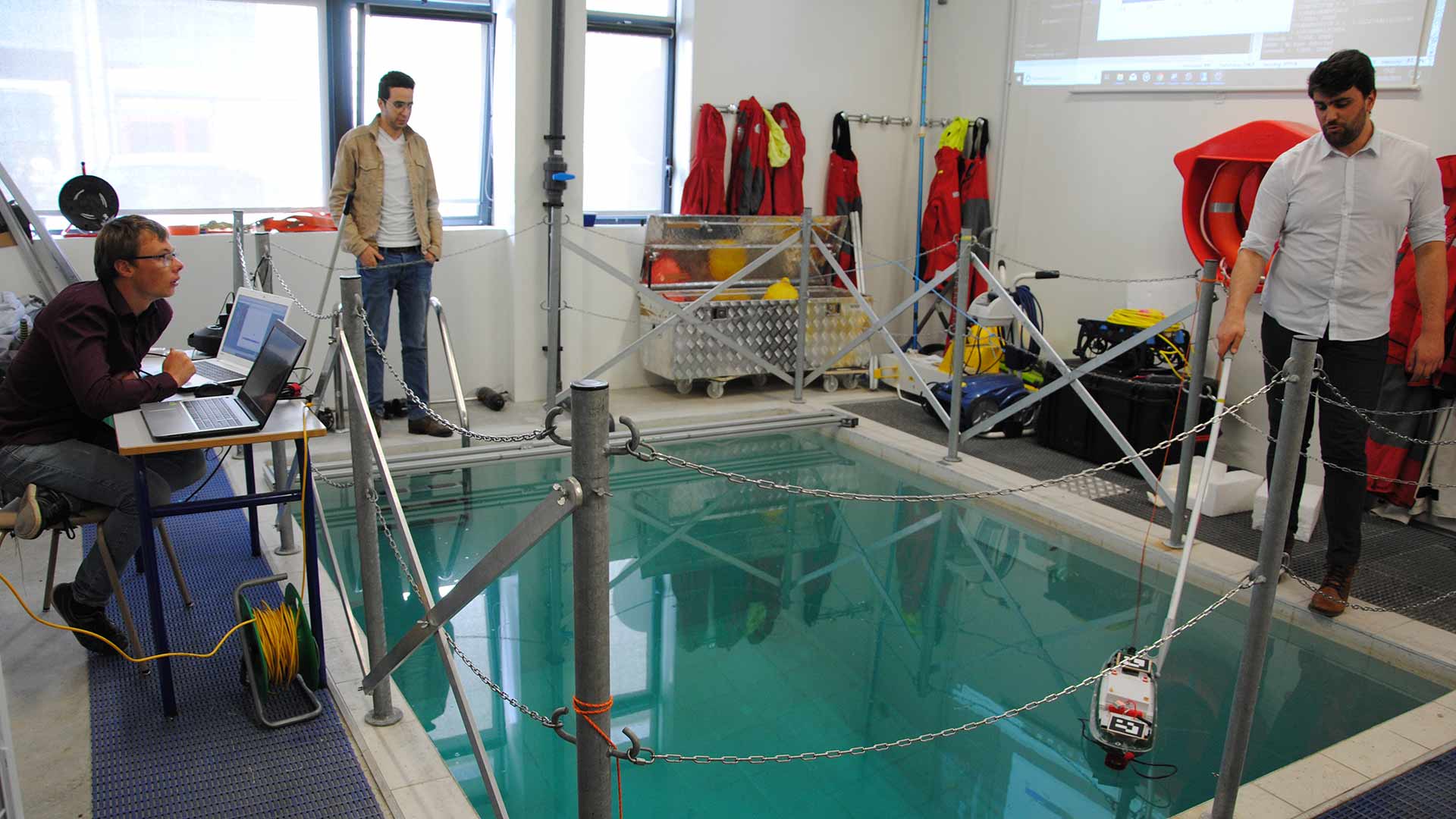 PROJET DEROBAT, LA MER XXL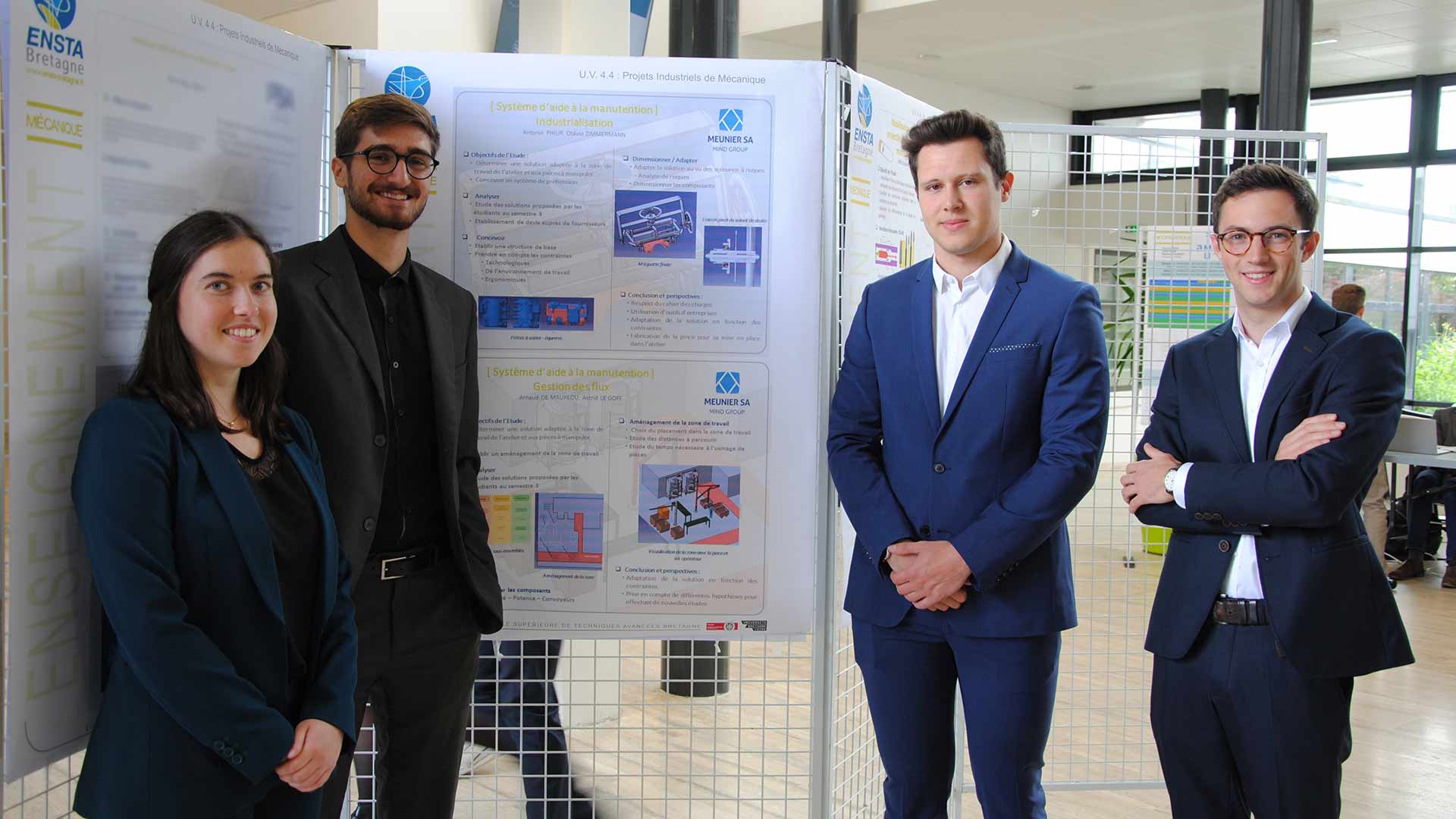 PROJET D'AIDE À LA MANUTENTION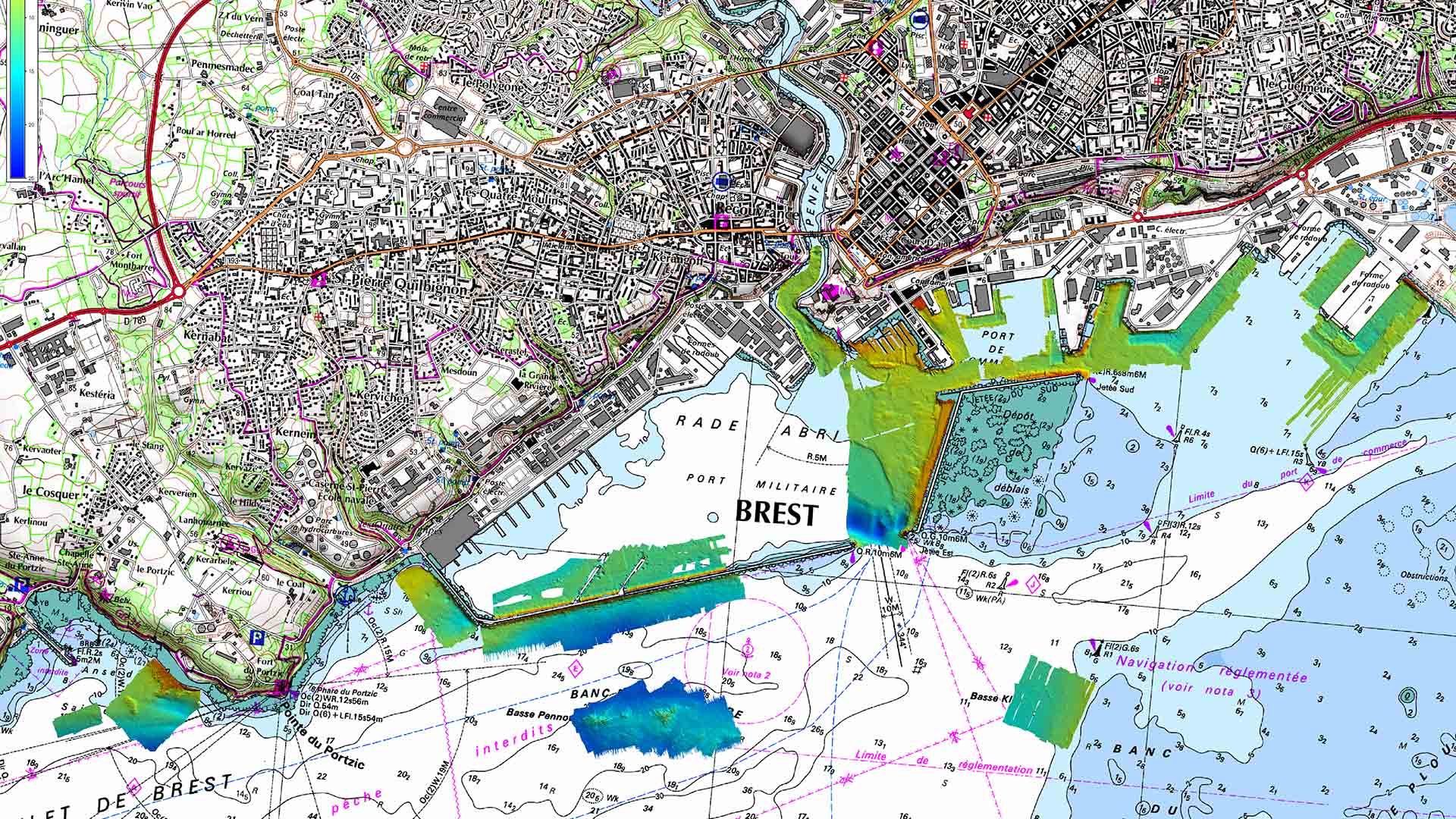 PROJET DE LEVÉ HYDROGRAPHIQUE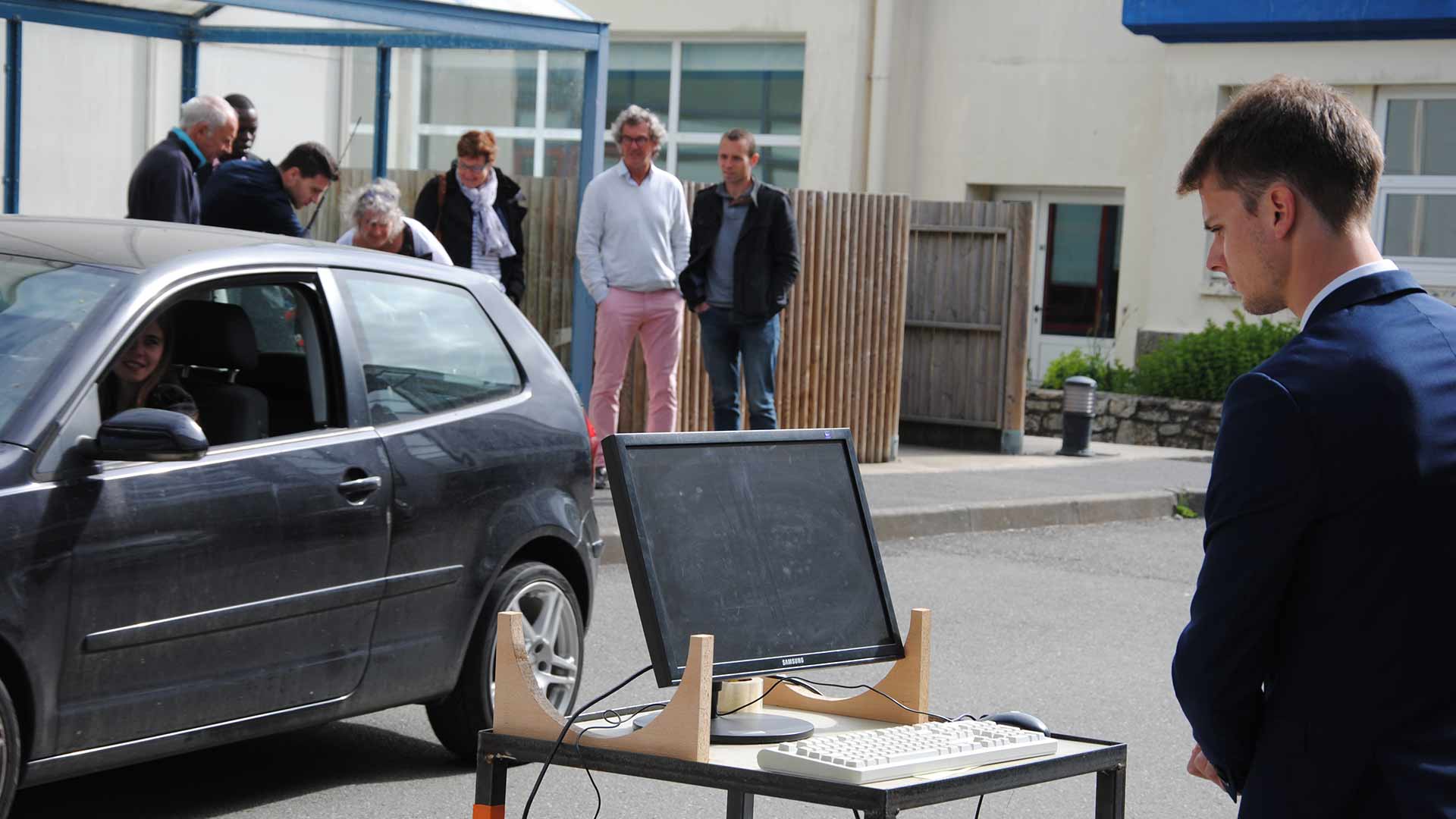 PARKING INTELLIGENTS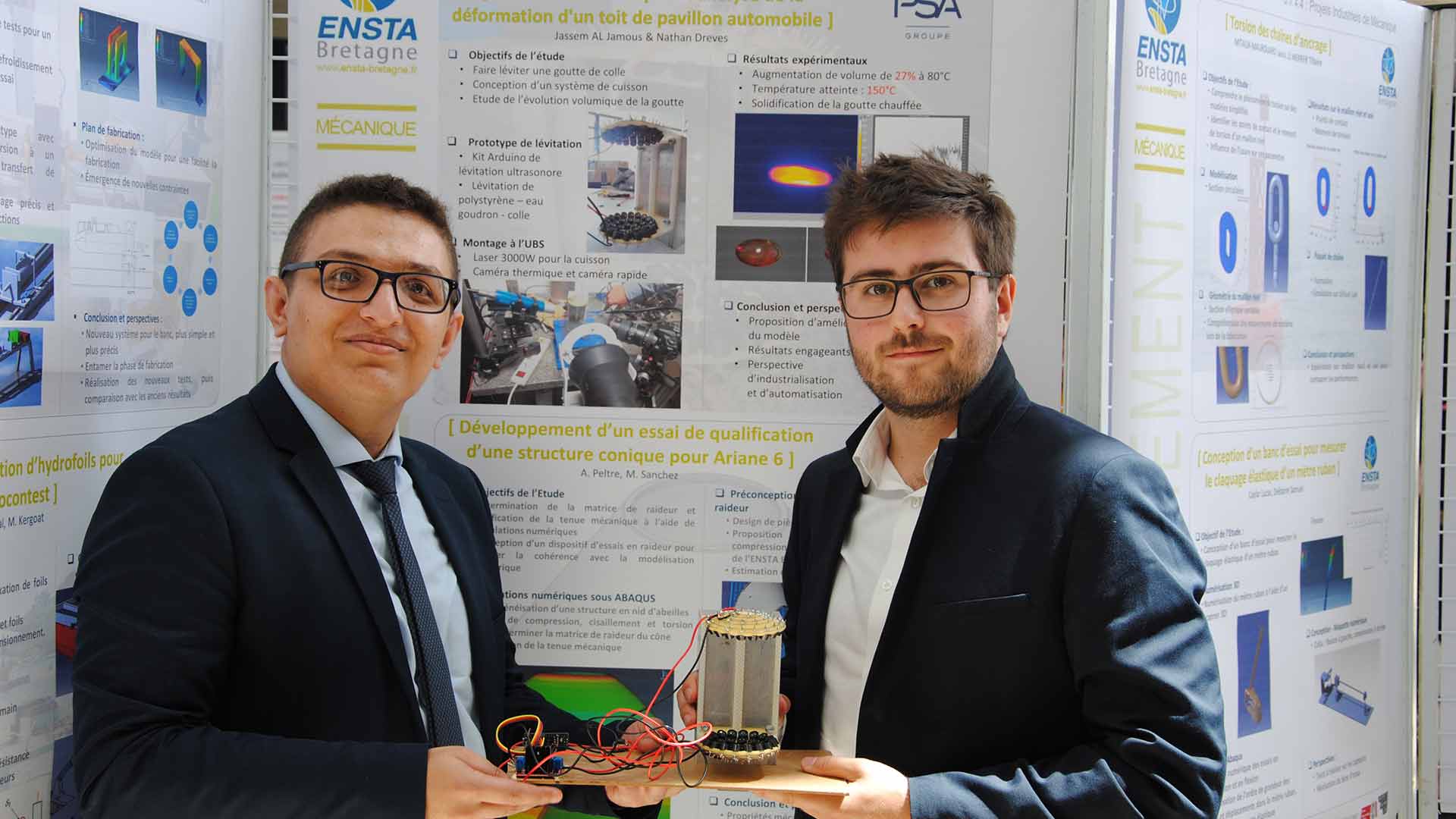 PROJET DE LÉVITATION DE COLLE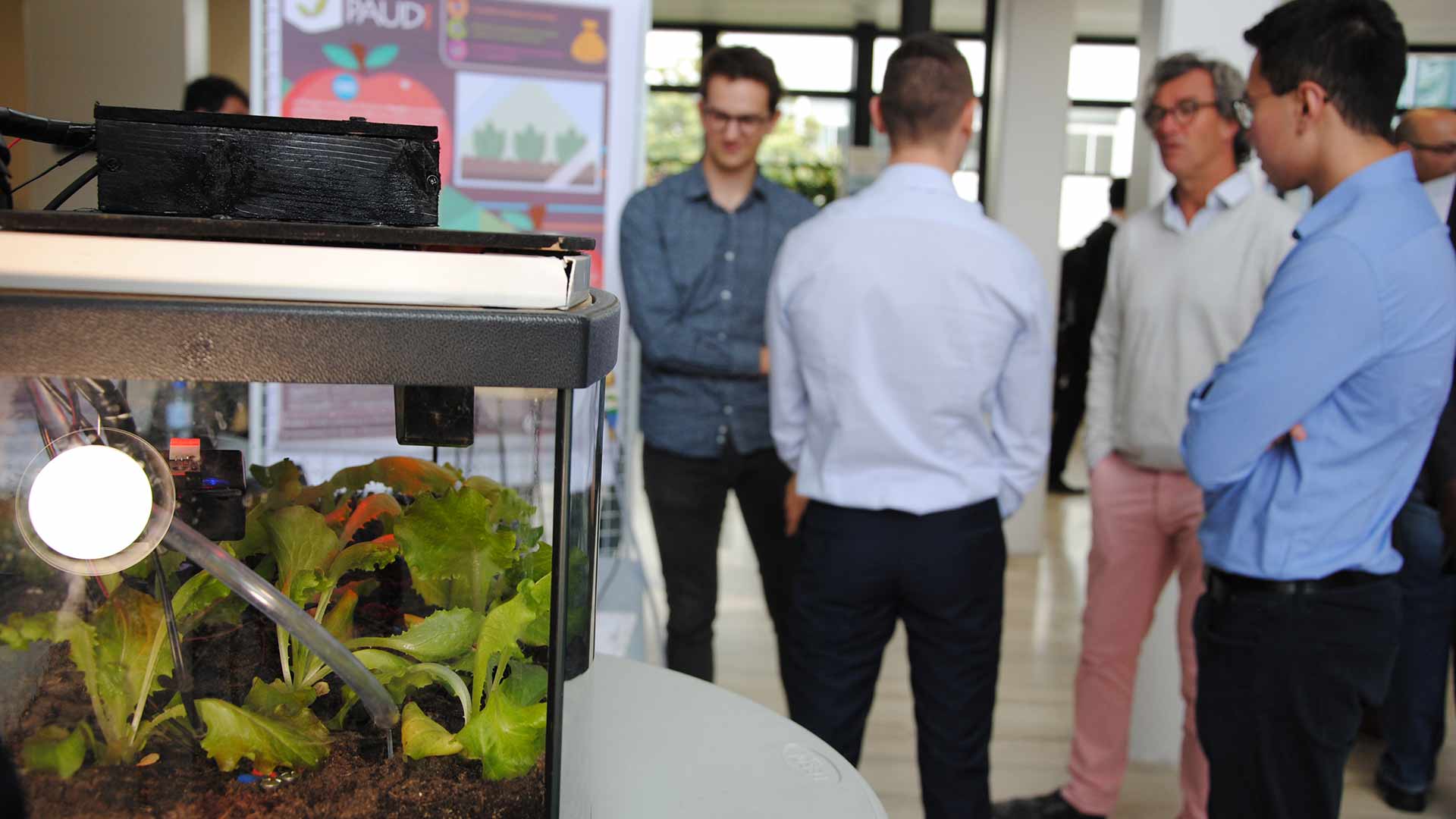 PROJET DOMOTIQUE & JARDINAGE
2019 Projects : examples
Derobat Project – "La Mer XXL" (Informatics)
ENSTA Bretagne, in partnership with the SHOM, Thales and the Ecole Navale, will be present at "La Mer XXL" from 29 June to 10 July in Nantes, on the theme of passive acoustics and robotics.
The students have worked in teams on a demonstrator which can measure the seafloor autonomously.
 
Handling weights assistance project (mechanics)
A group of 4 students went to meet the Meunier SA company. To make the warehousemen's work easier, they imagined a mechanical system which enabled 70kg mechanical parts to be transported with ease.  
This complete project was composed of an analysis, design dimensioning and risk analysis phase… The students' proposal was validated by the company. It will soon be put in place.
Hydrographic survey project (hydrography)
Students who have chosen to specialize in « hydrography » are working on a hydrographic survey of a zone in the Brest Roadstead, in groups of 3 or 4.
They are carrying out 3 surveys onboard the Panopée (the school's hydrographic survey vessel), one with the help of a multibeam sonar, another with a single beam sonar and another with a sidescan sonar. The data acquired are then processed on land and will be used to create a bathymetric map in response to the IHO special order.
 
Intelligent parking project (informatics)
As the maritime festivals are on their way, the Brest authorities wished to optimize their parking spaces, especially the temporary parking lots, to ease traffic in the city and access to the site.
The ENSTA Bretagne student engineers have come up with a system that enables cars entering and leaving the parking lots to be detected. This information will be instantly communicated to a website which enables visitors to know in real time where there are available spaces.
Glue levitation project (mechanics)
Answering a request from PSA who are interested in vehicle roofs in aluminum (and thus glued assemblies), two mechanical science students have come up with an innovative method of measuring the evolution of the volume of glue in relation to its temperature.
In a few weeks, the students managed to levitate a drop of glue, design a baking system and measure the change in volume of the drop. This research, in partnership with the UBS/IRDL teams, will give rise to a thesis in a few months.
Domotics and gardening project
The aim of this project was to design an innovative domotics project. After a market survey and participation in a seminar on entrepreneurship, the team imagined an "automated vegetable garden". Their product is in the shape of a closed box which enables various plants to be grown autonomously.
Passive sensors for humidity, light and temperature enable the ecosystem to be continuously monitored.
The parameters are defined via a website. According to what is required, actuators enable watering, lighting and even ventilation!