ENSTA Bretagne engineers are active members of a changing society and are able to reconcile technical innovation with social and economic requirements, ethical responsibilities and team management.
Engineers, businesses and society
Human and social science classes develop the skills necessary for project management, workplace integration: economics, entrepreneurship, marketing, financial planning, communication, running meetings, decision-making, etc.
Self-knowledge and organizational psychosociology concepts are combined in these classes, which aim to assist students in defining a career path aligned with their personal goals and with societal needs and environmental constraints (economic climate, jobs market and ecological issues).
Through complementary disciplines such as history, philosophy and geopolitics, students are invited to examine the role of engineers in modern society and the challenges they may face in their engineering careers.
2 compulsory modern languages and an optional 3rd
The program emphasizes learning modern languages, which are indispensable tools both for work and for a wider understanding of the world.
1st compulsory language: English. Students work towards achieving at minimum a B2 level in order to work in an English-speaking professional environment.
2nd compulsory language: German, Spanish, Chinese or Portuguese (or French as a Foreign Language for international students).
Optional 3rd language: the school adapts to beginners wishing to learn the above-mentioned languages or others such as Japanese or Russian.
Training for the global workplace
Our intercultural approach goes beyond language mastery: through role-play, future engineers learn techniques for job interviews in other cultural environments and for cooperation in and management of multicultural teams.
Sports, leadership, and cultural awareness activities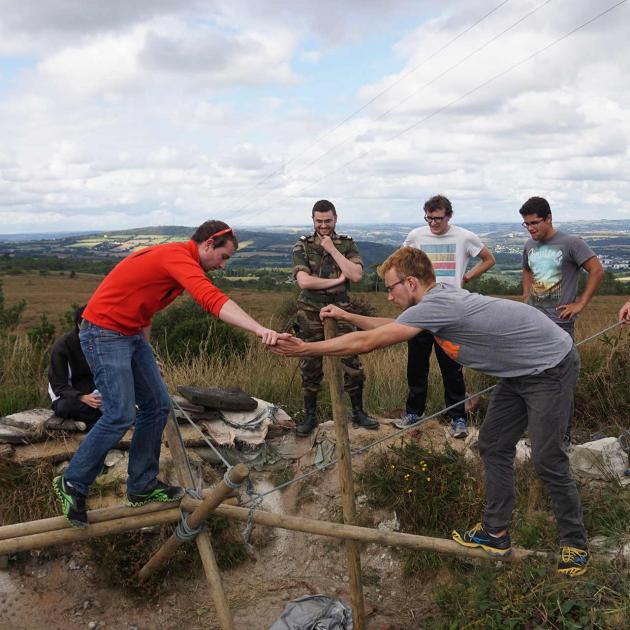 Stimulating curiosity and thinking through cultural awareness workshops
At ENSTA Bretagne, students benefit from an exceptionally wide range of personal development and cultural awareness workshops on subjects such as civilization (Chinese, Japanese, and Arabic), stress management, and the visual and performing arts. These 3rd-year workshops pave the way for learning to innovate.
Sports: performance and personal development
Physical and sports activities are a key element of engineering training at ENSTA Bretagne. Physical education is a compulsory subject, and students can practice both individual and team sports. Sports contribute to self-knowledge, to understanding various roles (partner, opponent, referee, manager), to managing the difficulties of competitive situations, and more.
Developing leadership skills
Leadership classes are lessons in living. A few kilometers from campus, in an ideal setting for this unique experience, teams of students tackle timed technical challenges, such as building a structure. Each student is evaluated in terms of their ability to take on a leadership role, and students are led in a structured brainstorming session on the qualities and attitudes expected of project and team managers.
Serious games
Groups of 2nd-year students can choose between two serious games on the themes of business development (3 days to turn around a struggling business) or business creation (exploring all the stages of startup creation, from idea to market study to business plan).
Preparing for the multicultural workplace
Workplace culture and operational and organizational systems vary greatly from country to country, and these differences can quickly complicate interactions.  For almost 10 years now, ENSTA Bretagne has offered intercultural management classes that help students evolve professionally in multicultural and international environments.