As part of an assignment set by Junior Impact, ENSTA Bretagne's junior enterprise, two students have lent specialist support to the start-up Ec'eau Flow. The study focused on the floatability and stability of habitable barges which are almost self-sufficient in energy terms.
Paul is a third-year engineering student, majoring in Naval and Offshore Architecture. Pierre is Project Manager at Junior IMPACT and a first-year engineering student. For six weeks, they supported two entrepreneurs from the region of Avignon who are leading the Ec'eau Flow project.
The latter are looking to innovate in the hospitality and housing sector by unveiling habitable barges which are almost self-sufficient in electricity terms – tiny floating homes of sorts. This concept has already been rolled out in cities the likes of Copenhagen, Malmö and Amsterdam, but is still unprecedented in France.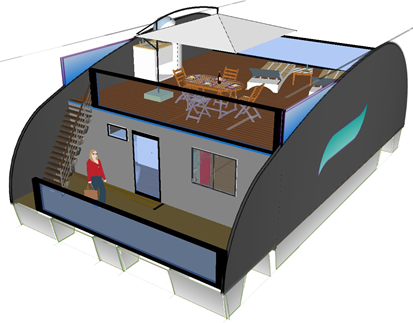 What's the project's end goal?
Pierre: The Junior Enterprise's role in this project was to provide a tool that the client could use to check the stability of their concept. In practical terms, the client sent us the weight report for their concept (summary table of the masses and their positions within a vessel) and the blueprints of the float used.
On the basis of this information, Paul, who headed up the study, was able to characterize the stability of the barge. In order to factor in future barge adjustments, the client wanted a tool that was quick and easy to use for checking the stability of the product after each adjustment. 
What knowledge acquired during your studies have you applied for this project?
 Paul: I carried out a range of constructive tasks for this project:
 First of all, I had to harness theoretical knowledge with regard to vessel stability. For that, I had to draw on ENSTA Bretagne modules and do a bit of bibliographic research.
I worked with software programs specific to Naval Architecture, developed a worksheet and checked my findings to obtain a calibration. This stage, which I had already done during a previous project, entails putting the modules we have covered at ENSTA Bretagne into practice.
I also improved my educational skills. I had to explain simple notions of physics (force, moment, coordinates) and more complex notions of vessel stability (metacenter, hydrostatic stiffness) to the client, who doesn't have a scientific background. When designing the tool, I also had to highlight key information and a simple method for assessing them.
What is your verdict of this experience? What have you taken away from it?
Pierre: On a personal level, I really enjoyed working on a subject in the context of naval architecture, with an innovative idea. This enabled us to adopt a real engineering strategy, since the client was not already settled on any specific point with respect to the architecture. They were therefore completely open to taking our comments about their work on board.
From a professional point of view, this work enabled me to develop my customer relationship skills, since a project manager must keep track of the client's requirements throughout a partnership. I learned how to manage a schedule, keep to the delivery dates as agreed with the client and therefore to honor the contract that had been drawn up. On a final note, I think I have honed my reporting skills too (as I had to write up reports and give a weekly rundown to the client).
Paul: I enjoyed working on this project as it enabled me to gain perspective on the major third-year project on the Naval and Offshore Architecture program: the ship design loop engineering firm. For this project, on which a team of five students work together for a month, we have to submit a bid in response to a call for tenders initiated by the professors, as if we were actual naval architects. We are expected to come up with passenger ship architecture meeting the ship owner's requirements and the legal regulations, not least those bearing on vessel stability. To meet these requirements, we adjusted the weight report of our vessel a number of times and, each time, we had to check its stability. We sometimes found this process to be somewhat tedious!
 
During the Ec'eau flow project, my role was not as a designer but facilitator. I could clearly see how long the stability calculations took with each new adjustment of the concept. So my role was to come up with a simple way to speed up these calculations.