On Friday April 23, 2021, ENSTA Bretagne welcomed André-Hubert Roussel, CEO of ArianeGroup, and Philippe Clar, the Group's Defense Program Director, to meet the engineering training team and tour its research center. At the end of their talks, the agreement between the Franco-German Group and ENSTA Bretagne, who have been partners for several years now, was renewed.
In January 2019, André-Hubert Roussel took over from Alain Charmeau as CEO of ArianeGroup.
Bruno Gruselle, Director of ENSTA Bretagne:
Together with several members of the management team, Mr Roussel spent a few hours learning more about the strategy of our school, sharing our vision of engineering training. I should like to thank him and the teams at ArianeGroup for renewing their trust in us and for their heightened interest in our training programs and research. Cutting-edge engineering in the field of space launchers is paramount for Europe's strategic independence.
 
André-Hubert Roussel, CEO of ArianeGroup:
ArianeGroup holds ENSTA Bretagne's engineers in high regard, as they combine general training with original majors in strategic subjects for civilian aerospace and defense programs, such as #pyrotechnics & #propulsion, #modeling, advanced #mechanics, #embedded #systems, #observation systems and #AI, secure #digital systems, autonomous #robotics and #engineering and business science... Scientific cooperation will be scaled up, in mechanical sciences and information technologies."
The research programs presented are led by ENSTA Bretagne's teams within two national and international laboratories, one specializing in information science and technology (Lab-STICC - UMR CNRS 6285), and the other in mechanical sciences (IRDL - UMR CNRS 6027).
Photo captions:
above, left to right: Yann Doutreleau (ENSTA Bretagne, Scientific Director), Betty Grassart (ArianeGroup, Site HR Manager), André-Hubert Roussel (ArianeGroup, CEO), Bruno Gruselle (ENSTA Bretagne, Director), Philippe Clar (ArianeGroup, Defense VP), M Allory (ArianeGroup, Director of the Crozon Site), Nicolas Ogloblinsky (ArianeGroup, Crozon Site).
below, left to right: André-Hubert Roussel (ArianeGroup, CEO), Bruno Gruselle (ENSTA Bretagne, Director)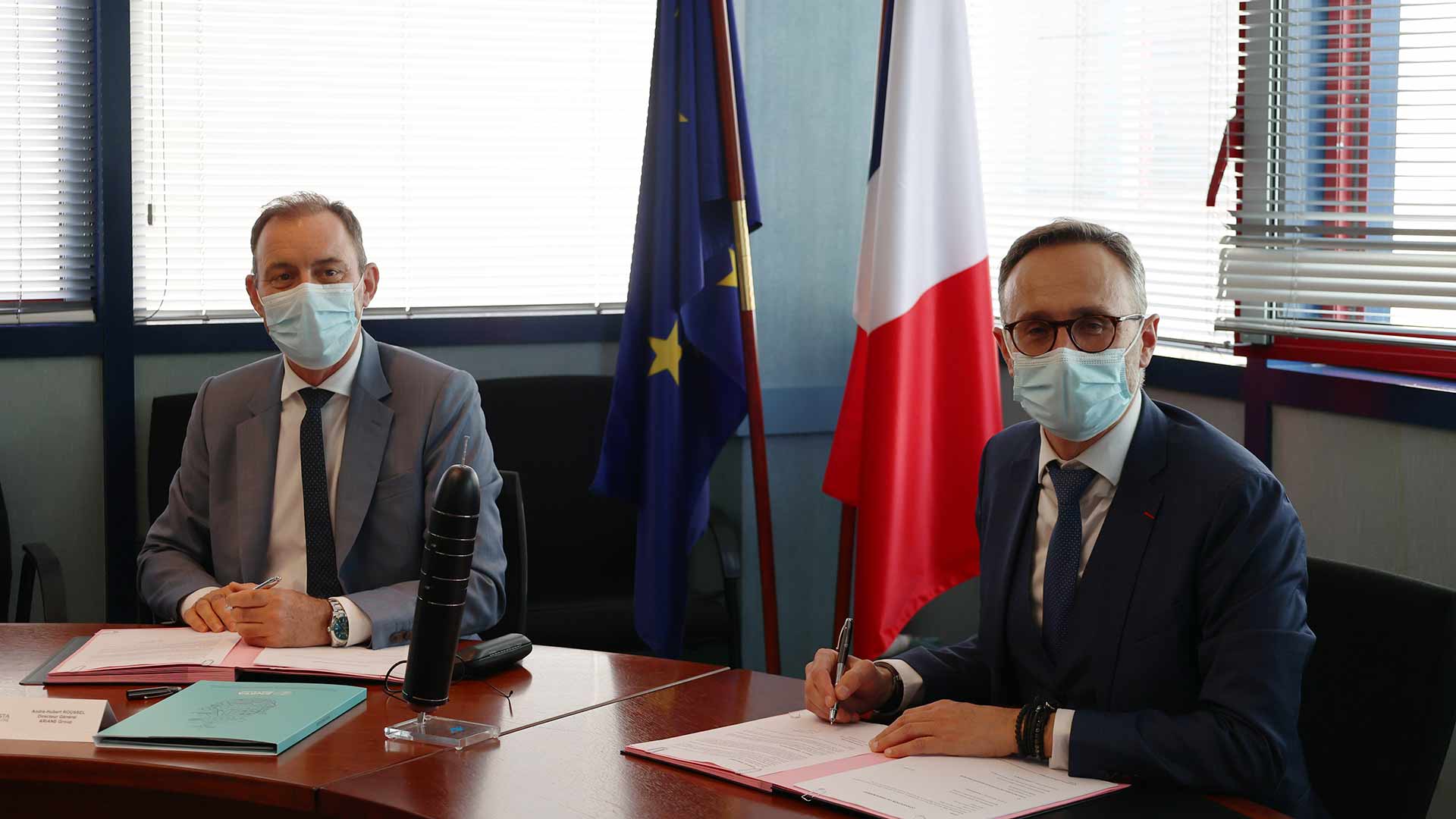 photo ENSTA Bretagne