On 25 November 2017, during the 2017 Degree Ceremony, 250 ENSTA Bretagne engineers, Masters, Specialized Advanced Masters and numerous laureates were rewarded.
The 44th edition of the Palmarès Degree Ceremony took place at the Atelier des Capucins, in the presence of 800 guests. There were numerous parents, friends, staff and partners of the school who accompanied the graduates.
A l'issue de trois années de formation d'ingénieur, sous statut étudiant, militaire ou apprenti, les ingénieurs ENSTA Bretagne de la promotion 2017 ont fêté leur diplomation et leur entrée dans la vie active. A leurs côtés, étaient également diplômés les jeunes spécialistes issus des masters et mastères spécialisés, venus approfondir un domaine technique en sciences marines, sciences mécaniques, technologies de l'information, hydrographie ou pyrotechnie.
Pascal Pinot, directeur de l'ENSTA Bretagne et Frédéric Laurent, représentant le parrain de la promotion 2017 : Jean-Pierre Denis (PDG du Crédit Mutuel Arkéa) ont ouvert la cérémonie.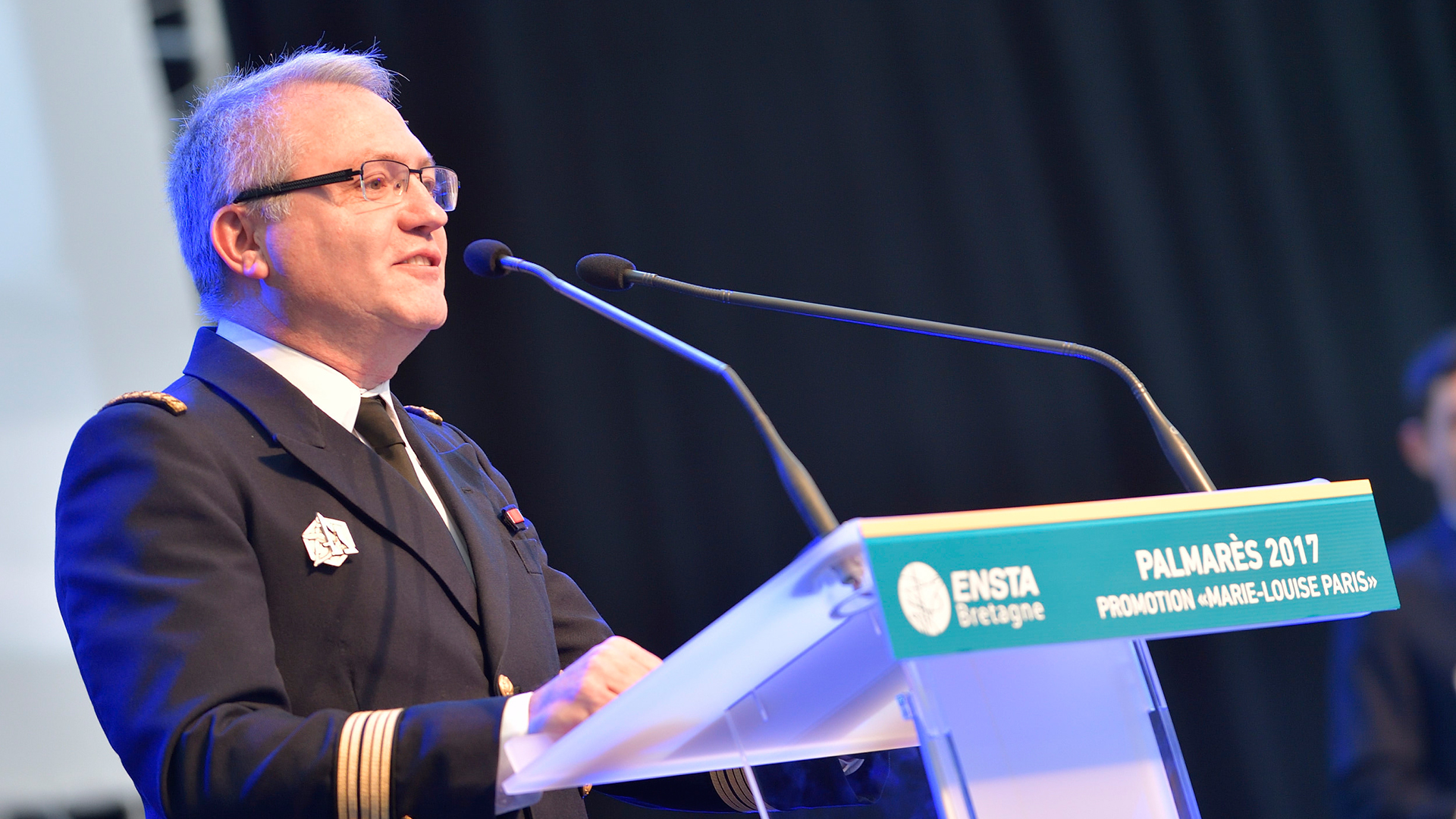 Discours de Pascal Pinot, Directeur
Remise des diplômes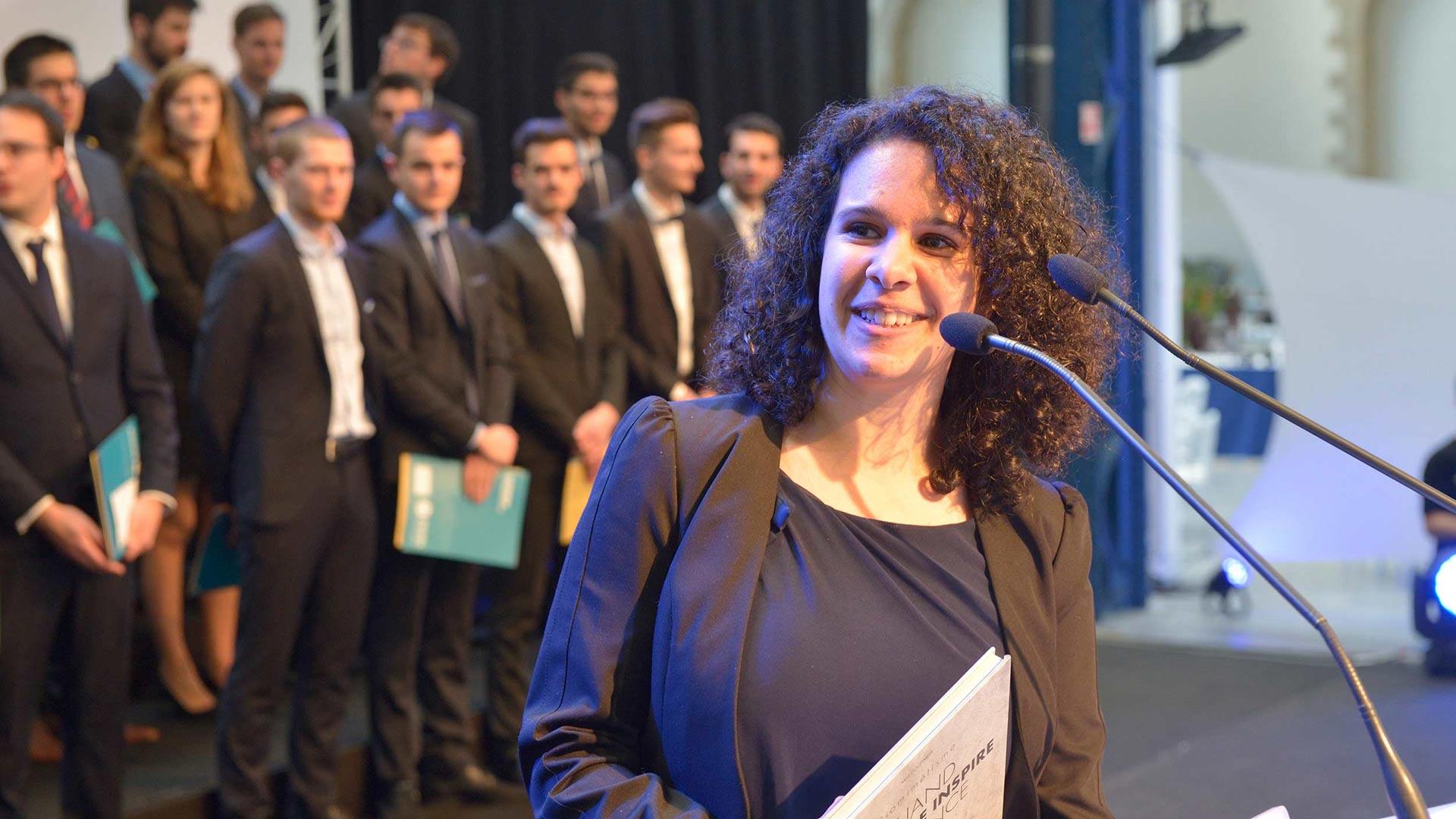 Remise des prix académiques
Chaque étudiant était ensuite appelé par ses enseignants pour recevoir en main propre son diplôme d'ingénieur. Un moment symbolique pour les jeunes diplômés qui sont montés sur scène avec fierté. 
Des prix ont été remis aux majors de chaque spécialité et aux étudiants ayant participé au rayonnement de l'école. 
Prix RINA (Royal Institute of Naval Architects), remis par David Thévenet, enseignant chercheur, à Lauranne Maisonneuve, major de la spécialité "Architecture navale et offshore" (cycle ingénieur)
Prix ID4CAR à François-Henry Deghaye et Clément Ambros, majors de la spécialité "Architecture des véhicules / Modélisation" (cycle ingénieur & cycle ingénieur par alternance)
Prix AF3P, remis par Nicolas Ogloblinsky, représentant ArianeGroup, et Martin Monloubou, enseignant chercheur, à Guillaume Minard, major de la spécialité "systèmes pyrotechniques"
Prix CAIETA, remis par Philippe Jean, Président de la CAIETA, à l'IETA Thibauld G.
Prix ENSTA Bretagne Alumni du "rayonnement sportif", remis par Pascal Pinot à Marion Lorieul, présidente de l'association sportive qui encadre l'ensemble des clubs.
Prix ENSTA Bretagne Alumni et Campus Mondial de la Mer du "rayonnement maritime", remis par Françoise Duprat, Directrice du Technopôle Brest Iroise, à Annabelle Clémenti et Manon Ducoux, pour l'organisation et le succès de l'équipe au challenge Hydrocontest, en Suisse, en 2016.
Prix ENSTA Bretagne Alumni "esprit d'entreprendre", remis par Laurent Fabrice, Président de l'association des anciens élèves, à Nicolas Tokotuu, jeune entrepreneur, qui s'est également brillamment investi pour le rayonnement de l'association des anciens élèves
Prix spécial "presque diplômée" remis par Alain Poulhalec, responsable du cycle ingénieur, à Ophélia Bolmin, pour la qualité de son parcours scientifique, les nombreuses récompenses obtenues et sa bourse d'étude aux Etats-Unis, à l'université américaine de l'Illinois à Urbana-Champaign, où elle achève son master avant de débuter une thèse.
La cérémonie s'est clôturée par la célèbre "photo de promotion" avant de laisser place au cocktail : un moment convivial où chacun a pu échanger et féliciter les nouveaux ingénieurs. 
Les festivités se sont poursuivies dans la soirée avec le Gala organisé par les étudiants de l'ENSTA Bretagne. Les élèves ingénieurs ont brillé par leurs prestations musicales et dansantes avant d'accueillir pour un DJ set, les Pony Pony Run Run qui avaient spécialement fait le déplacement pour l'occasion.
Nous remercions toutes les personnes présentes et plus particulièrement nos partenaires sans qui cette belle journée n'aurait pas eu lieu.