Every year, ENSTA Bretagne students take part in a variety of challenges and accomplish exciting projects (either as part of their studies or in their personal time). Here are just some examples.
Hackathons
"DATA ÉNERGIE" organized by the Ministry for the Armed Forces
In 2021, the ENSTA Bretagne/Télécom Paris joint team won with artificial intelligence-led data analyses.
Digital hackathon organized by Accenture
Top spot in 2021 on a sustainable development-related programming subject.
Hackathon "ACT IN SPACE" organized by CNES 
Runner-up in 2020 in this challenge geared towards space.
Sopra Steria "BREAK THE CODE" Challenge
Brest claimed victory in 2020 and 2019 with the student club CYBER
Les Entrep' 
Les Entrep' is a national program aimed at encouraging business startups. Students from different institutions (on engineering, law, biology or communications courses for example.) spend a few months (18 weeks) working together on innovative and creative projects. 
1st prize for Brittany in 2016, Brittany scooped 1st prize in the social innovation and sustainable development trophy in 2021, 2017 and 2016.
1st prize for Finistère in 2020 and 2018.
Perrine, elected Regional Adviser for 2020-2021
After a year as President of the "BEST ENSTA Bretagne" association, Perrine was elected Regional Adviser for 2020-2021 to jointly oversee the European network BEST 2021: the Board of European students of technology.
 
Hydrocontest
Thanks to their "homemade" sailboat, the ENSTA Bretagne team scooped bronze in the international Hydrocontest-X competition in the "long distance race" category in 2019. The team, which has undergone a reshuffle since the competition stopped, is working on an autonomous sailboat capable of crossing the Atlantic Ocean.
World Robotic Sailing Championship (WRSC)
1st prize in 2018 and 2013.
2021 "Cap Ingénieuses" prize and certification awarded to the "L codent L créent" initiative
The "L codent L créent" initiative is aimed at sparking the interest of girls attending high school in IT and engineering by introducing them to programming in the "Python" language. For a few years now, male and female ENSTA Bretagne students have been travelling to partner high schools to give them an insight into programming.
 
SIA (French Society of Automotive Engineers) Trophy) 
Promotion of professional ethics (ROTARY/CGE/UNESCO)
To enter this contest, candidates have to write a paper on the theme of ethics in the workplace. Two ENSTA Bretagne students have been prize-winners, one in 2019 (Noémie Fritsch) and the other in 2018 (Angélique Rissoan).
 
Shell Eco Marathon
Shell Eco-marathon is an international student automotive engineering competition where contenders must try to travel the furthest on one liter of fuel. In 2018, the team finished 18th out of 36 with their electric prototype (after several years of excellent results with internal combustion engines).
EDHEC Sailing Cup
Top spot in the 100% student sailing competition in a J/80 sportsboat and runner-up in the Sea Trophy, First 31.7 Category, in 2019.
"ERL EMERGENCY" International Robotics Competition
ERL Emergency is one of the autonomous robot competitions inspired by the Fukushima accident. The aim is to send autonomous robots into a mixed terrain area, inaccessible to man, where they collaborate to explore the zone, detect any problems (leaks, fires…), find people in distress and bring them first aid.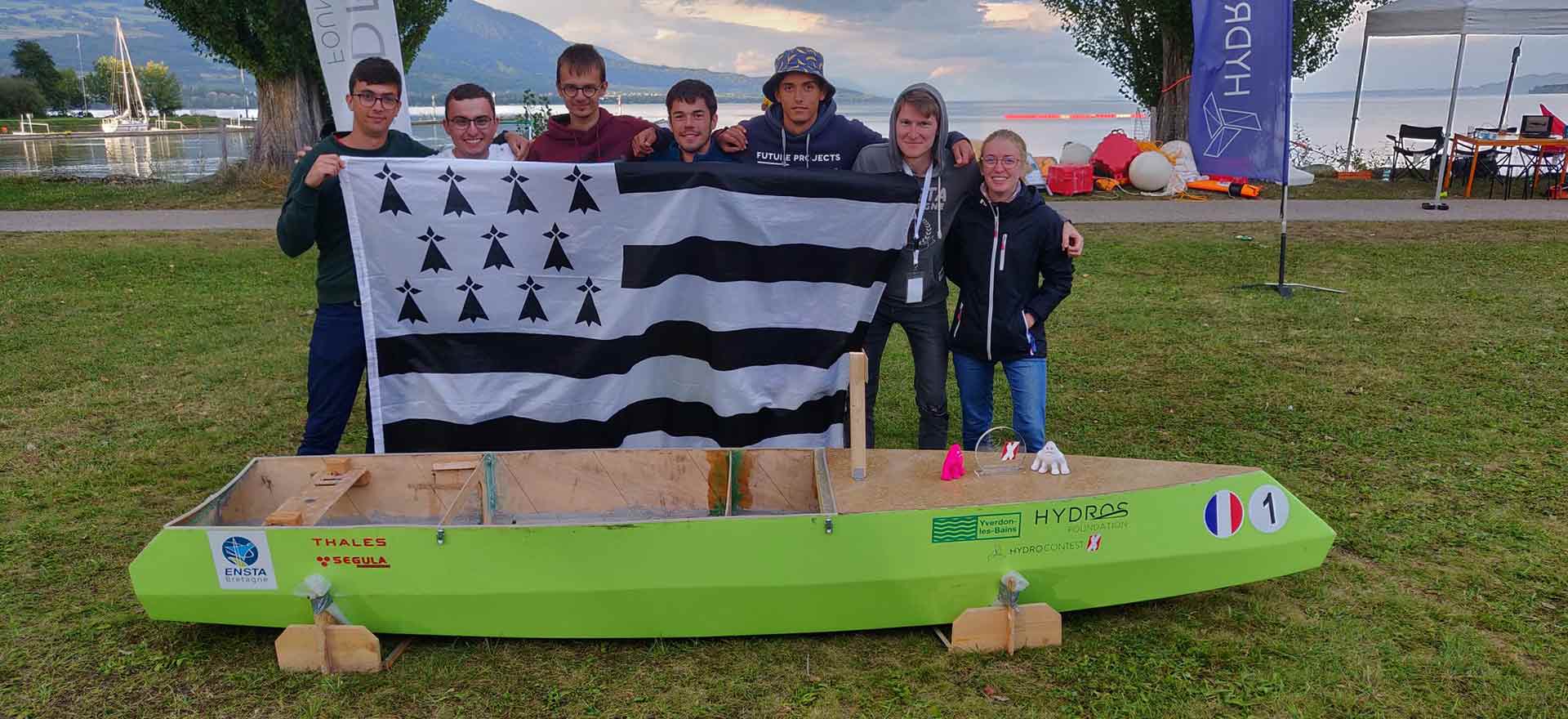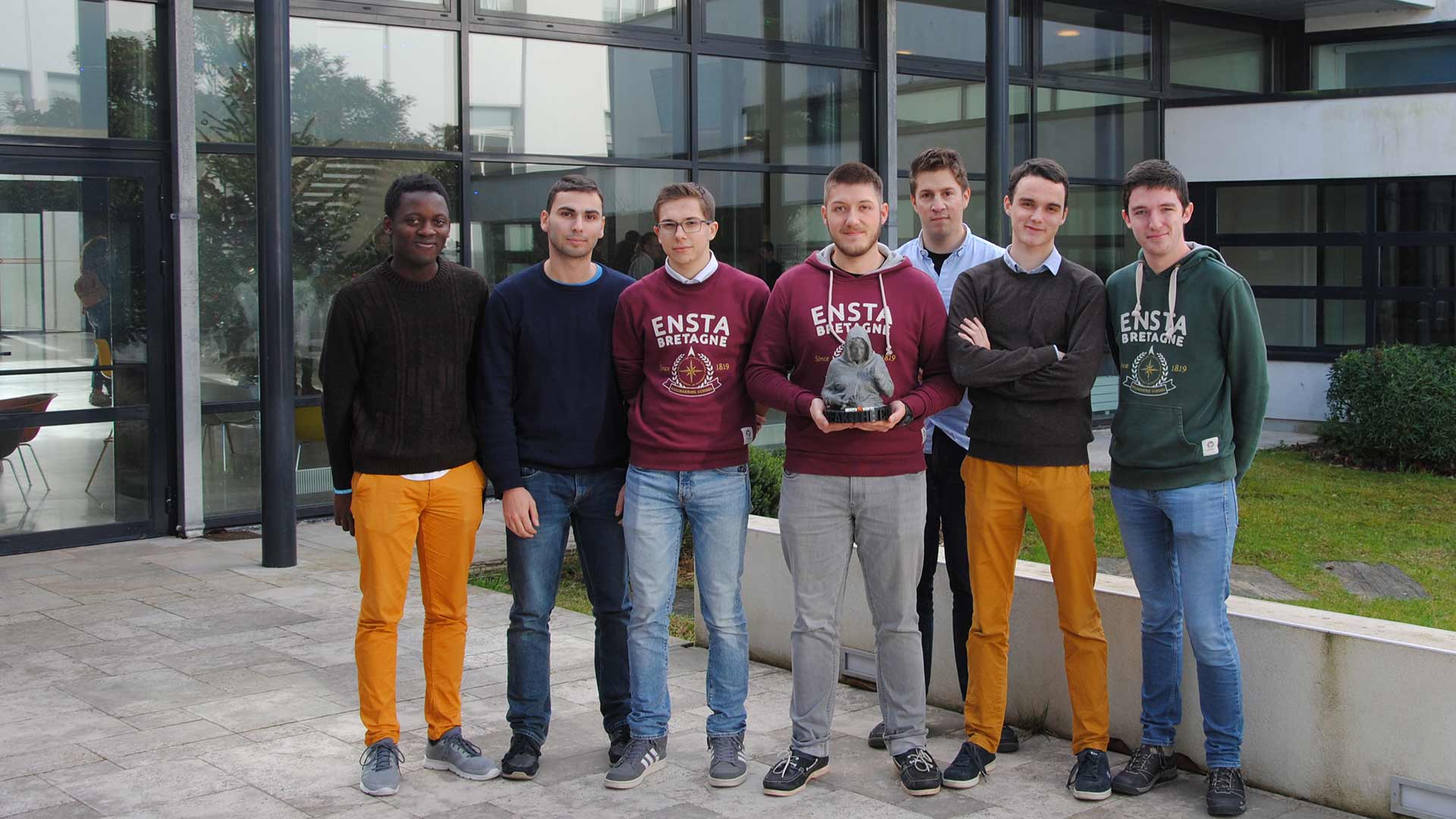 © ENSTA Bretagne