After having been president of the « BEST ENSTA Bretagne » student association which is an integral part of the BEST (Board of European Students of Technology) European network, Perrine, 3rd year student, has been elected Regional Adviser for the year 2020-2021. Thus, as part of a team of ten or so Regional Advisers, she will coordinate the BEST groups of the graduate schools in Porto, Aveiro, Madrid, Barcelona, Delft, Brussels, Paris and Brest. Perrine will also be in charge of organizing both online and traditional Regional Meetings.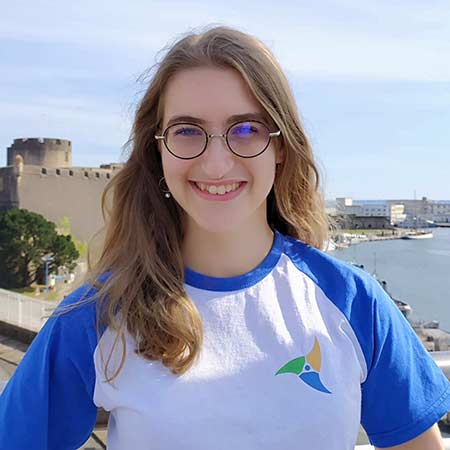 Have you had much international experience during your studies ?
During my high school years, I was lucky enough to take part in several international exchanges, thanks to the geographical situation of my school which was in Verdun. Indeed, I took part in a Franco-German exchange, a Comenius exchange and also the European Union Science Olympiads (EUSO) which brought together delegations from every European country. The latter particularly influenced my path as I was able to meet students from all over Europe who were passionate about sciences. So, I chose to continue my studies by preparatory classes for the competitive entrance exams to graduate engineering schools (CPGE in French) at the Fabert High School in Metz. My aim was to join an engineering school which would then enable me to become a climate researcher, and to grab any opportunities I came across to travel and meet new people. I had the chance to take part in an international youth meeting in Berlin during the commemorations for the victims of the Second World War, organized by the German parliament (the Bundestag). During those three years, I did not hesitate to visit Europe off my own bat: Ireland, Germany, the Czech Republic, Spain…Thanks to these trips, I was also able to define my career path more clearly and I really wanted to turn towards oceanography. So naturally, I chose to join ENSTA Bretagne.
Why did you choose to join the BEST ENSTA Bretagne association ? What are its missions ?
When I arrived at the school, I heard talk of the BEST (Board of European Students of Technology) and I immediately knew that this association was for me. I was impatient to join such a large network of European students and to work with them.
I also wished for other students to experience the same trips and meetings that I had been lucky enough to experience myself in Europe. Indeed, BEST is an international, non-profit-making and apolitical association which is present in 34 European countries and boasts over 3,300 members from all over Europe. BEST is composed of the international office and over 90 local groups (LBGs) situated in technological universities. Thanks to this network, BEST has developed different services to offer a complementary education to European student engineers. The latter can take advantage of online professional mentoring on the BEST platforms or attend careers fairs organized by local groups. They can also take part in themed seminars (called "courses"), organized each year all over Europe, and also international engineering competitions. Finally, BEST tries to increase students' commitment to higher education by offering them the opportunity to contribute to the improvement of their own training, as demonstrated by the A-STEP 2030 project, led by ENSTA Bretagne.
Last year, I became president of the local BEST group at ENSTA Bretagne.
With my team, we organized different events for the school's students, such as the afternoon of workshops called « Breizh Storming » in which the SAIPEM company took part, and a "Green Afternoon", which was a session where young engineers discussed the theme of sustainable development. The biggest project of our mandate was organizing a course lasting a week on marine renewable energies last autumn, during which we received about twenty students from all over the world. That year brought me new skills, especially in terms of leadership and management, and I have very fond memories. This enriching experience encouraged me to become a bit more involved on an international level, above all after having taken part in several internal association events, such as the Regional Meeting in Madrid and the Presidents' Meeting in Valladolid. So I became interested in the position of "Regional Adviser".
As BEST is composed of about one hundred local groups, the latter are divided among eleven regions uniting local groups which are more or less in geographical proximity. The main responsibilities of a Regional Adviser are to act as go-between for the international office of BEST and the local university groups and to organize communication and discussions between the LBGs (Local BEST Groups) in his or her region. A Regional Adviser must also provide support for the LBGs in his or her region if they are facing financial, human or relational difficulties. Finally, he or she has to organize two Regional Meetings (RM) per year, which last 3-4 days, during which each LBG from the region can take advantage of training courses to develop soft skills. During the course of the RM, the association's AGM is also prepared. Good work practice and innovative ideas are also shared between the LBGs. These events enable the creation of new links between the BEST members and bring them fresh inspiration.
How and when did you become elected ?
Last May, I decided to stand as candidate for the position of Regional Adviser for Region F, made up of the Aveiro, Porto, Madrid Carlos III, Delft, Brussels, Paris Polytechnique, ENSTA Paris and ENSTA Bretagne LBGs.
I was attracted to the position as Regional Adviser as I wanted to work on the international aspect of the organization, whilst keeping one foot in the LBGs (Local BEST Groups), as I was well aware of the issues that they had to face.
First, I sent my CV and a cover letter. When the three applicants for this region had been identified, a candidate from the Porto LBG, another from the Delft LBG and me, we answered the questions from each LBG in the region. We received about twenty questions. Then, we organized a video-conference to present ourselves and answer those questions. A few days later, the results were in: there should have been a second round as it was a dead heat between the Porto LGB candidate and myself. After waiting for a week, I received the good news: Region F had elected me as their new Regional Adviser!
The future : next diary dates, assignments….
Since my election, I have already had several meetings online with my predecessors so that they can give me their tips and share their knowledge on the LBGs of my region. I have also scheduled video-conferences with each LBG in the region to get to know each other and hear their expectations for the new year. From 3 to 11 August, at the same time as my internship, I did an online course that enabled me to take on my mandate in the best conditions, especially by learning how to manage my different assignments and by meeting the 10 other Regional Advisers with whom I will have the good fortune to work during this year.
Together, we must meet several challenges : first of all, the division of the LBGs in each region has changed this year so as to guarantee diversity in their relations. So we will have to create a new identity in our regions and create a climate of confidence in which each LBG will feel at ease when working with the others. Moreover, the health crisis means we will have to organize our first Regional Meeting online, a first in the history of BEST. Finally, the covid-19 crisis has weakened many LBGs: lack of motivation in the groups, cancelation of their events, loss of company partnerships and a lack of knowledge of how the association works due to the cancelation of our last internal events. In the coming year, we will have to use all our strength to help each LBG find solutions to their different problems and encourage the LBGs to share their effective methods.