On Friday, April 14, ENSTA Bretagne attended the live broadcast of the 116th Ariane 5 launch, which was also its penultimate flight. All staff and students were gathered in ENSTA Bretagne's "Ariane" amphitheater. On the eve of the launch, the mission was commented on by several ArianeGroup employees, and for a brief moment, the "Ariane" room became an extension of the Jupiter room at the Guiana Space Center in Kourou.
The aims of the Ariane 5 mission
On board, the Ariane 5 rocket carried the Jupiter Icy Moons Explorer (JUICE) satellite of the European Space Agency (ESA). This mission aims to explore Jupiter and its moons. After its launch, Jupiter Icy Moons Explorer (JUICE), will begin an eight-year journey. Ten on-board instruments will provide data on the planet and its icy moons covered with oceans. Pascal Lapeyronie, a former ArianeGroup employee and consultant for Ariane 6 development reviews, presented Ariane 5 and the JUICE mission as : 
A launch representing the culmination of a major team effort across the entire industrial chain and ending with a sequence of clinical accuracy
The main stages in the Ariane 5 launch
Ignition of the Vulcain© engine
Ignition of the SRBs (solid rocket booster stage)
 Separation of the SRBs
Jettisoning of the fairing
Separation of the cryogenic main stage
Ignition of the cryogenic upper stage
Shutdown of the cryogenic upper stage
Satellite separation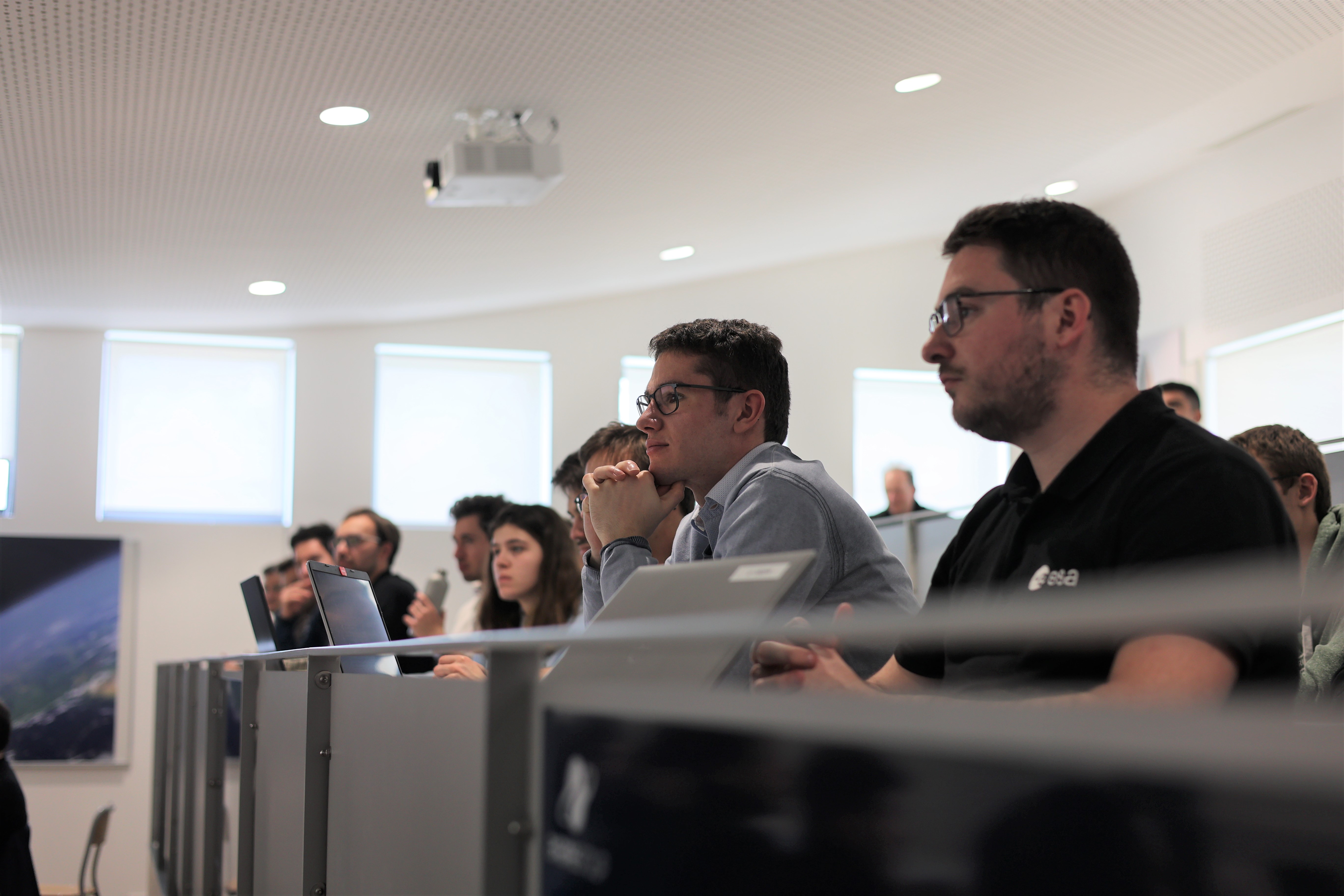 The student engineers and staff members enjoyed being immersed in the midst of the Ariane 5 launch and the atmosphere it created, especially the Spacieta club (a student rocket design club), which was very involved in organizing this broadcast: 
It was exciting to have ArianeGroup professionals on hand to comment on this exceptional facility, and watching a launch broadcast is truly impressive. 
Through the long-standing partnership between ENSTA Bretagne and ArianeGroup, several graduates will join this group, with profiles such as mechanical, pyrotechnical, robotic and computer engineers.
This partnership allows us to step up the initiatives undertaken in the coming years to extend and put the relationship with the school on a permanent footing, in particular in the areas of training, recruitment and research and development, as Hervé Gilibert (ArianeGroup's engineering manager) reminded us during his visit last February: "Being in continuous contact with the school, continuing to recruit engineers and undertaking research and technology activities is essential for us."