Yann has just joined the ENSTA Bretagne co-operative engineer training program after a Design and Creation of Automated Systems BTS diploma. In his spare time, he is working on his motorbike, the MEMR-V4. It is the 4th model that he has designed and built from start to finish.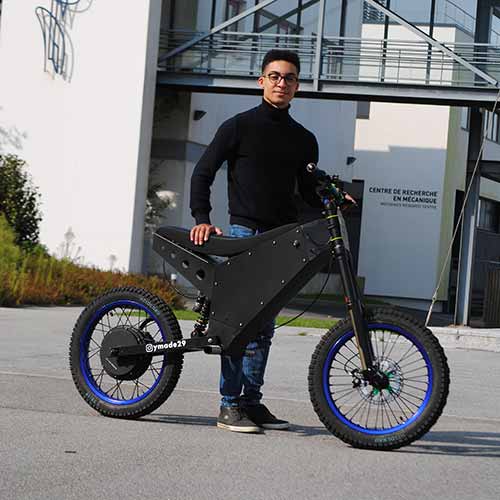 How did the idea to design and build your motorbike come to you ?
When I was in the tenth grade, many high school students had a motorbike : a 50cm3. I also wanted one. When I spoke to my father, he told me to go buy the parts and build one myself!
Had you already built something before that ?
Yes, I have always been quite creative and hands-on. I love doing stuff myself. When I was younger, I created Bluetooth speakers, radio-controlled planes, drones and so on. People don't dare do things themselves but you can create wonderful things.
How did you go from the project to creating a company ?
I did it in several stages. The first model I built was a modified BMX, but it could still reach 50km/hr. At the time, I was really experienced at model building, so I used parts that were destined for creating large-scale models. Little by little, I improved the motor bike. For the second version, I worked on a wooden chassis. I wasn't very good at welding, so I chose to work in materials that are not usually used in this field: wood and epoxy resin, carbon fiber etc. For the 3rd model onwards, I left the world of model building by adding a vehicle drive train.
I am currently working on the 4th version. This is the model I want to market. It is 100% home-made and has several advantages.
What are the advantages of this model ?
There are many ! It is a machine which is light and reliable, easy to handle, very pleasant to drive as it is quiet yet powerful. It is electric, so environmentally friendly and very easy to maintain.
You have just joined ENSTA Bretagne's incubator, what do you expect from it ?
It is an opportunity for me to boost and professionalize my project. I still have to work on the marketing : define my target market, the price…and the incubator will be able to help me.
I have already had answers to some legal questions I had, on intellectual property in particular. This is invaluable advice which will help me to structure my approach.
When are you planning on launching your motorbike ?
Rapidly I hope. I'm still working on preparing for the roadworthiness certificate. I started the "individual approval" procedure for my prototype with the DREAL. The next step will be to obtain type certification to be able to create the first series.
I am already in contact with a company which is interested in manufacturing my motorbike.
And, I would like to get this project finished as I have other ideas.
What are those ?
I signed up for vehicle architecture at ENSTA Bretagne with the aim of developing a project along the same lines as my motorbike, but for a car this time.
Thanks to the co-operative (apprentice) engineer training, I am going to develop new skills in automotive engineering and put them into practice.
Where are you doing your apprenticeship ?
It's with the Chéreau company, located in La Manche; it's core business is refrigerated vehicle  bodywork. My motorbike project caught their attention during the interview. The interviewers understood that I was an enthusiast and, thanks to this project, I had developed many skills. That convinced them to choose me for the job!