After 16 years spent working in the public higher education and defense sectors, on September 1 Pierre-Etienne Boucher-Chapuy joined ENSTA Bretagne as Director of International Development and Partnerships.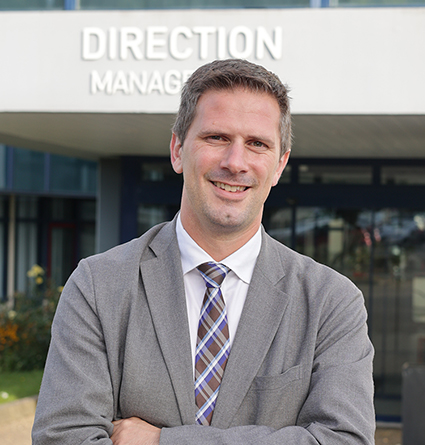 After graduating from Sciences Po Aix, (Political Sciences Institute in Aix-en-Provence) and earning a 2nd year Master's degree in Strategic Studies (Université Paris 13), he began his career in 2005 at the French Ministry of Defense as Head of Section at the International Affairs and Tax Bureau within the Financial Affairs Directorate. His duties bore on financial expertise for the benefit of European defense and international funding of the Ministry.
In 2008, he left France for Germany to take up the post of Adviser at the Federal Ministry of Defense (BMVg), in charge of the German Armed Forces and defense policy. There, he oversaw the management processes of the German defense authorities and helped to further bilateral cooperation in terms of support and infrastructure.
In 2011, he moved to Brittany, to work at the Naval Academy, firstly as head of the summaries-management division before setting up and overseeing the Services Directorate (2014). In that regard, he supervised 50 officials accomplishing their duties and played a part in the plans to turn the school into a public scientific, cultural and professional institution (EPSCP), taking charge of change management, including staff transfers and establishing the first budget.
Promoted to civil administrator in 2017, he joined the Ministries of National Education and Higher Education, Research and Innovation as deputy LEA secretary-general of Versailles Local Education Authority. His duties mainly involved lending advice and support to the five universities and higher education institutions within the LEA, Université Paris Saclay among them.
At the end of these two years, he returned to the Naval Academy for a strategy consultancy and skills improvement assignment regarding the management of the EPSCP. He designed and implemented a reshuffle of the support roles, including the reform of the Decree governing Staff Regulations. He also managed strategic academic partnerships and the creation of a module for foreign officers. Since November 2020, he had also been standing in as Interim Services Director.
His arrival at ENSTA Bretagne coincides with the end-of-year presentation of a new Objectives and Performance Contract which binds the school for five years to its supervisory authority and sets out its strategy, not least in terms of international academic partnerships and relations with businesses.