ENSTA Bretagne is an Etablissement Public à caractère Administratif (EPA) or Public Administrative Institution of financial and administrative autonomy.
Under the supervision of the French Ministry of Armed Forces and, in particular, the Direction Générale de l'Armement (Defense Procurement and Technology Agency), (as are 3 other graduate schools: the Ecole Polytechnique, ENSTA ParisTech and ISAE-SUPAERO), its organization and operation are governed by the French Defense Code (Decree n°2012-1120 of 2 october 2012, Article R3411-61).
ENSTA Bretagne is linked to its governing ministry by a "Contrat d'Objectifs et de Performance" (a five-year Performance and Objectives Contract)  which sets out the strategic objectives for the school for the period 2017 – 2021, as well as the means required to succeed in this quest.
3 school governing body meetings are held every quarter with the school's executive team  to check that all is running smoothly and that the school has obtained its objectives: the Council , the Training Board, and the Research Board..
In addition, there are status meetings with professionals from industry by sector or speciality in order to consult, prospect and keep up to speed with their requirements in terms of skills and R&D. This is just one example of how the school continuously satisfies stakeholder requirements in accordance with its quality policy certified ISO 9001 (2015 version).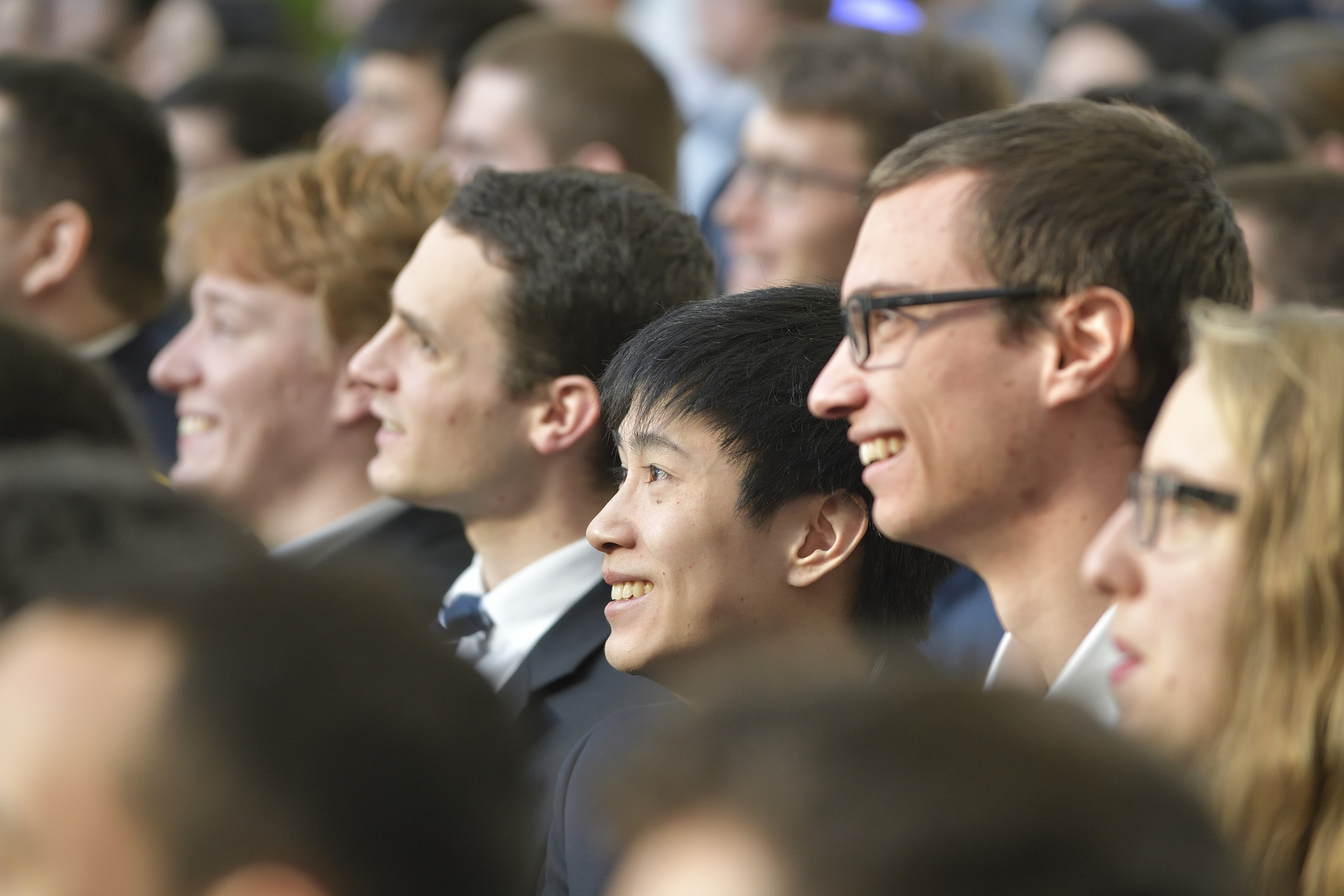 The Council 
ENSTA Bretagne is governed by the Council composed of 25 members:
9 State representatives
8 external members, representing higher education and civilian society, 4 of whom have been designated due to their qualities and skills in professional sectors which correspond to those of the school
8 staff and student representatives
Mr Jean-Georges Malcor, former company director, was named President of the Council of ENSTA Bretagne, by decree of the President of the French Republic on 2 July 2020, and succeeds Ronan Stéphan, Scientific Director of Plastic Omnium,.
The director of the school, the financial controller and the accounts officer attend the Council sessions in an advisory capacity. 
The Council
9 State representatives
The Director of Human Resources of the Direction Générale de l'Armement (the French Defense Procurement and Technology Agency) or his/her representative: Benoit Laurensou, Director of the DRH, DGA
The Director of Central Administration of the Direction Générale de l'Armement (the French Defense Procurement and Technology Agency) or his/her representative: Erwan Conan, Head of Technical Services  of the Technical Directorate of the DGA
The Director for Financial Affairs of the French Ministry of Armed Forces, or his/her representative: Hervé Hubert, Head of the State Operator Supervision Office of the DAF, representing the DAF (Department for Financial Affairs)
An armaments inspector: Christian Dugué
A Chief of Military Staff respresentative: Benoît Baudonnière, Commander of the École Navale
A French Minister for Industry representative: Paul Friedel, President of IMT Atlantique Bretagne-Pays de la Loire 
A French Minister for Higher Education representative: Arnaud Devillez, Advisor to the Superintendent for Higher Education of the Academy of Rennes
A French Minister for Sustainable Development representative: Chantal Reland, Senior State Administrative Attaché, Deputy Assistant Director of the Gens de la Mer et de l'Enseignement Maritime (Seafarers and Maritime Education) for the French Ministry for Ecological and Inclusive Transition  
A Minister for the Budget representative: Thierry Pellé, Head of the Department for Budgetary Control of the French Ministry of Armed Forces.
 
8 external members
The Chief Executive Officer of the Institut Supérieur de l'Aéronautique et de l'Espace (ISAE) (or the National Higher French Institute of Aeronautics and Space) or his/her representative: Olivier Lesbre, President of the ISAE  
The President of the Ecole Nationale Supérieure de Techniques Avancées (Superior National School of Advanced Techniques) or his/her representative: Élisabeth Crépon, President of ENSTA Paris
Four qualified individuals :

Jean-Georges Malcor, former company director
Marie-José Vairon, Director of Thales Brest
Vincent Martinot-Lagarde, Director of Services, Naval Group
Clémentine Gallet, President and Chief Executive Officer of Coriolis Composites

President of the Conseil Régional de Bretagne (Regional Council of Brittany) or his/her representative: Bernard Pouliquen, Vice-President for Higher Education, Research and Digital Transition, Conseil Régional de Bretagne representative of the President of the Conseil Régional de Bretagne
The President of the Alumni Association of the school or his/her representative: Dominique Sennedot, Director of Brest Naval Campus, representing the President of the Alumni Association
8 Staff Representatives
Four teacher-researcher members of staff :

David Thévenet, Associate Professor
Joël Champeau, Associate Professor
Cédric Doudard, Associate Professor
Vivien Majorel, Teacher

One member of the technical and administrative staff of the school: Laurence Gautier, Student Studies Counselor
Three students, imperatively including one IETA (military student), and one civilian, designated, after consultation, by the Director of the School from one of the categories concerned

Alexandre B., (IETA) Military student engineer
Laurie Salendres, Civilian student
Émilien Fournier, PhD student
 
Training board
External members
3 Representatives from the DGA

Olivier Ducable, Head of the Supervision of Schools and International Training , DGA – under the Human Resources Policy
François Durand, Head of Technical Careers Evaluation, DGA - DT/ST/SDCT/BOT
Caroline Bérard, Director of Engineer Training, ISAE-SUPAERO

5 Persons with External and Industrial Profiles 

Gilles Le Pluart, Project Technical Director, Thales TDMS
Laure Le Baron, Director of Human Resources, SHOM
Lionel Luquin, Director of Training, IMT Atlantique
Marie-Laure Clément, Naval Architect Engineer, AGIR Company
Gabrielle Landrac, Director of Education of the Executive Board, IMT Atlantique
 
Staff/students representatives
Staff Representatives

Jean-Christop Cexus, Associate Professor
Jean-Louis Quenec'h, Head of 2nd Year Mechanics
Jeanne Toulouse, Teacher of English

4 Student Representatives

Guénolé Drean – FIPA (co-operative engineering student)
Loughlin Dudley (incumbent) – Civilian FISE 
Marin Ducoux (deputy) - Civilian FISE 
Théo S. - Military FISE 

1 PhD Student Representative

Irène Mopin - PhD student

11 School Administration Representatives

Bruno Gruselle, Director of ENSTA Bretagne
Eric Jaeger, Deputy Director
Yann Doutreleau, Scientific Director
Rémy Thibaud, Dean of Faculty
Olivier Cervetto, Dean of Studies
Alain Poulhalec, Head of ENSI Cycle
Christiane Gillet, Head of the FIPA Cycle
Natacha Caouren, Head of Training - ICST Department
Damien Coadour, Head of Training - SHS Department 
Jean-François Guillemette, Head of Training - Mechanics Department
Hélène Guillamot, Director for International Development and Partnerships.
Research board
External members
Vincent GEIGER, Director for Naval Research, Naval Group
Christophe SIMON, Supervision Office, DGA/DRH
Marc SIRVEN, Head of the "Capteurs, Guidage, Navigation"  (Sensors, Guidance, Navigation) Department, DGA/DT
Hugues CHOPLIN, Associate Professor, Université de Technologie de Compiègne (UTC)
René BILLARDON, Mechanics Expert, SAFRAN Landing Systems, and Professor at the Université Pierre et Marie Curie - Paris 6 (UPMC)
Vincent VERBEQUE, « Research & Technology Software » Director, Thales DMS
Pascal LARZABAL,  Associate Professor, Université Paris-Saclay
Staff representatives
Bruno GRUSELLE, Director
Yann DOUTRELEAU, Scientific Director
Denis LEMAITRE, Associate Professor, Director of FAP Laboratory
Sylvain CALLOCH, Associate Professor, Head of Research of the Mechanical Sciences Department / IRDL Laboratory
Benoit CLEMENT, Associate Professor, Head of Research of the Information and Communication Sciences and Technologies  (ICST) Department / LAB-STICC Laboratory
Isabelle QUIDU, Associate Professor, ICST Department, and ENSTA Bretagne Correspondent for the PRASYS (Perception, Robotics and Autonomous Systems)Transversal Project in the LAB-STICC Laboratory
Ciprian TEODOROV, Associate Professor, ICST Department, and ENSTA Bretagne Correspondent for the MOCS (Methods and Tools for Circuit and System Design) Team in the LAB-STICC Laboratory
Angélique DREMEAU, Associate Professor, ICST Department, and ENSTA Bretagne correspondent for theTOMS (Processing Observations and Statistical Methods) Team of the LAB-STICC Laboratory
Ali KHENCHAF, Associate Professor, ICST Department, and ENSTA Bretagne correspondent for the PIM (Multiscale Propagation and Interactions)Team of the LAB-STICC Laboratory
David THEVENET, Associate Professor, Mechanical Sciences Department, and ENSTA Bretagne correspondent for the "Assemblages multi-matériaux" (Multimaterial Assemblies) Section of the IRDL Laboratory
Nicolas JACQUES, Associate Professor, Mechanical Sciences Department and ENSTA Bretagne correspondent for the "Structures, fluides et interactions" (Structures, Fluids and Interactions » Section of the IRDL Laboratory
Catherine ADAM, Associate Professor, Social and Human Sciences Department / FoAP Laboratory
Jean-Christophe CEXUS, Associate Professor, ICST Department, / LAB-STICC Laboratory
Younes DEMMOUCHE, Associate Professor, Mechanical Sciences Department / IRDL Laboratory,
Linda GARDELLE, Associate Professor, Head of the Social and Human Sciences (SHS) Department and the FPI (Training and Professional Learning) Research Team / FAP (Profession Training and Apprenticeships) Laboratory
Yoann SOLA, PhD Student, ICST Department / LAB-STICC Laboratory