On Saturday May 29, 70.8 opened at Les Ateliers des Capucins in Brest. 900 sq.m. of permanent exhibition space delves into the scientific and technological challenges shaping the maritime world, including climate, transport, marine energies, knowledge of the underwater world and cybersecurity.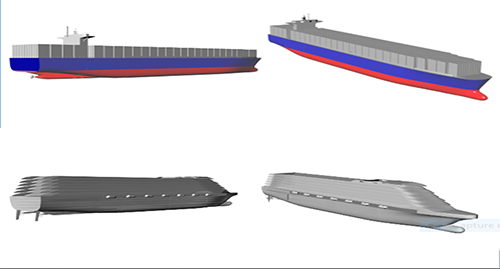 By plumbing the depths of maritime innovations and technologies, 70.8 rounds off Océanopolis' pavilions dedicated to marine ecosystems and biodiversity, by unveiling a unique visitor trail to explore the ocean, Brest's National Maritime Museum (Musée National de la Marine), located in the castle, shedding light on maritime history in parallel. 
Within the new space, dubbed 70.8 in a nod to the 70.8% of the Earth's surface that is covered by oceans, ENSTA Bretagne has shared its expertise in marine science and technology by developing various areas. An arcade gaming cabinet on naval architecture has been installed thanks to the school's engineering students.
Its aim is to teach young and old alike a bit more about ships and vessels of all types. 
The arcade gaming cabinet project
Maritime traffic, ships, naval architecture… these are all subjects in which ENSTA Bretagne specializes. The partnership with 70.8 was forged in 2019 at the outset of the project. A team of students from the 2019 cohort was formed and, as part of a semester-long project, they designed, explained and debated the theory behind this educational arcade gaming cabinet.
The team then set to work on the first prototypes and tests before handing over to the school's Junior Enterprise and its members, who spent several more months developing the project before the cabinet finally materialized in 2021. 
Naval architecture engineers, graphic designers and coders all took turns to contribute to this original exhibit with edutaining content that should prove popular with visitors of all ages. 
Cabinet concept
The game is based on 2 types of ship: a cruise liner and a container ship. 
The first round is a simplified technical lesson to explain the different criteria of shipbuilding.
This is when the specifications are presented. These include the engine power and dimensions. After this introduction, it is then down to the player to design a viable ship as closely in line with the specifications as possible. The ship takes shape as the player makes more and more choices. At the end, a traffic light color system indicates the quality of the ship. Green: everything is optimal, orange: functional but could be improved, and red: not viable, changes are necessary. 
Why not go to 70.8 yourself to discover and test out this invention by ENSTA Bretagne students!
•    original idea: 70.8 and ENSTA Bretagne
•    implementation recommendations: Jean-Yves Pradillon, lecturer in naval architecture at ENSTA Bretagne
•    game script: ENSTA Bretagne engineering students
•    cabinet design: technical teams at 70.8