After his first two years of study at ENSTA Bretagne, Naval and Offshore Architecture student Maxime has decided to take a gap year to sail across the Atlantic and back. The idea began to take shape during the first lockdown, which motivated him to buy a boat last summer. The school's sailing enthusiasts, the HydroChallenge association and the Sailing Team for which he was Vice-President are all right behind him. He shares these exciting plans with us.
The plan
The aim is to sail across the Atlantic and back, in an old 1979 sailing yacht, a First 30 christened "JP". Maxime has spent several months getting the boat ready with the help of his friends.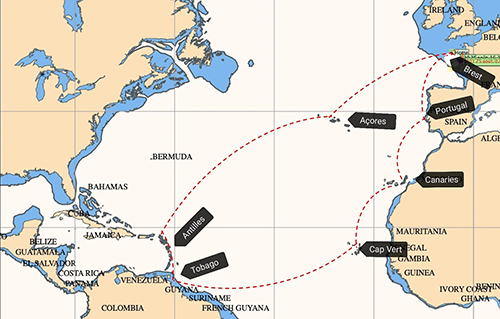 Provisional schedule (which will of course depend on the weather and any damage):
Leaving Brest on September 25th
Arriving in the West Indies in December
Setting sail across the North Atlantic mid-April
Returning to France at the end of June
This adventure will enable me to see the wider world and to meet people from different cultures, which is hugely edifying. This boat is an opportunity for me to share some amazing times with my friends and fellow students from ENSTA Bretagne who I have sailed with a lot in the sailing team. I very much hope to continue meeting people and sharing experiences.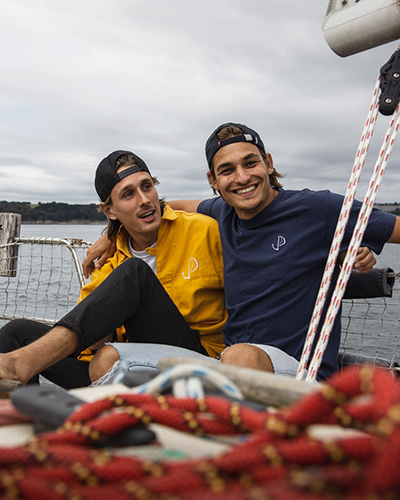 © Curtistornade
The crew
Benjamin, who is also studying at ENSTA Bretagne on the Naval and Offshore Architecture major, will be Maxime's co-skipper until Christmas, so until they are due to arrive in the West Indies (the island of Tobago to be exact).
 
Maxime's father and Benjamin's brother will join them for the starting leg, for 3 weeks, until they reach the Canary Islands.
Once Benjamin has left, Maxime will sail solo around the West Indies, exploring, for 3 months. Then Paul, a friend he met during his internship as an assistant engineer, will join him in April in Guadeloupe for the return leg across the Atlantic, back to France.
The preparations
Maxime, Benjamin and Paul have all worked on the boat:
Maxime and Benjamin installed solar panels on the boat, upgraded the electric circuit and overhauled the sails and motor.
Maxime and Paul installed a new autopilot for greater peace of mind during the crossing, not least during long sailing stints.
These preparations have significantly broadened our knowledge in several areas: in terms of woodwork (the new tiller is made from an oak beam), mechanics and of course sails in general. I was lucky to be able to do my internship in an ocean racing team, which meant I could ask experts questions and learn a great deal. I also embarked on a 3-day survival course to be ready to deal with any eventuality!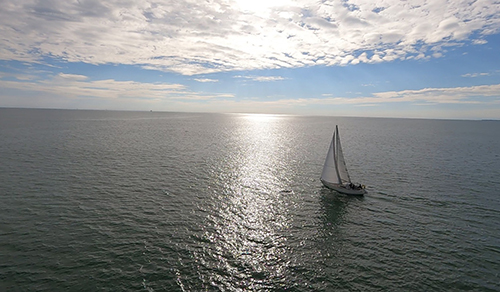 © Curtistornade
In addition to being an extraordinary experience on a human level (spending 25 days with a friend on a small 9-meter yacht in the middle of the ocean is hardly our average routine!), this is a very worthwhile complement to my studies. Benjamin and I would both like to become naval architects in the world of sailing. By preparing our boat and spending a year sailing, we are gaining skills that will set us in good stead for the future.