This two-year program focuses on mobile robotic system design and construction, covering both hardware and software aspects. The program includes a specialization in autonomous marine and submarine vehicles (sailboats, boats, submarines).
Aim
To train students to design and construct mobile robots covering both hardware and software aspects.
Course content
Embedded system design 
Mobile robotics (hardware and software architecture of robots, methods and processing for mobile robot positioning, etc.)
Environment perception by robots
...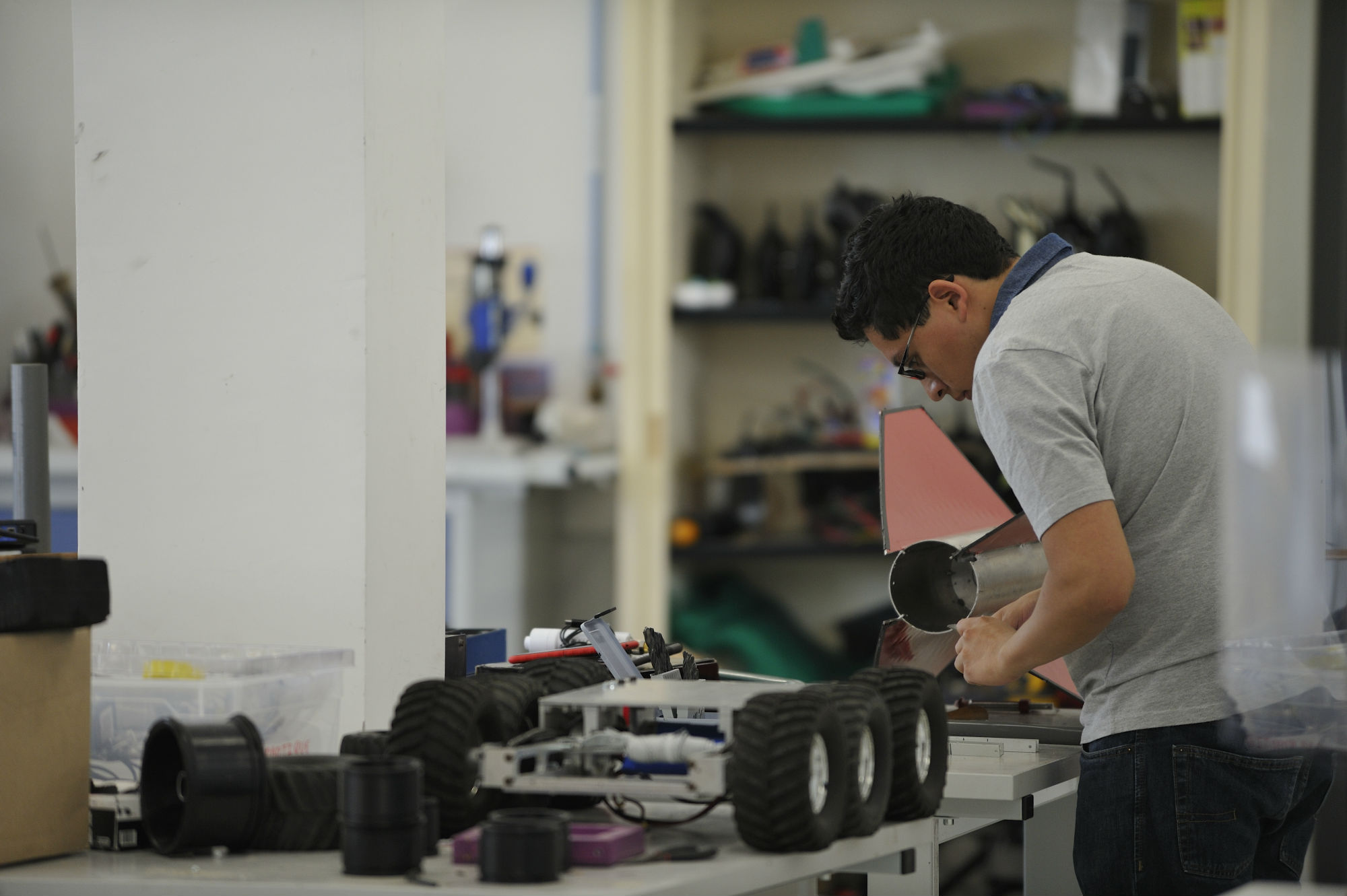 Graduates of this MSc will have a firm grasp of the technical design of autonomous systems, and in particular will be able to: 
develop methods to achieve system autonomy
design electronic and mechanical hardware components and understand their interactions
define the appropriate sensors and process the information provided by these sensors
understand the key elements of a robotics expedition: robot location, communication with and between robots, environment mapping
integrate all these elements in a robotic system.
The project aspect of this program focuses on the adaptation of these robotic techniques to the maritime sector.
The program offers a good balance between theory and practice. It includes an introduction to the realities of the workplace ("Systems Engineering" approach) to promote a smooth and rapid transition to the working world.
This MSc program also offers a gateway to PhD studies.
This program is or can be taught in English. All students may take their exams in English
Program strengths
Optimal training conditions
ENSTA Bretagne is located in Brest on a modern 7 ha (17 ac) campus comprising a research center and all the equipment and facilities that are key to a first-class education: lecture halls, IT resources including specialized software, trial tanks, project rooms, 3D printers, sports facilities, a cafeteria, a media library…
Numerous partnerships
30% of the courses are taught by industrial and institutional partners, for full awareness of the current challenges related to complex mobile robotics systems.
A practical program featuring projects and internships
From year one (M1), the students apply their theoretical knowledge through a project involving the study and construction of robots. These robots may be autonomous underwater vehicles (AUVs), motorized surface vessels or sailboats, drones, robots able to operate in different environments, etc.
In year two (M2), the students are involved in a project which combines the development of a prototype and/or processing methods for the development of a proof of concept on Lake Guerlédan. Two field trips are organized: the first in October and the second in March.
This MSc program in Mobile Robotics is accredited by the French Ministry of Higher Education and Research.
contact
Adélaïde Gaudron
Admissions Coordinator (French students)
+33 (0)2 98 34 87 01
contact
Zacharie Malicoutis
Project manager - Incoming mobility
02.98.34.89.74