This two-year program focuses on mobile robotic system design and construction, covering both hardware and software aspects. The program includes a specialization in autonomous marine and submarine vehicles (sailboats, boats, submarines).
Aim
To train students to design and construct mobile robots covering both hardware and software aspects.
Course content
Embedded system design 
Mobile robotics (hardware and software architecture of robots, methods and processing for mobile robot positioning, etc.)
Environment perception by robots
...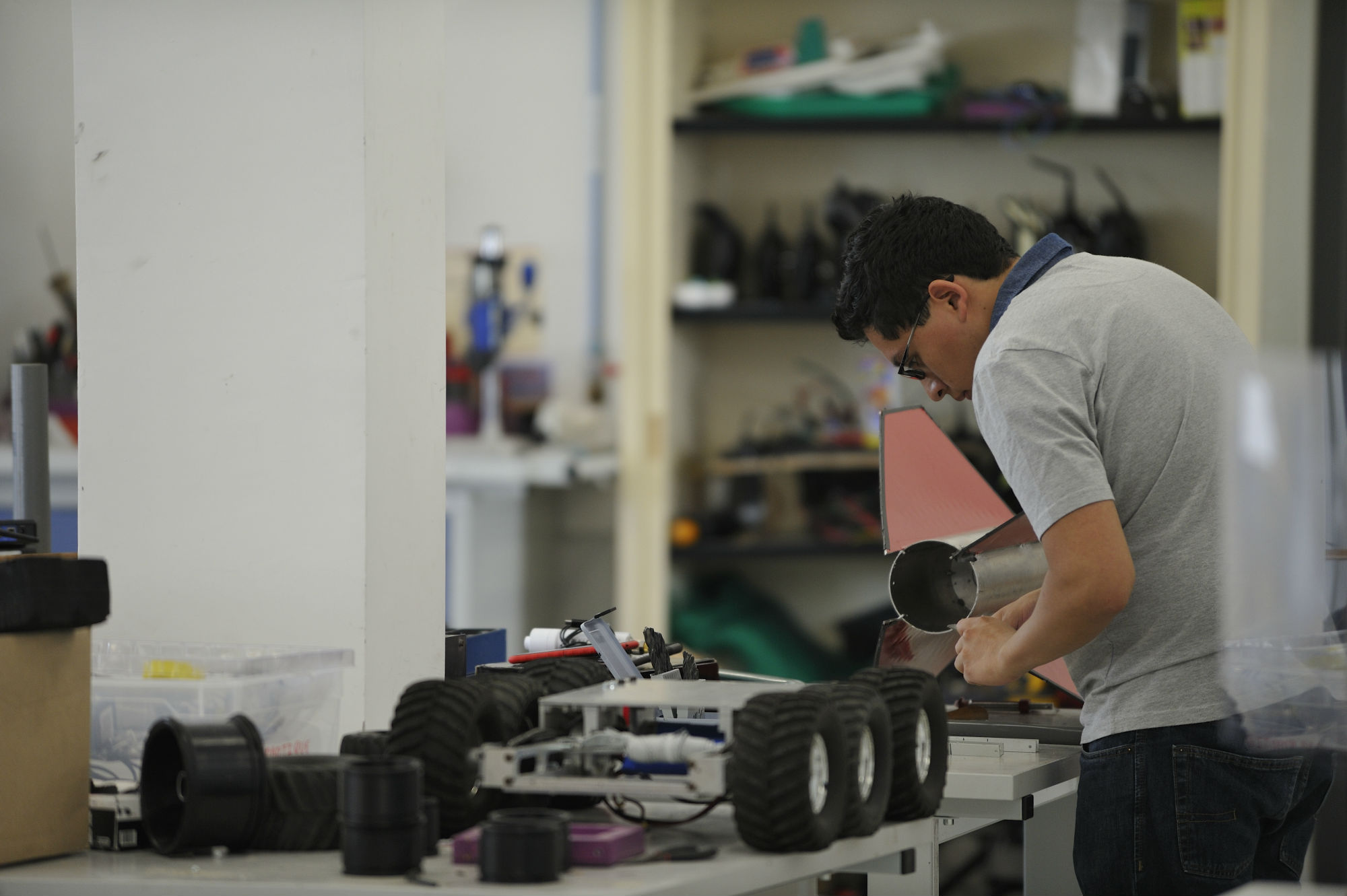 Graduates of this MSc will have a firm grasp of the technical design of autonomous systems, and in particular will be able to: 
develop methods to achieve system autonomy
design electronic and mechanical hardware components and understand their interactions
define the appropriate sensors and process the information provided by these sensors
understand the key elements of a robotics expedition: robot location, communication with and between robots, environment mapping
integrate all these elements in a robotic system.
The project aspect of this program focuses on the adaptation of these robotic techniques to the maritime sector.
The program offers a good balance between theory and practice. It includes an introduction to the realities of the workplace ("Systems Engineering" approach) to promote a smooth and rapid transition to the working world.
This MSc program also offers a gateway to PhD studies.
This program is or can be taught in English. All students may take their exams in English
Program strengths
Des conditions de formation optimales
L'ENSTA Bretagne est situé à Brest sur un campus moderne de 7 hectares doté d'un centre de recherche et de tous les équipements et installations nécessaires à une formation de pointe : amphithéâtres, outils informatiques et logiciels spécifiques, bassin d'essais, salle projets, imprimantes 3D, installations sportives, restaurant, médiathèque…
De nombreux partenaires
30 % des cours sont dispensés par des partenaires industriels et institutionnels permettant d'être au cœur des enjeux des systèmes complexes de robotique mobile.
Une formation pratique ponctuée de projets et de stages
Dès la première année (M1), les étudiants sont amenés à appliquer leurs connaissances théoriques dans le cadre d'un projet portant sur l'étude et la réalisation de robots. Ces derniers peuvent être des sous-marins autonomes (AUV), des navires de surface à moteur ou à voile, des drones, des robots à changement de milieu...
Pour le projet de deuxième année (M2), les étudiants sont impliqués dans un projet qui conjugue le développement de prototype et/ou les méthodes de traitement à la réalisation d'une preuve de concept sur le lac de Guerlédan. Deux séances sur le terrain sont organisées : la première en octobre et la seconde en mars.
La formation est accréditée par le Ministère de l'Enseignement Supérieur et de la Recherche.
contact
Zacharie Malicoutis
Admissions Coordinator international students (free movers)
02.98.34.89.74