ENSTA Bretagne is now closed from 17 March, 12.00. Lessons, research and most support activities are continuing remotely.
Article updated 23 March 2020 (paragraphs indicated by an asterisk).
In accordance with the instructions of the President of the Republic, and the Decree of 16 March 2020 referring to travel restrictions within the framework of the fight against the spread of the Covid-19 Virus, ENSTA Bretagne has informed its students and staff of the closure of ENSTA Bretagne from 17 March onwards until further instructions.
The school has prepared for this scenario and started its distance learning activities on 16 March, thanks to the digital platforms already extensively used by the students and the teaching staff.  The students are regularly informed of the precise instructions and arrangements by the Head of Faculty's Office, which is managing this exceptional distance learning measure, deployed with the help of the Computer Department.
Main measures
Main prevention measures
They changed on the17 March and are as follows:
The

students

,

including

international

students

and staff, are at home,

except

for the

very

few people who are on

duty

, who will be

present

from

time

to

time

this

week

, for urgent administrative and

technical

matters

which

cannot

be

settled

at a distance.
The

students

and

co-operative

(

apprentice

)

engineers

in

their

schooling

sequence

, have

been

studying

at home

since

16

March

.

Some

students

have

chosen

to continue living in the

students'

hall of

residence

,

which

remains

open,

with

the same isolation and

travel

restrictions. The

school's

restaurant will close on 18

March

.

Food

warming

facilities

have

been

made

available

.

Interns

within

ENSTA

Bretagne

were

requested

to

stay

at home on 16

March

.

Lecturers

,

research

engineers

and PhD

students

are

also

continuing

their

activities

from

home.

Testing

has

been

stopped

except

for certain

long-term

experiments

, and

access

to the

experiment

facilities

has

also

been

stopped

until

further

instructions.
Administrative and support

activities

are

continuing

remotely

via

teleworking

,

with

a few rare exceptions (urgent

technical

maintenance, administrative

tasks

that

are

from

time

to

time

carried

out at

school

by a

limited

number

of staff: pay,

purchases

, computer issues). 

During

this

period

of

closure

,

purchases

will be

limited

to

those

deemed

necessary

by the

Secretary

General

of the

school

.
International issues 
Over several days and weeks, the Dean of Faculty and the Head of International Development and Partnerships have been closely following students training or on an internship abroad. These situations are being dealt with on a case-by-case basis due to the diverse circumstances in the host countries.
Partner universities in the following countries have been closed until further notice, and our students are encouraged either to remain in their residence, or  to come back to their families in France (list of countries updated on 17 March 2020): Germany, Australia (Flinders: university closed), Brazil (UFRJ: university closed, border on the point of being closed), Canada (Dalhousie: university closed, border on the point of being closed), Colombia (UniAndes : university closed), Spain (UPC Barcelona and  Saragosse University closed, the borders are closing tonight at midnight), Italy, the Netherlands (TU Delft : university closed), Poland, Portugal (Porto and Lisbonne : universities closed, the borders are almost closed), Czech Republic (CVUT closed, borders closed), UK (Cranfield and Heriot Watt : universities closed), USA. 
¾ of the closed universities are offering distance learning
The students concerned have sent word on Ariane. If they choose to return to France, it is essential that they contact the embassy or consulate beforehand and warn the school:  relations.internationales(a)ensta-bretagne.fr
Moreover, many 2nd and 3rd year students who were planning to go on an internship have been affected. 
3rd

year

students

(2020

cohort

) who

were

due to go

abroad

for

their

end-of-studies

internship

, have

been

advised

to contact

their

internship

company

or

laboratory

to

check

the

procedures

for any changes (

modified

dates and

internship

length

),

then

to

inform

the Dean of

Faculty's

Office (Direction de la Formation).

Moreover

, all

travel

abroad

has

been

stopped

from

17

March

onwards

until

further

instruction.

Things

are

still

not

clear

for 2nd

year

students

(2021

cohort

) who have

arranged

an

internship

abroad

(

from

May or June

onwards

).

Without

changing

their

plans we

strongly

recommended

that

they

prepare

for any changes by

looking

for an alternative

internship

host

in France,

just

in case. The

school

(Dean of

Faculty's

Office and the

Head

of

Company

Relations : stages@ensta-bretagne.fr) and the

alumni

network

(

alumni

@ensta-bretagne.org)  are

here

to

help

them

.

Exceptionally

, in

accordance

with

the

recommendations

of the CTI, the

current

obligations as to

experience

abroad

and

compulsory

internship

duration

have

been

waivered

and will be

modified

accordingly

.  
All staff trips abroad have been postponed until 30 April (permanent staff, PhD students, research engineers ) whatever the destination
*Internships
ENSTA Bretagne is aware of the potential difficulties encountered by companies and other establishments in receiving internships students. As each situation should be approached on a case-by-case basis, the students have been instructed to contact their internship host to find out the exact situation. 
The internship duration and date obligations have been waivered. Thus, companies can delay the internship offer and the duration can be altered. Wherever possible, teleworking could be proposed and in any case, the students are encouraged to start work on their internship subject.
The internship remains an essential element for our students, for their own good and the value of their training,.
Under these exceptional circumstances, ENSTA Bretagne is remaining solicitous and benevolent towards its students and attentive to the expectations of its partners.
Impact on events organized at ENSTA Bretagne
Our partners will receive more complete  information in the next few hours and days. The following events have been postponed (the decision to cancel them will be published later if they cannot be postponed):
The « change

your

views

about handicap »

morning

(17

March

):

cancelled

or

postponed

IETA

job

dating

(18

March

):

cancelled

or

postponed

ISO 9001:2015

follow-up

audit (24-25

March

):

postponed

"100

women

, 100

careers

:

tomorrow's

engineers

" (2 April):

cancelled

"

Godparenting

" of the 2021

cohort

by Antoine Bouvier,

Head

of

Strategy

,

Mergers

& Acquisitions and Public

Affairs

at Airbus:

postponed

Reunion

weekend

for the 2012 and 2015

cohorts

(15 May):

probably

postponed
Impact on sporting activities and student life
All extra-curricula sports and association activities run by ENSTA Bretagne clubs , are also postponed until further instruction. The following events have therefore been postponed or cancelled;
The BDE (

Student

Union)

election

campaign

(

from

16

March

until

8 April):

postponed

The

Serious

Game

"La Fresque du Climat » (« The

Climate

Saga ») (of 17

March

):

postponed

or

cancelled

The Grand Ouest Junior

Enterprises

Congress

(21-22

March

): 2020

edition

cancelled
Useful contacts and links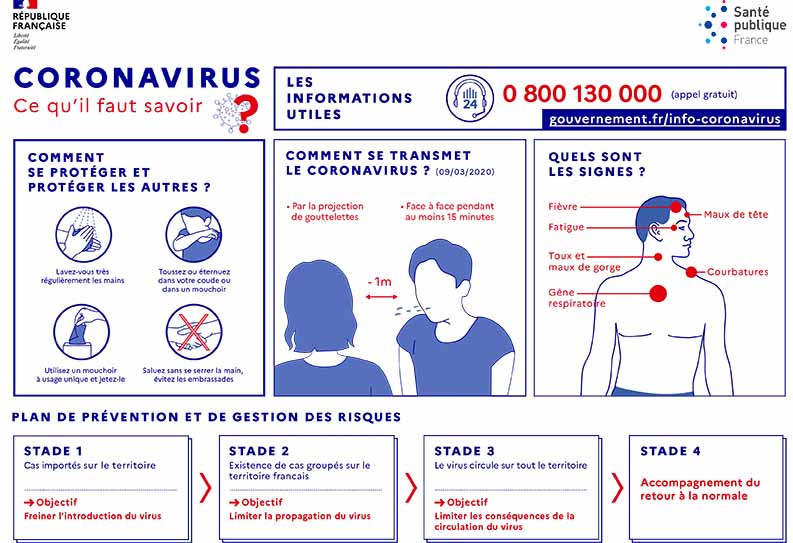 Reminder of hygene measures
We remind you of the hygene and prevention measures necessary to protect your health and that of those around you:
Stay at home
Keep to the recommended distance away from others on those rare occasions when you travel
Wash your hands really frequently
Cough or sneeze into your elbow
Use single-use tissues and throw them away
If you are showing or think you are showing symptoms : 
Call your general practitioner (do not block the emergency-only number 15 ; for any non-medical question, call 0800 130 000 : free number)
Do not go to hospital
*Inform the school
All the measures taken by the State