The appearance of Covid-19 has required special measures to protect health staff against possible infection. Having problems sourcing certain protective equipment, Brest University Hospital (the CHRU), decided to have disposable protective aprons made for its staff. Benoït Delpla, ENSTA Bretagne co-operative (apprentice) engineer and Unitaire de France scout took part in this initiative and told us about the experience.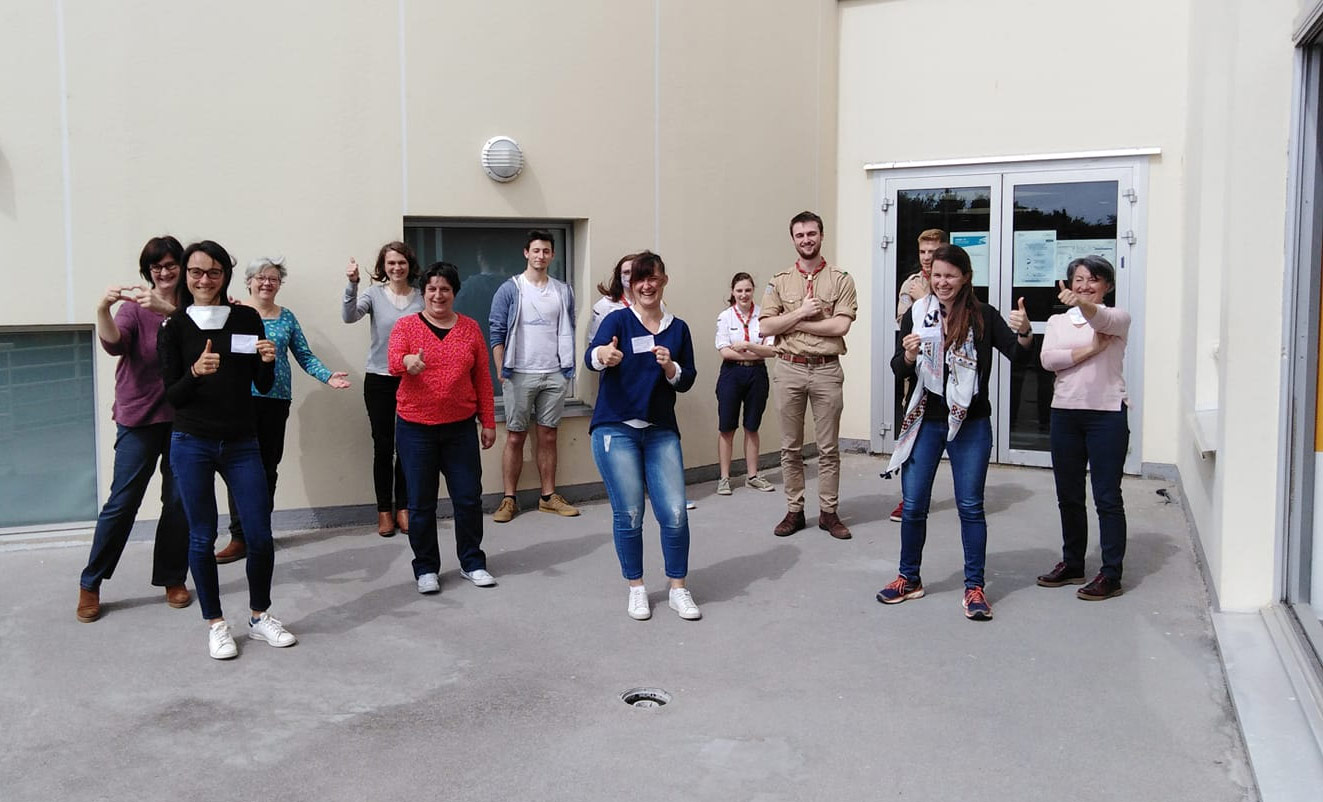 © CHRU Brest
« Every time a health worker prepares to deliver health care where there is a risk, he needs specific protective equipment such as a disposable apron. Unfortunately, in the Covid-19 context, this equipment is rapidly becoming difficult to come by.
The hospital decided to source plastic sheeting, then to ask staff telecommuting, and nursing students to make the necessary aprons. 
Brest CHRU and its health care infrastructure need 5,200 aprons to be made each day. It soon became clear that there were not enough people available to meet this need.  A student from the IFSI (Institut de Formation en Soins Infirmiers) nursing college offered the help of her scout group. The Scouts Unitaires de France thus stepped in and offered their help with the ten or so chief scouts who live in and around Brest. Being an ENSTA Bretagne student and knowing the situation of certain students and staff, I sent out an email asking who would like to join us. We got about ten positive answers back!
Manufacturing them was simple : using scissors you cut the aprons and belts out from the plastic sheeting, you folded and packed them. You did not need any special skills to be able to make one.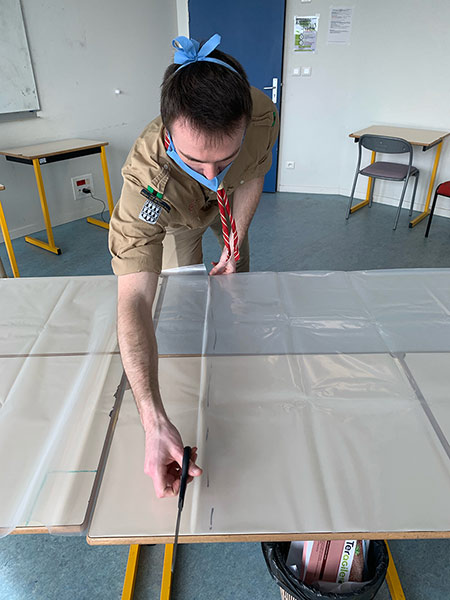 With the staff made available by the hospital, the nursing students, the S.U.Fs and the members of ENSTA Bretagne, we managed to have around 10 to 30 people each day on site at the IFPS (Institut de Formation de Professionnels de Santé). The advantage of being there, as part of the hospital infrastructure, is that it provided us not only with large rooms, in which it was easy to work on the 10 meter plastic sheets, but also masks and hand gel. All the health measures were thus respected and the hospital looked after the logistics, which enabled us to work on the manufacturing. After the first tests, the health staff were very satisfied with the quality of the aprons as they found them thicker and that they covered more than the industrial aprons.
Although we did not manage to reach the 5,200 aprons a day, we managed between 2,000 and 3,000 which meant that their stocks reduced at a slower rate than forecast and that when hospital services ran out, they were restocked.
After several weeks of manufacturing, the number of aprons made reached 30,000 at the end of April.
A delivery of industrial aprons at the beginning of May meant the end of our initiative. It not only achieved its first goal of making the aprons the hospital needed, but also enabled us to feel useful and meet some great people."
Staff and students from ENSTA Bretagne have volunteered for many initiatives to help health workers. In addition to the help in providing aprons, a large number of volunteers also got together to make and provide almost 4,000 visors, and researchers designed prototypes for the CHRU to improve the isolation of the sick transported on stretchers or developed hi-tech systems for breathing aids. A big well done to all our teams!