Earlier this month, on June 5-6, 150 students and staff members from ENSTA Bretagne boarded the large three-master sailing ship "Le Français". Over this thrilling weekend, they were able to operate the ship while admiring Brittany's stunning scenery. This sea outing was organized by Antoine, treasurer of the association ENSTA Bretagne Sailing Team.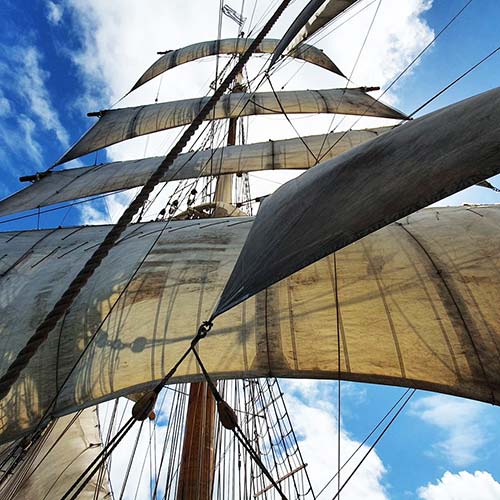 How did the two days of sea outings go?
Initially, the aim was for a small number of participants – just a few students from the association along with other Defense clubs – to go on a joint outing. But aware that students from ENSTA Bretagne might also be interested in going out on this ship, I started to organize a sea outing solely for engineering students from ENSTA Bretagne.
In light of the number of people who ultimately wanted to take part (150 students and staff members), this unique experience took place over two exciting days. It was a truly diverse gathering as even if most of the participants were first-year students, 2nd and 3rd year students also came along, as well as co-operative engineers from all years, specialized master's students, PhD students and staff from the school. A great bonding opportunity!
How did the two days of sea outings go?
Both outings went really well for all participants, who were thrilled to discover this incredible ship. The aim was for everyone to get involved in the maneuvers and to find out more about it by asking the crew questions – and that's exactly what happened!
After meeting up at 9.15 in the morning, the ship cast off around 10am and set sail around Brest harbor until 5 o'clock in the afternoon. The weather conditions were quite different for each of the outings.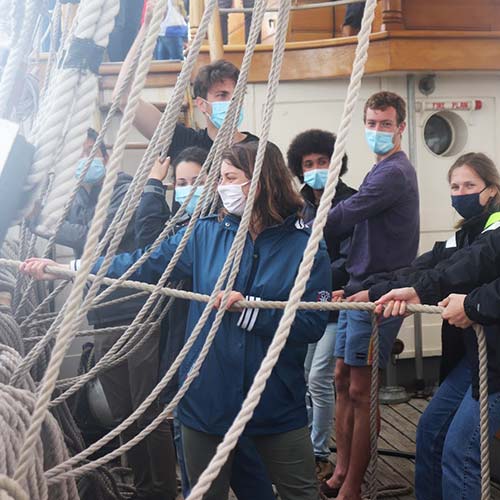 On the Saturday, there was a strong enough wind to be able to make fairly quick progress: we carried out a lot of maneuvers through the day and they all went without a hitch. Each one required input from everyone, to handle the 19 sails, and the 75 participants had plenty to do.
On the Sunday, the gentler breeze limited the maneuvers we could do, so the captain opted for a long downwind stretch south of Plougastel, ideal for admiring the scenic surroundings in the best possible settings for those who had never sailed in Brest harbor before.
Over this weekend, the students will have learned to coordinate between themselves, follow the crew's orders and pay attention to what they were doing. Even for the students who were used to sailing, the specifics of a three-masted ship are such that you have to be inquisitive and seek to understand what each set of rigging does. This was also an opportunity to learn a number of technical terms associated with this ship, as well as the types of knots and how to stow a rope...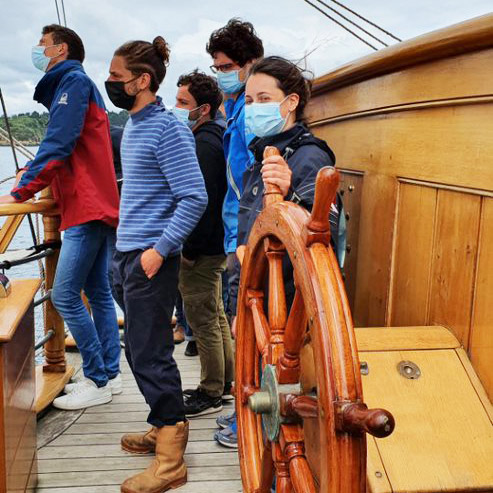 What have you taken away from this experience?
It was a completely new experience for our ENSTA Bretagne Sailing Team association. The events we tend to organize are regattas, so competitive sailing ones, rather than events bringing so many people together. It was therefore a challenge to scale up our organization…
On a personal level, sensing the enthusiasm that such an event sparked when I began to talk about it around the school was very inspiring and motivational. So many events have been cancelled because of the health situation that to finally be able to get a project off the ground was great. As a big sailing fan and having already had the chance to discover old sailing ships during events since my childhood, this project really resonated with me! The ship had captivated me ever since I had first heard about it, and I wasn't disappointed!