Created during the 2018/2019 school year, the objective of the Racing Team association is to take part in the Formula Student championships. There has been good progress on the design of the car as well as part of its fabrication.
Formula Student is an international car race just for students, which is inspired by Formula 1. There are static and dynamic (race track) challenges.
When the association was created, at the beginning of the 2018 academic year, the team started with a blank canvas. Progressively, after many hours of work, the association defined and developed its vehicle concept with the help of teachers from the school.
The vehicule fabrication is currently underway. Its first competition should be in 2021.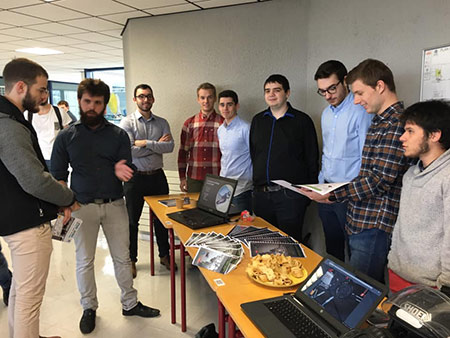 #Competition #Automobile #Passion
Chinese Portrait: 
If the association were…
A hashtag: #speed
A moovie: Rush
An animal: A black horse on a yellow background
A famous person: Michael Schumacher
 
The association brings together co-operative (apprentice) and student engineers with various, complementary skills who are passionate about cars.
Memorable moments in the year:
There will be 8 Formula Student challenges in summer 2021, and the objective will be to take part in one of them. 
Partners
DEHIMI Industrie (main technical partner fabrication assistant) and Alumni ENSTA Bretagne support this ambitious project.