On September 27-30, 2021, ENSTA Bretagne took part in the first ever 'Drones & Cap' forum on Ile d'Oléron. This event brought together communities of scientists from a variety of fields (marine sciences, space exploration, Earth science, etc.) on the theme of maritime, river, land and space exploration. Several of ENSTA Bretagne's robots were also showcased on this occasion.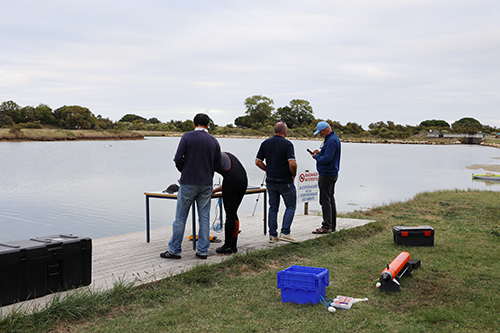 The "Drones & Embedded sensors" event is aimed at promoting discussions between scientists, especially in the context of demonstrations and seminars.
ENSTA Bretagne's robotics team (Lab-STICC) came with four robots capable of operating in wide-ranging environments and organized a number of demonstrations.
ROBTIDE, underwater robot: this robot is dedicated to underwater exploration. Its embedded intelligence enables it to move around and perform inspection missions underwater, completely autonomously.
VAIMOS, an autonomous sailboat: this autonomous sailboat is capable of knowing its own location and crossing large areas completely autonomously.
Saturne, ground-wheeled robot: Saturne is capable of mapping difficult terrain (which is potentially inaccessible to humans). During this event, the robot produced a magnetic map of an area. This technique is extremely relevant to archaeological sites as it can detect buried elements in particular.
Spé boat, surface robot: this boat can travel autonomously using GPS.
This forum was an opportunity for the ENSTA Bretagne/Lab-STICC research team not only to test out the navigation strategies developed within a very challenging body of water (shallow and full of algae), but also to chat with the other participating labs and companies about their research themes.
ENSTA Bretagne's expertise in programming robots for exploring complex environments (caves, sea floor, etc.) is widely recognized. The algorithms developed enable the robots to perform autonomous exploration missions and to take measurements on-site. Significant challenges are associated with these areas where geo-location (GPS) is not possible.
Thank you to Olivier Ménage and Patrick Rousseaux from Ifremer who helped the ENSTA Bretagne team to bring Vaimos to the Ile d'Oléron site.