Colombe is a high level sportswoman and student engineer specializing in Offshore and Naval Architecture. She and her partner have just been selected for the junior 470 class double-handed dinghy French team: a key step towards the2024 Olympic Games.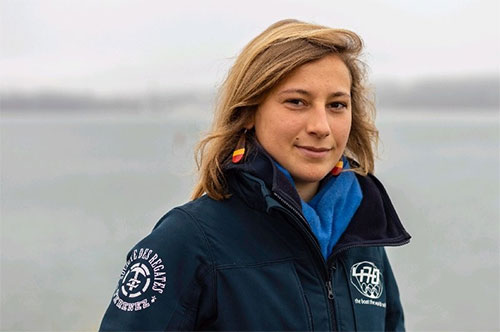 © Clément D, promotion 2019
How long have you been sailing ?
I have been sailing since I was very small. I started on an Optimist during my summer holidays at Saint-Cast-le-Guildo in the Côtes d'Armor! I was trained there and then I became a light sailboat instructor.
This sport has always made me dream and being from Paris originally, as life went on, I was gradually drawn towards Brittany as I did more and more sailing.
Is it easy to combine your timetables as a student engineer and high performance sportswoman ?
To combine the two, you need motivation, initiative and will-power in large doses!
It is not always easy but it is a great experience in human and sporting terms. I have been very touched by the kindness and comprehension of those who have helped me: the teachers, heads of studies, coaches etc.
What advice would you give to high performance sports people who wish to join ENSTA Bretagne?
I think it is very important to talk to the teachers as soon as possible to tell them about your time off, to explain the project and request arrangements if necessary. And never throw in the towel!
What happened during lockdown? Did you manage to train?
The beginning of lockdown was very hard as the competitions were canceled one by one. But I bounced back by working in a supermarket to help out during lockdown, then finding an internship for the rest which enabled me to continue my physical preparation of course: a lot of jogging and home gym!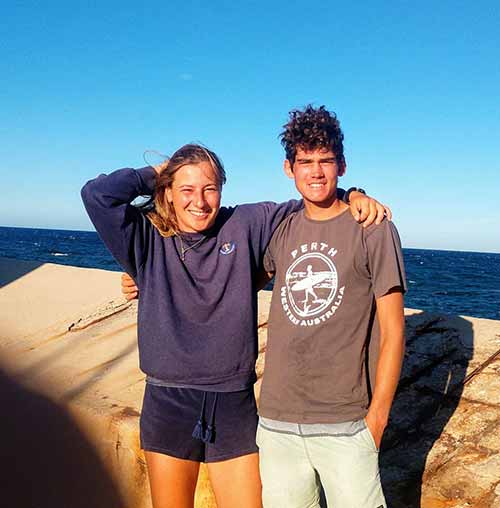 You and your partner have just qualified for the junior French team. Could you explain what this means?
We qualified for the junior French team : there are 3 crews selected as being of high potential. Our discipline only allows one representative for the Olympic Games, so our objective is to be the best French crew over the qualifying challenges laid down by the federation (normally that means the championship of the year before, so 2023).
What does it mean ? How did you react when you found out you had been selected ?
I was over the moon when I found out about our selection. That means that we will have the best facilities to progress! It is the fruition of these last few years of hard work to reach the top level.
What were the main stages that led you to this level of excellence ?
Above all, it was my intense commitment to  my project at the French Training Center in Brest. That led me to a bronze medal in the 2019 European Championships for the girls' under 23 year olds, and the 2019 vice-champion of France in the combined. I also achieved podiums in team ocean racing (Drheam CUP and the Sailing Tour of Finistère).
At this stage what have you learned from your experience ?
I have learned an enormous amount about myself, my capacity to face a challenge and to fully dedicate myself to such an intense project. I have also come away with some lovely lessons about life from those incredible experiences that push us to the top.
The difficult periods enable us to progress, of course, but the good moments are also very precious and motivating for the things to come.
What does this selection involve?
This selection means an incredibly intensive program with 180 – 200 days sailing a year, better material facilities especially a new 2nd boat lent to us by the federation ! We will also benefit from more financial aid and a coach dedicated to our 3 teams who is going to be able to focus specifically on us.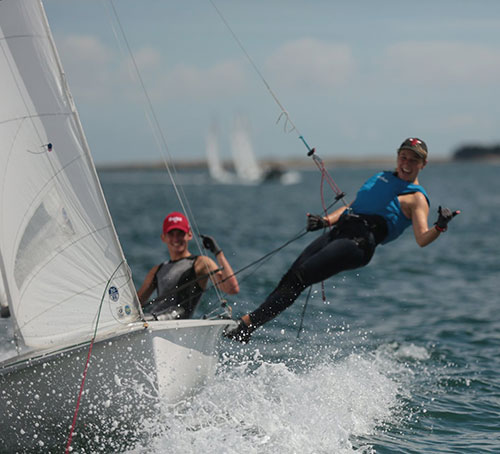 What are the next steps in terms of sport and your studies ?
Long term, selection to the French team for the 2024 Olympic Games and short term, we have the French championships in November and the world seniors in 2021 !
As for my studies, I have finished school, and all that is left is the final year project (PFE in French) that I will begin at the end of September.
You are going to graduate from ENSTA Bretagne in about a year, so what are your career plans ?
For the moment, I am very happy to be able to do my PFE at Marsaudon Composites, a shipyard based in Lorient which gives me time to train and compete.
My PFE (final year project) will last until May 2021 (it is longer to make up for the time off).
I am continuing to learn en enormous amount about shipyard and naval architecture production methods, I am continuing to think about my career and hope to find a CIP (Contrat d'Insertion Professionnelle) in a shipyard. This is a special contract for sports people which enables them to work and have time off for sport.