Benjamin Lair (2014 Cohort) is still totally enthralled by his numerous shark encounters. On Tuesday 17 September, he came along to ENSTA Bretagne to share his incredible Lords of the Ocean adventure with the students and personnel, a project supported by ENSTA Bretagne Alumni.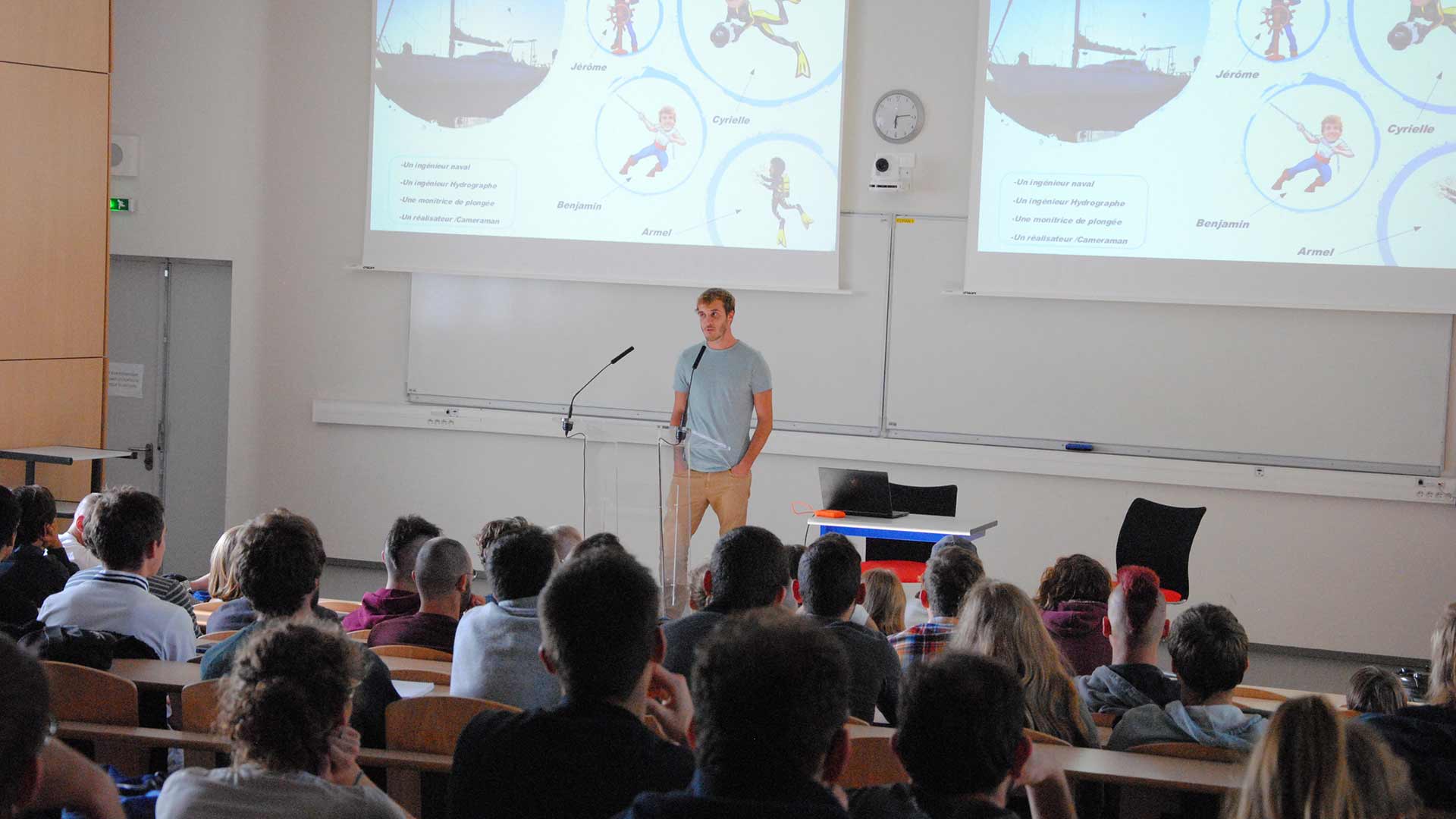 It all started through a chance meeting at ENSTA Bretagne
Behind this unique adventure was the will to do something to help the environment, and protect the planet and endangered species.
Benjamin Lair (2014 Cohort) and Jérôme Bordillon (2012 Cohort) met on the volleyball court at ENSTA Bretagne. The two boys complemented one another on the court (one is a setter, the other a spiker) and eventually off the court. Their passion for the sea brought them together and they met regularly to go sailing and diving.
With their degrees firmly in their pocket, they each traveled the world for their respective fields : naval architecture for one and hydrography for the other.
The pace of work was taxing. They traveled without really being able to profit from it and felt that they were missing out on something. They made their decision: they handed in their notice and threw themselves into the Lords of the Ocean adventure.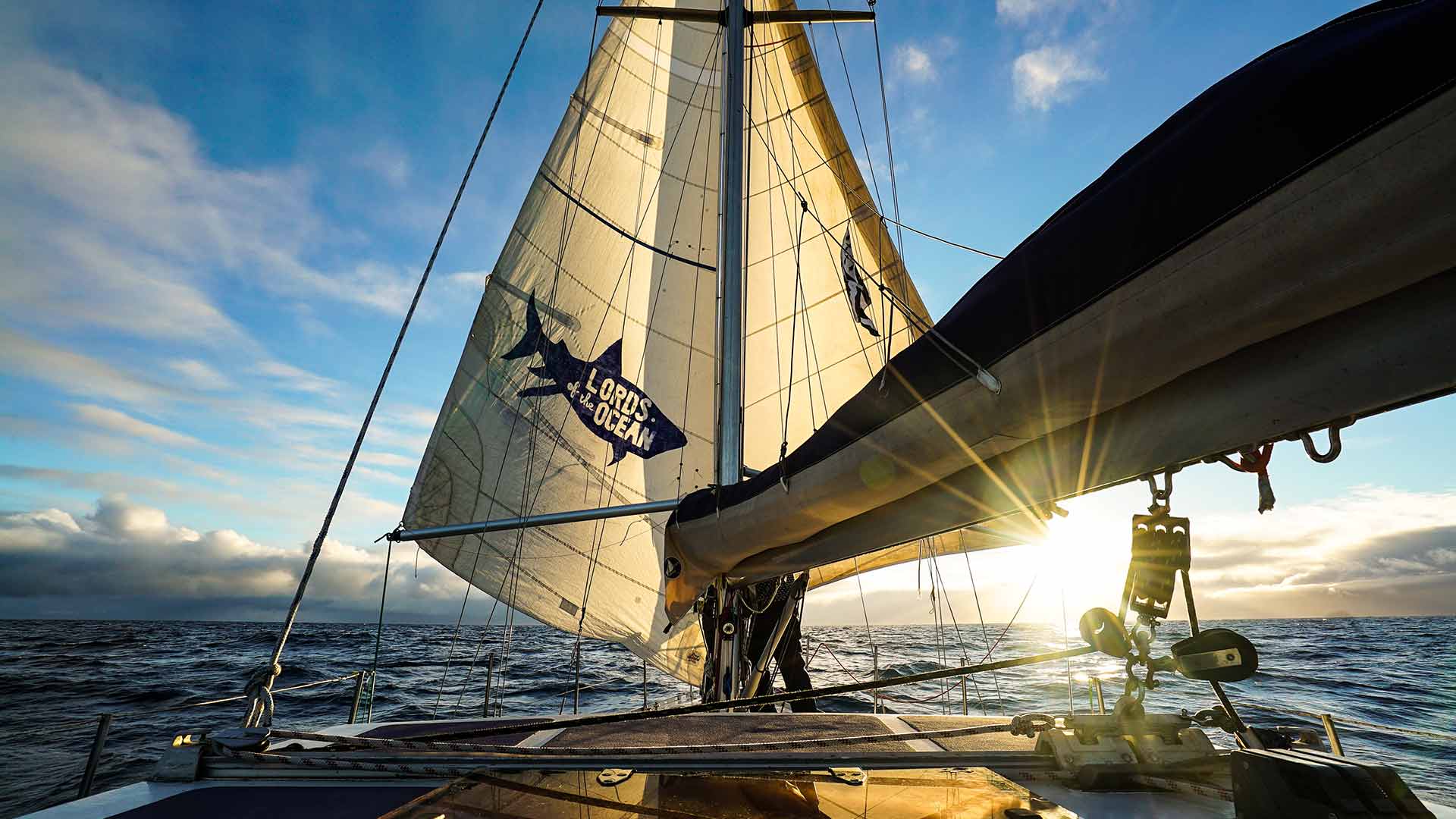 © Lords of the Ocean
4 enthusiasts meet the sharks
Being both diving fans, Benjamin and Jérôme wanted to restore the shark's reputation. Many of these great predators, who are essential for the balance of the marine ecosystem, are threatened with extinction.
Whilst they were preparing their project, they met Cyrielle. As a diving instructor in Mexico, she knows all about bull sharks. She immediately understood the stakes behind this adventure and decided to join them.
Then it was Armel's turn. He had already completed a film on wrecks in the Bahamas and was well practiced in the art of underwater filming. He had already thought about a web series and a 52 min. documentary.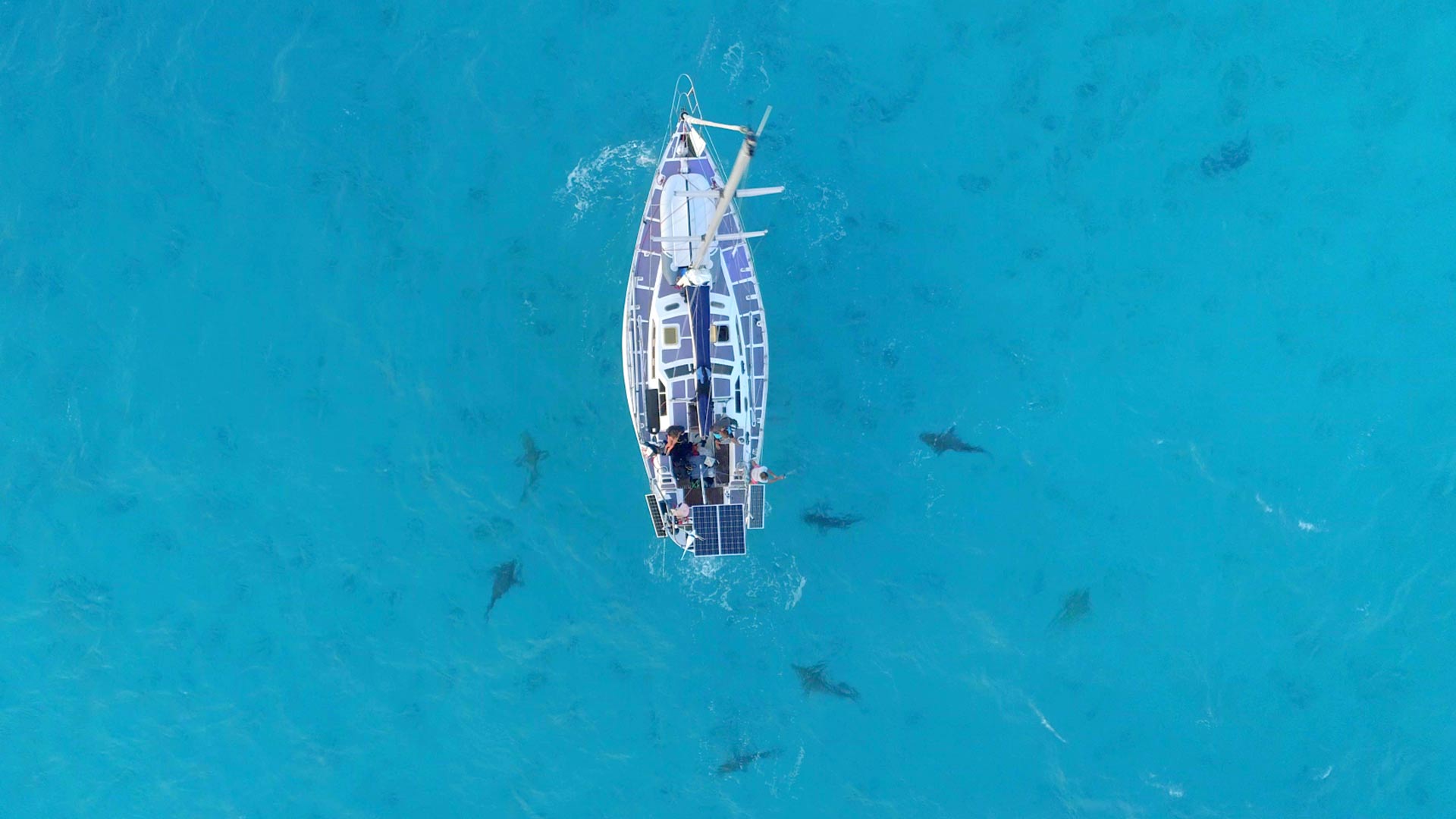 © Lords of the Ocean
A 6 month and 16,000 km autonomous voyage
From Brest, the team made a rapid stop in Guadeloupe, then arrived in Mexico for their first dive with bull sharks. The following ports of call were the Bahamas, Colombia via the Panama Canal and finally Costa Rica: a voyage of more than 9,000 miles or 16,000 km in 6 months.
They encountered 13 different species of sharks over a hundred or so dives without any problems. The sharks were calm, swimming back and forth before leaving. 
True to the team's values, their project used an autonomous energy supply. Their yacht was equipped with 5 solar panels and a wind turbine. Food autonomy was the most difficult value to respect. Fishing was not always successful, so their stock of pâté came in very handy!
An on-going adventure
The team has been back since the month of August (their boat stayed in Costa Rica). The work since then has mainly been on reviewing and sorting the footage of their 6 month adventure. Editing should start in November to be able to propose a web series in January, available for free on YouTube.
At the same time, they have applied for authorization to go diving without a cage with the great white shark. They will thus be leaving in a few months time for 3 weeks of diving. This complementary plan will enable them to finish off the 52 minute documentary which will be presented at adventure film festivals. 
To find out more and support this adventure